Teaching TOEFL Students: Step-by-Step Guide
We are delighted to announce that all four sections of our TOEFL lesson series are live!
To celebrate the release, James from Off2Class held a teacher training webinar to coach you on teaching TOEFL students. He provides a step-by-step framework that you can use when you're coaching your first TOEFL candidates.
This session is perfect for ESL teachers that are interested in teaching TOEFL students but need a starting point.
A Step-by-Step Guide to Teaching TOEFL students – by James from Off2Class
What you'll find in the webinar:
What to do when a new student approaches you for TOEFL lessons
Determining the student's current strengths and weaknesses across grammar, listening, reading, speaking and writing by using our ESL Placement Test
An overview of the structure of the TOEFL test
Developing a learning plan
Using graded texts on subject matter in the test
Using manageable chunks of information in lessons
This webinar is a perfect overview to each of our section-specific TOEFL webinars. We've prepared a teacher-training webinar to coach you on teaching TOEFL students each respective section of the test:
Our TOEFL Lesson Content is a perfect for new and experienced TOEFL coaches alike.
Each of our teacher-led lessons is adjoined to a set of teachers notes. As the teacher guides their students through the lesson they are aided by a synchronous set of notes. In addition, the section-specific webinars above are a perfect intro before delving into each section.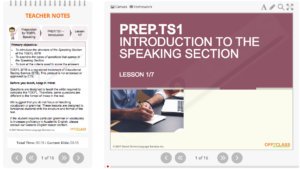 We are absolutely delighted to have finally released our complete TOEFL toolkit!
We feel this complete lesson set will be of great value to educators that are experienced in teaching TOEFL students as well newcomers!
Let us know what you think of our TOEFL lesson content and webinar series below!
---