TOEFL Reading: Lesson Series and Webinar
We are delighted to announce that our final TOEFL series, TOEFL Reading is now live!
You can find our TOEFL Reading Lesson Series in our lesson library. This marks our 4th category of TOEFL prep lessons and we now have a complete TOEFL Toolkit available to you.
To celebrate our latest release, we held a teacher-training webinar to introduce the main concepts you need to know about the reading portion of the TOEFL test.
TOEFL Reading – an Introduction by James from Off2Class
Here's a brief summary of what you'll find in our eleven TOEFL Reading Lesson Plans:
An overview of the Reading Section of the TOEFL test. We outline the different styles of text students will encounter (expository, argumentative and historical). We also provide a framework for identifying the organization style used in a text (classification, compare and contrast, problem and solution, theory and support, cause and effect).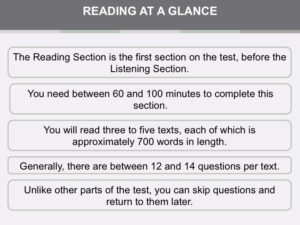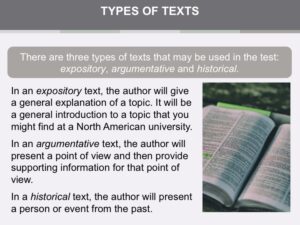 We provide a strategy for answering Detail Questions. Most importantly, it is vital for students to look for facts in context inside the reading texts and to identify whether things are true according to the facts provided.
We provide a framework for answering Negative Fact questions on the reading section of the TOEFL test. Unlike Detail Questions, Negative Fact questions ask you to identify the option that is not true. The correct answer contradicts information that is found in the text.
Here we look at Reference Questions and specifically how knowledge of Pronouns is vital to scoring well on this section. We advise that if your students struggle with this lesson you should consider lessons from our Nouns & Articles or Relative Clauses lesson categories.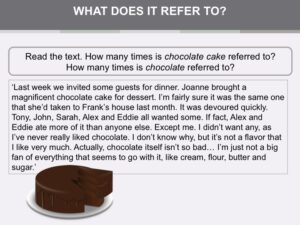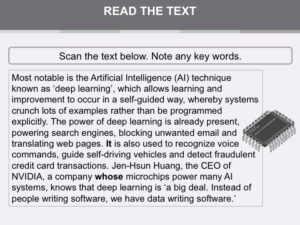 Here we look at another frequent and challenging question type, Vocabulary Questions. Vocabulary Questions ask you to provide the best definition of a word or phrase in a text. It is vital to look at the word in the context of how it is being used in the text. In general, the correct answer is a synonym for the highlighted word.
Function Questions ask you to identify the meaning or purpose of an idea in a text. A Function Question may ask you why an author writes something. It may also ask you how ideas in the text relate to each other.
Sentence Summary Questions ask you to choose an answer option that best summarizes a highlighted passage from a text. The correct option will contain essential information from the highlighted passage. The highlighted passages can often be lengthy. A good strategy for these questions is to break them down into chunks of meaning.
Inference Questions require the student to draw a conclusion based on information in a text. The correct answer is never stated directly. Rather, the student must select an option that is suggested, implied or inferred by the text.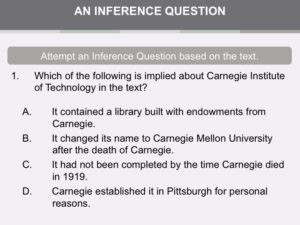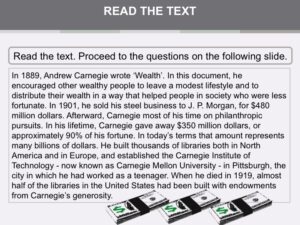 Passage Summary Questions require students to pick three of a total of six answer options that best summarize the main ideas of the passage. For these questions, using an elimination strategy can be a good time-saving technique. Pay special attention that these are 'all or nothing' questions! The student must pick all the correct options for a 'correct' answer.
In a Text Insertion Question students insert a piece of text into it's most natural position in a text. The options of where to place the text are marked with a black square in the text and the student clicks on the box to automatically insert the text. This allows students to review how the text will appear once inserted.
In a Table Completion Question students insert statements into categories within a table, based on a reading text. A good strategy is to first look for statements that contradict information in the text and eliminate them.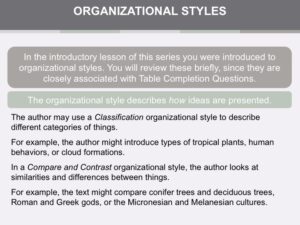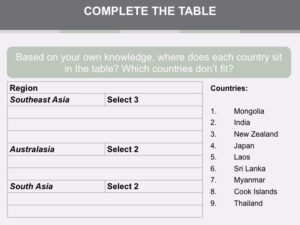 We hope you enjoy our TOEFL Reading series. Let us know what you think below!
---