TOEFL Speaking: Lesson Series and Webinar
Welcome! My name is James Heywood. I look after the content on Off2Class. I am delighted to announce that our TOEFL Speaking Series is live!
You can find our TOEFL Speaking Lesson Series in our lesson library. Like all our ESL Lesson Content, these lessons are designed to be teacher-led. That is, they are designed to be taught in a live setting, by a teacher. Each of these teacher-led lessons comes with an attached homework activity to reinforce the live lesson.
If you are coaching TOEFL candidates, our TOEFL lessons will be a valuable tool to add to your practice. If you've always wanted to coach TOEFL candidates yet didn't know where to start, you've come to the right place!
To celebrate this release, we held a teacher-training webinar to introduce the main concepts you need to know about the Speaking Section of the TOEFL test.
TOEFL Speaking – an Introduction by James from Off2Class
TOEFL Speaking Lesson Series
The following is a summary of each lesson that you'll find in our new TOEFL Speaking series!
We look at the main question types that you'll find on the Speaking Section of the test. We also take a look at the criteria that is used to score each answer.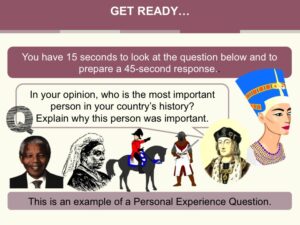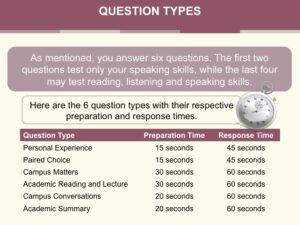 The Personal Experience Question features first on the test. It is the first of two independent questions, meaning that it requires no further reading or listening activity to answer the question. With a few transition and linking words, and a template to put into place, these questions should be a confident start for a candidate.
Paired Choice Questions require the candidate to choose between two things or ideas, and to explain his or her preference. Some students find these a little challenging, though the only way to answer them effectively is to pick a side, and run with it!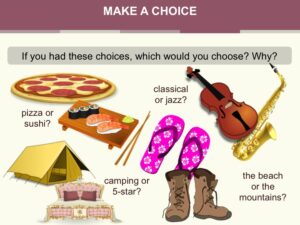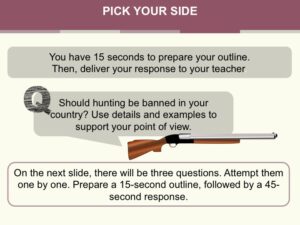 The Campus Matters Questions are the first integrated question on the test. The candidate reads a short text and hears a conversation between two people, about a non-academic matter. The conversation could be about the campus library, cafeteria or even housing! The candidate must summarize both the reading and the students' opinions on it.
In Academic and Reading Lecture Questions, the candidate must look for relationships between ideas expressed in a written text and a listening passage. We introduce a template and strategy for undertaking these questions.
TOEFL tests your ability to understand language related to life on campus. There is a specific focus on issues that affect academic performance. We explore this question type in detail and provide your students with a template.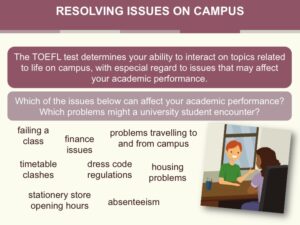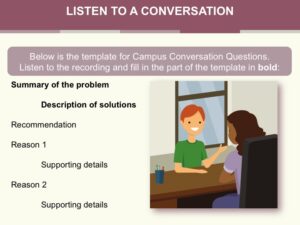 In Academic Summary Questions, students answer questions based on a recorded excerpt of a sample lecture. These questions invariably touch on specific subject matters but the focus is on identifying the relationships between main ideas and the supporting details.
Some parting words
All lessons in this category have sound recordings, so make sure you and your student are set up accordingly with headphones!
Finally, for the first time, Off2Class has incorporated recording functionality into Homework Activities. Students can now send you recordings of their responses to the sample TOEFL questions. We think this addition will keep students motivated as they head toward their TOEFL test date.
We hope you enjoy our TOEFL Speaking series and look forward to sharing our next three TOEFL categories in the upcoming weeks. Let us know what you think below!
---