Getting Started with Off2Class
If you haven't already, please take our quick 1-minute tour here.
Off2Class is organized around three main teaching functions A) Teaching Lessons B) Managing Students and C) Assigning Homework. In this article, we'll provide you with an overview of each function so you can get teaching with Off2Class in no time.
Teaching Lessons
Off2Class is centered around lessons. Our English as a Second Language (ESL) Library contains over 700 (and growing!) lessons that are designed for you to teach live to your students.
To find a lesson to teach, go to the Teacher Tab. There you'll find lessons covering Grammar, Idioms, Listening, Speaking, Vocabulary, Reading, Business English, Functional Language and IELTS. You can browse the library or use the search function to find lessons to teach. Whether you're browsing or using the search function, the level filters (just under the search bar) will help you find a lesson at the appropriate level for your student.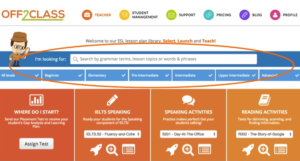 If you don't know what lessons to teach your students, you can send them our Placement Test. Your students will take the assessment and you'll get their Gap Analysis and Individual Learning Plan back to you.
Once you've launched a lesson, you're in the Off2Class Classroom and ready to teach. Make sure you Enroll your students into the classroom when we prompt you. Each lesson comes with Lesson Content on the right and adjoining Teacher Notes on the left. Depending on how you are teaching, your students will join your lessons in different ways.
Teaching Online – When you launch a lesson be sure to Enroll your students. If you've enabled the Class Enrollment Notifications on your profile page, your students will receive an email telling them that class has started with a button that will take them right into your classroom.
Even if you haven't enabled the email notification, when your students log in to Off2Class they'll be prompted to 'Join Lesson' – green button in the top left of their panel. Once your students have successfully joined your lesson we will notify you by popping open the chat window:
Now it's time to launch your videoconference video so that you will be able to speak to and see your student. We integrate with any videoconference software such as Skype, Google Hangouts, Zoom.us, Go To Meeting or Wiz IQ. Once you launch your video, just be sure to minimize the video window so that you'll be able to see Off2Class and the video simultaneously (please instruct your student to do so as well). It is also possible to play with your video window size and Off2Class browser size to view them simultaneously (depending on your screen size).
If you use a videoconference software that has a link-based joining system (i.e. you press a URL to join the videoconference) such as Zoom.us or Go To Meeting, you can embed your meeting link into your profile page. After you save your meeting link into your profile page, every time you or your students join a classroom you'll see a purple 'Start Video' button in the chat window. When you and your students press this button your videoconference software will launch: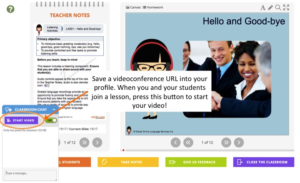 A special note for students joining online lessons from a tablet or mobile device. Due to mobile operating system restrictions, it is not possible for your students to view Off2Class and a videoconference system simultaneously from a tablet or mobile. If your students would like to join your online lesson from a tablet or mobile you'll need to use the screen sharing feature of your favorite videoconference system.
Teaching In-Person (multi-device) – Your students can join your lessons and interact with the content from their own device. When you launch a lesson be sure to Enroll your students. When your students log in to Off2Class they'll be prompted to 'Join Lesson' – green button in the top left of their panel. When they press this button they'll get taken into your lesson: 
Teaching In-Person (single-device)  – For a one-2-one lesson you can physically share your laptop or tablet with your student and use it as the focal point of the lesson. For a classroom lesson, you can project your laptop or tablet using a projector, TV screen or Smartboard. Once you're sharing (or projecting) hide your Teacher Notes by using the Full-Screen button on the top right of the classroom (this pops up the notes as a separate window – close the pop up) and load the Teacher Notes on your smartphone. To load the Teacher Notes on your smartphone, use your smartphone's browser to login to Off2Class (same login credentials) and you'll be prompted to 'track your active classroom's teacher notes'.
Please Note: If you'd like to disable the classroom chat for your lessons you can do son your profile settings. This can be especially useful if you are teaching lessons to Young Learners or in a large group setting.