ESL Career Options: Free Webinar Events
Download the Virtual ESL Career Week Jobs Board: click here.
What career options are on offer for English as a Second Language (ESL) Teachers?
From March 28 – April 1, Off2Class is hosting the first-ever Virtual ESL Career Week. This is a chance to learn. Our live, daily webinars will feature industry experts and career opportunities for ESL teachers in leading US K-12 districts.
No matter what point you might be in your ESL career, the week offers the chance to find out what could come next. For example, our speakers will look at options for teaching English Language Learners (ELLs), the differences between states, and the pathways to qualification.
Find out more about each webinar below – including the links to register for each event. Alongside the webinars, we will be sending a Live Jobs Board with ESL career options to all registered ESL teachers. You can download the free ESL jobs board by clicking here.
Virtual ESL Career Week webinar schedule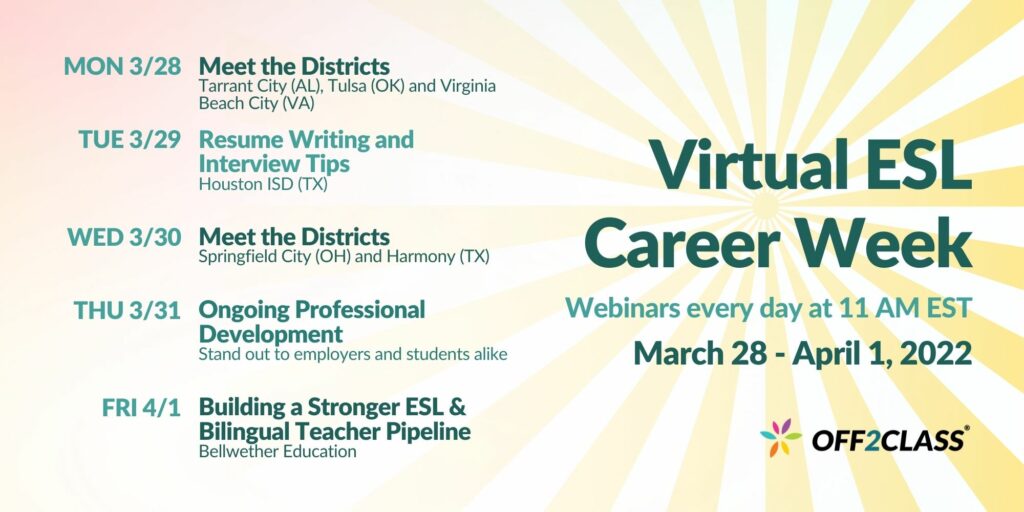 Watching the webinars
All the webinars are available on our Off2Class Youtube Channel. You can also view them below.
Featuring: Tarrant City Schools (AL), Tulsa City Public Schools (OK), and Virginia Beach City Public Schools (VA).
Monday, March 28 at 11 AM EST
What does life look like life as an ESL teacher working in Oklahoma, Virginia, or Alabama? Join this panel discussion with leading educators from these states. Learn more about the ESL Career Options in each district, and how to know whether you might be a good fit to work with their district and serve English Language Learners.
Speakers:
Lora Petty, Tarrant City Schools (AL)
Laura Grisso, Tulsa Public Schools (OK)
Anne Glenn-Zeljeznjak, Virginia Beach City Public Schools (VA)
Tuesday, March 29 at 11 AM EST
How can ESL teachers correctly market themselves and impress recruiters? Lisa McManus is a Senior Recruiter at Houston ISD as part of a team working to attract teachers from across the country. In short, she knows a thing or two about what makes a successful application. In this webinar, she will share expertise on how to write a better resume and excel in your next job interview. Certainly, a vital workshop for any ESL teachers who are applying for jobs now or in the future.
Speaker:
Lisa McManus, Senior Recruiter at Houston ISD Talent Acquisition.
Featuring: Springfield City School District (OH) and Harmony Public Schools (TX)
Wednesday, March 30 at 11 AM EST
Fancy working in Ohio or Texas? Springfield City and Harmony are two districts experiencing a large uptick in ELLs over the last year. They will be joining us for a conversation about how they are responding to a surge in new learners, the career options available for ESL teachers, and how they are innovating to ensure every student receives a quality education.
Speakers:
Dr Pamela Shay, Director of Federal Programs, Springfield City School District (OH)
Semra Oz Ekmen, Harmony Public Schools (TX)
Stand out to employers and students alike
Thursday, March 31 at 11AM EST
Whether you are new to the TEFL/TESOL field or are a veteran ELT teacher, learning is a lifelong journey that can directly impact your employability, teaching skills, and your students' learning experience. Bridge's Teacher and Institutional Relations Manager, Maggie de Oliveira, will discuss the value of ongoing professional development, how it can help ELT teachers thrive inside and outside the classroom as well as options to get the most out of your investment in professional development.
Speaker:
Maggie de Oliveira, Teacher and Institutional Relations Manager, Bridge
Research on programs and policies to address teacher shortages
Friday, April 1 at 11 AM EST
Attracting and retaining quality ESL teachers remains a challenge for states and districts –whether they have large or small ELL populations. Join education expert (and former ESL teacher) Daniela Torre Gibney from Bellwether Education, as she talks about effective policies and strategies for ensuring that schools can attract great talent while providing the instructional support that all ESL students need. This session will be suitable for ESL teachers, educators, and administrators.
Speaker:
Daniela Torre Gibney, Senior Associate Partner at Bellwether Education Partners
Sign up here
Are you an ESL Teacher? Click here to download the Off2Class ESL Jobs Board.

Are you a K12 US District looking for talent? Find out how your district can get involved by meeting with our friendly team.
---
No comments