ESL Teaching Jobs: Launching the Virtual ESL Career Week!
Download the Off2Class ESL Jobs Board: click here.
We have seen the headlines and heard from districts— schools are struggling to find teachers to fill ESL teaching jobs.
Office staff and superintendents are covering classrooms. National Guard members are serving as substitute teachers. At the same time, teachers are leaving the profession to join private companies.
It's not just NPR, Education Week or the Associated Press picking up this trend. The Off2Class team works with school districts across the USA, and the same message is coming through– districts are struggling to recruit for ESL teaching jobs. This is the reason Alaskan schools have imported teachers from the Philippines and a district in New Jersey is rolling out a pilot program to recruit language teachers from foreign countries.
ESL Teaching Jobs: Virtual ESL Career Week 2022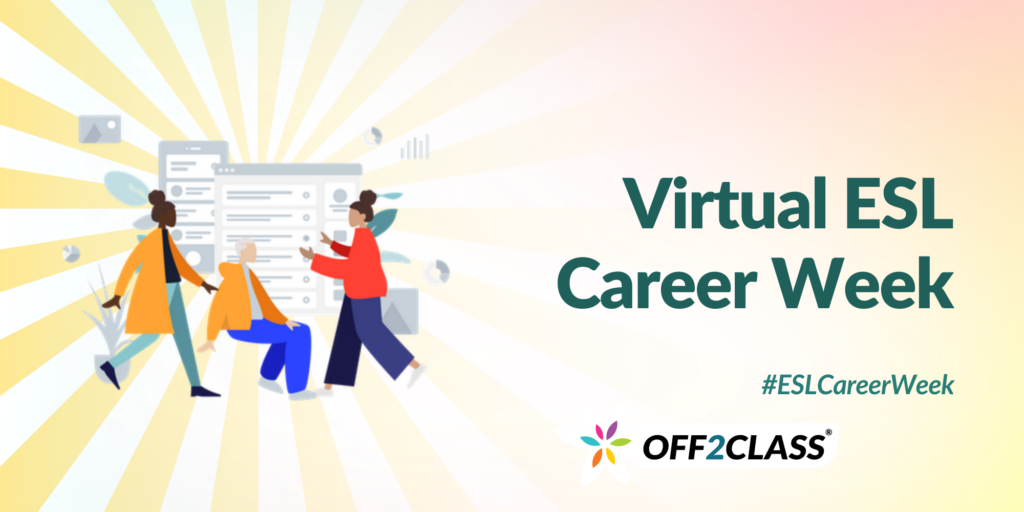 Teacher shortages impact all students, but English Language Learners (ELLs) are particularly vulnerable. ELLs make 8.5% of learners nationwide. Research has shown that education progress for these learners has already been disproportionately affected by the pandemic. As a result, the nationwide teacher shortage leaves ELLs at risk of being unsupported. Unfilled ESL teaching jobs impact learners.
Off2Class believes teachers play a critical role in successful language acquisition. However, teacher time is a finite resource. We design our products to help teachers spend more of their time making meaningful interventions in the lives of students. Therefore, that means connecting great teachers to teaching jobs with schools and districts.
That's why we are excited to announce that Off2Class will be launching our first-ever Virtual ESL Career Week.
Solving the teaching shortage, one ESL teacher at a time.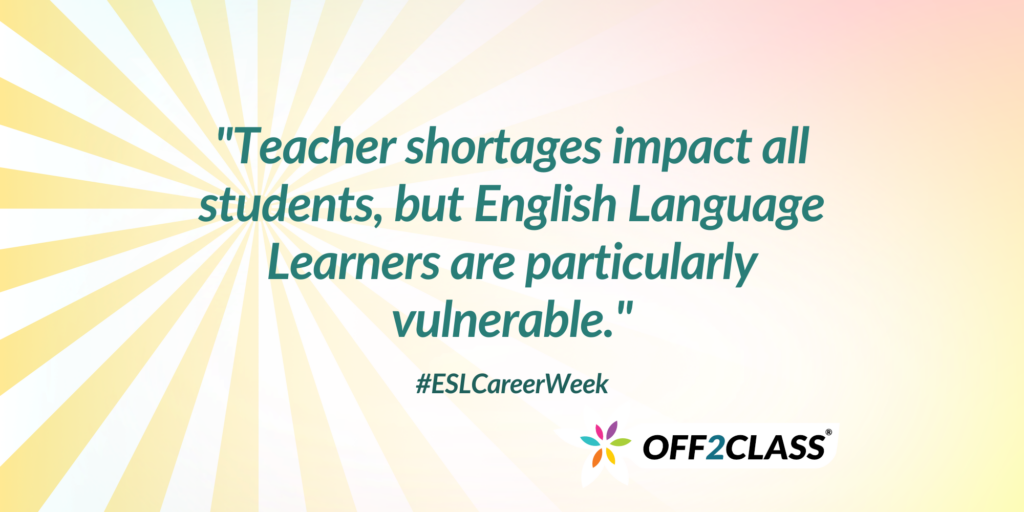 From March 28 – April 1 2022, Off2Class will be hosting a series of online events, connecting ESL teachers to teaching jobs and opportunities in US K12 Districts.
Working in partnership with a number of leading US Districts, such as Tulsa Public Schools (OK) and Springfield (OH) Off2Class will celebrate the fantastic career opportunities for teachers who want to work with ELLs. We are working to be a conduit to districts and schools for whatever they might need. For example, that might be teaching jobs to move and join local school districts, working full-time to serve ELLs. In addition, other opportunities might embrace virtual offerings or part-time work.
This issue is time-sensitive and important. District partners have told us that they have seen a 31% increase in ELL students. With the Virtual ESL Career Week, Off2Class intends to directly connect school district teams with skilled ESL teachers and, hopefully, fill some of the K-12 district vacancies.
The Virtual ESL Career Week will include:
ESL Job listings from K12 school districts across the USA
Webinars highlighting districts and EL career opportunities
Concierge support & matchmaking
We will be announcing more details and events as we get closer to the week, so bookmark this article and sign up for updates below.
Sign up here
Are you an ESL Teacher? Click here to download the Off2Class ESL Jobs Board.


Are you a K12 US District looking for talent? Find out how your district can get involved by meeting with our friendly team.
---