Save Time Lesson Planning: How Off2Class Helps ESL Teachers
Our goal at Off2Class is to help teachers save time lesson planning. We sent a survey to over 500 ESL teachers to see how much time they spend planning ESL lessons, and we're excited to share the results.
An accidental survey discovery
A few months ago, the product team at Off2Class sent a survey to our users to see what features they enjoyed most. Like many surveys, we included an open-ended question at the end asking for feedback. When we looked at the results, people wrote the same thing again and again in the open-ended section. This is a real answer, representative of many:
"Off2Class saves me so much time lesson planning. Thank you for creating this product!"
There were over a hundred responses just like this, and we wanted to know more. Just how much time are people saving? Can this be quantified? How much time did teachers spend before and after using Off2Class?
Before Off2Class: lesson planning is time consuming
To get more information, we sent everyone who had filled out the survey a follow-up survey. This time we asked specifically about how long it typically would take these teachers to prepare lessons — without the Off2Class platform. As it turns out — quite a while! While answers varied considerably, teachers spent an average of 44 minutes preparing for one 60-minute lesson before finding Off2Class. That's almost as much time spent planning as teaching!
As you might imagine, time spent lesson planning has gone up for everyone in the past year. Both veteran and new teachers alike have had to pivot from in-person classrooms to virtual settings. Apart from adjusting to a virtual curriculum, there were many factors that made it difficult for teachers to save time lesson planning.
After Off2Class: teachers save time lesson planning
Looking at the results, we could see how much time teachers save using Off2Class. According to the survey, 92% of teachers using Off2Class save time lesson planning, with one in five spending five minutes or less preparing for a lesson. Off2Class saves these teachers an average of 30 minutes of prep time per lesson. That means a teacher who teaches hour-long lessons could in theory increase student capacity by 50% without working any additional hours.
Why teachers need more time
When teachers can save time lesson planning, everyone benefits. The time teachers get back isn't just for more work. Teaching is a stressful occupation and many teachers face burnout. When teachers save time and money, they can explore other avenues, whether personal or professional. With Off2Class, teachers can maintain a more balanced lifestyle without sacrificing the quality of the services they offer.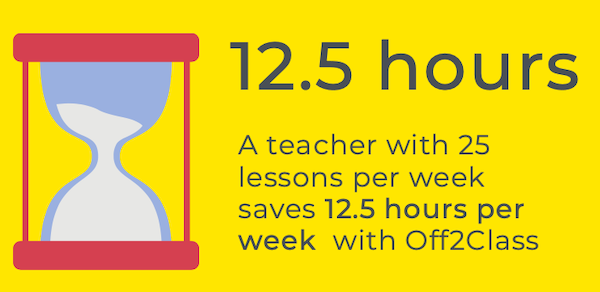 As the world continues to face massive shifts, so too do teachers and students. In any event, Off2Class remains adaptable for online learning or in-classroom instruction. In any environment, Off2Class saves teachers time and this allows them to be even better educators.
---
No comments