Introducing the Off2Class Teaching Tools
We're excited to announce the new Off2Class Teaching Tools, a set of documents that allows you to plan and organize your English lessons more efficiently than ever before. You can use these documents to generate custom learning plans and proposals.
A growing lesson library
When we started making lessons back in 2014, the most important objective was to increase the total number of lessons. In the beginning, Off2Class offered little more than our lesson plans. We needed a critical mass of them to make the product viable.
The content team (which back then was just James) worked relentlessly on releasing content. Soon there were a few dozen lessons, with a constant backlog of what to make next based on user feedback. Today there are over 1,000 lessons in the library, and our content team—an actual team these days—continues to expand and improve the lesson library.
However, the system we put in place to manage the few dozen lessons in 2014 isn't up to the task of managing the hundreds of lessons that exist today. We built Off2Class to save teachers time, and to us that means you should be able to do things quickly. Everything, from finding a lesson to teach a class that's in five minutes to planning out an entire course of study for multiple groups, should happen in a few clicks.
Introducing the teaching tools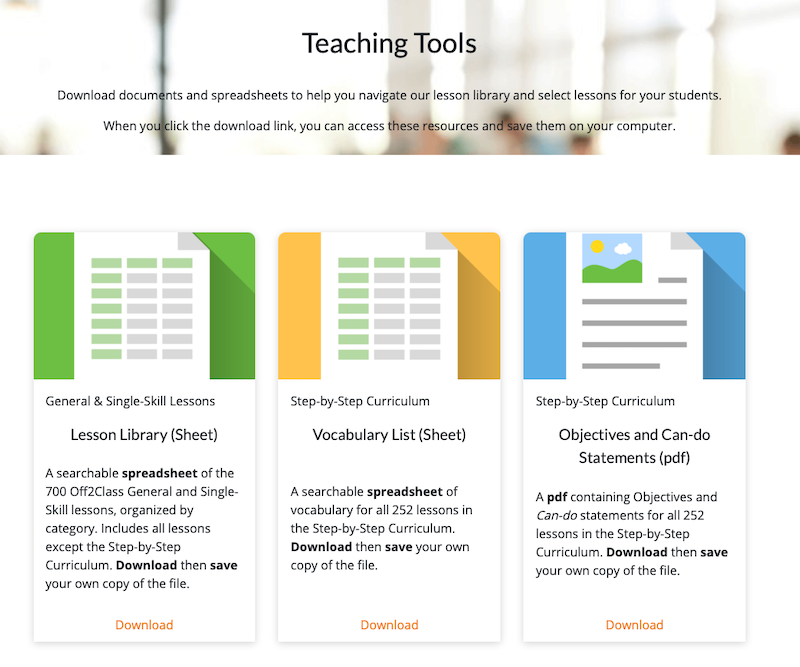 The Off2Class Teaching Tools solve the problem of both short-term and long-term lesson planning. Every lesson in the library is more accessible than ever before. We've put together a collection of spreadsheets:
Single-Skill lessons: A searchable spreadsheet of the 700 Off2Class Single-Skill lessons, organized by category.
Vocabulary list: A searchable spreadsheet of vocabulary for all 252 lessons in the Step-by-Step Curriculum.
Objectives and Can-do statements: A searchable spreadsheet (or PDF) containing Objectives and Can-do statements for all 252 lessons in the Step-by-Step Curriculum.
Using the Off2Class teaching tools
Think of the teaching tools as your table of contents to the Off2Class lesson library. Within these spreadsheets you'll find a searchable in-depth summary of all the lessons in the library.
Let's start by downloading the spreadsheet of the single-skill lessons.
Important: copy the sheet first. Before you can interact with the sheet, click 'File', then 'Make a copy. Alternatively, you can download the sheet as an Excel file.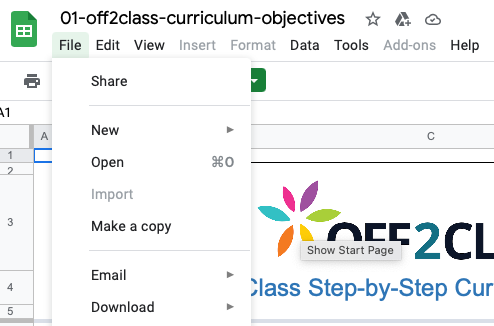 There are two ways to quickly find what you're looking for in this document. The first way is by using filters. By clicking the third row of any column, you can choose which parts of the document you'd like to see. For example, if my students are all intermediate and above, I can filter out the elementary and pre-intermediate lessons to remove them from view. Next, if I'm just looking for particular types of lessons, I can filter by lesson category. In this case, I'm looking for explicit grammar, so I'll choose only the categories that deal with grammar. That leaves me with the 89 lessons from the library that are most relevant to my students.
To fine tune my search, I can use the 'Find in sheet' feature by pressing Ctrl/Cmd+F and typing in search terms. For example, if I type in "perfect" I can find the 29 lessons that deal with perfect tenses.
This is even more powerful when searching the Step-by-Step Curriculum's 252 lessons. This sheet has an entire section dedicated to the structures embedded in each lesson. Even without using filters, searching for "present perfect" will display all of the lessons containing that structure. The Step-by-Step Curriculum document is also available in a PDF in case you'd like something easier to peruse.
Finally, our vocabulary list sheet has over six thousand words indexed by lesson, part of speech, lesson, and level, so that you and your students can have a master list of vocab terms.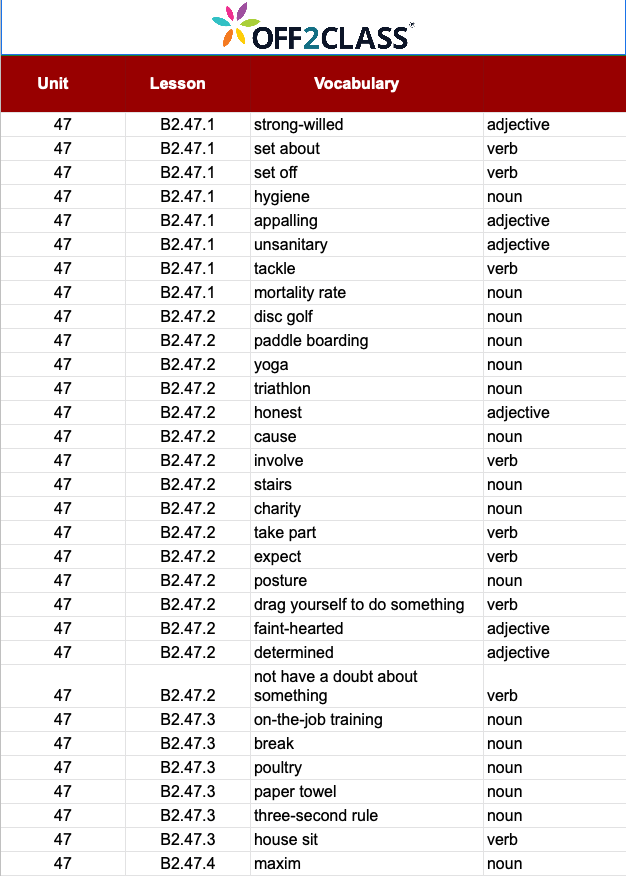 Benefits of the teaching tools
The Off2Class Teaching Tools offer a faster and more convenient way to organize both lesson planning and teaching. For language schools who need to ensure quality learning outcomes for hundreds of students, the teaching tools allow you to easily map out custom courses for all of your class groups. Make sure teachers deliver on your school's promises by providing them the entire course of study from the very beginning.
For independent or freelance ESL teachers, you can use the Off2Class Teaching Tools for project proposals. Easily modify the spreadsheets, add rows for weeks or individual classes, and fill them with specific lessons on specific days—the sky's the limit. An organized proposal demonstrates professionalism to your students (or the company you're pitching), which will give them confidence in your plan.
Ultimately, how you use the Off2Class Teaching Tools will depend on your circumstances. Our experience says we'll be surprised and delighted to see the results. We made them for you because our mission is to support teachers, and we can't wait to see what you come up with. As with everything we release, expect improvements and additions as time goes on.
Access the Off2Class Teaching Tools here, and you can always use the chat widget in the corner to leave your feedback.
---