Building a Strong ESL & Bilingual Teacher Pipeline
Daniela Torre Gibney knows first-hand the importance of a strong ESL & bilingual teacher pipeline.
After moving from Argentina when she was two years old, she entered a school system that did not support her learning. "I was an EL, an English learner," said Daniela. "I learned English in school exclusively. But I never had any special education teacher, or special teacher to teach me English. It was more of a sink or swim approach."
Daniela's experience motivated her own career choices and led her to education. She spent five years working as an ESL, bilingual, and general education teacher. Her graduate work looked at how schools can best support English learners, and she built on that by working for seven years evaluating educational programs and conducting research on schools.
She now serves as a Senior Associate Partner at Bellwether Education Partners and closed off our 2022 Career Week with a brilliant presentation: Building a Stronger ESL & Bilingual Teacher Pipeline.
Building this pipeline is critical because there is a shortage of ESL teachers. "Official statistics show that there is a shortage of ESL or Bilingual teachers in 32 states," said Daniela. "That represents an increase from the 29 states in 2012-13 and does not reflect the shortages of paraprofessionals and other support staff."
The entire presentation is available to watch on our Youtube Channel. In this blog post, we have highlighted some of the little-known, key points from this important talk.
Who are English Learners?
Terminology matters. Daniela stressed the importance of celebrating the diversity of students learning English – unfortunately, a different experience from her own.
"My Spanish language and Argentine identity were never seen as an asset," she said. "I grew up hiding that language and not connecting it to what we were learning in school." To address this issue, many districts are moving towards asset-focused language and classifications. Daniela shared this breakdown of the differences between terminology:
ELs are not an isolated minority. As Daniela pointed out, this learner population is the fastest-growing K-12 student group in the US. Between 2000 and 2017, there has been a 28.1% increase in ELs. That group of learners is comprised of many sub-groups, including:
Migrant students.
Newcomers.
Long-term English learners.
Students with Limited or Interrupted Formal Education (SLIFE).
English learner students with disabilities (ELSWDs).
Reclassified/Former ELs.
The growth in the EL population has led to a dispersal of learners across the US. Certain states are experiencing high numbers of newcomers with more than a 400% increase. So, what challenges and opportunities has this increase created? Daniela noted the following points: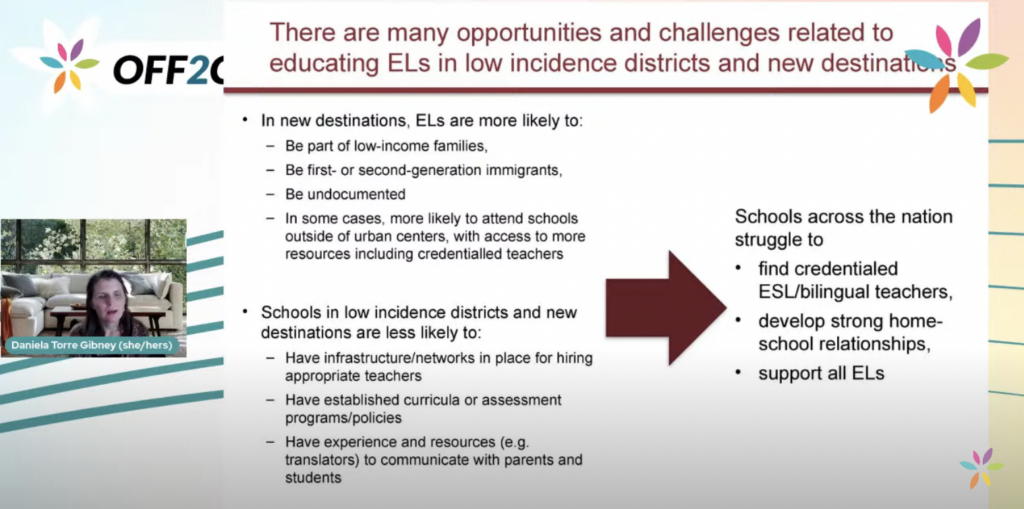 Professional development is vital for an ESL Teacher Pipeline
In the webinar, Daniela provided a history lesson on educational policy toward ELs and a helpful overview of the requirements placed by the federal government. States have different requirements on what they require in serving ELs, but while models of instruction may vary, the growth of the EL population means that all teachers should be ready to serve them.
"Teachers should have some pre- or in-service training around how to support these students," said Daniela. "Teachers with and without formal training report that they are underprepared to teach ELs, and teachers receive little professional training around this topic. As district leaders, it's an area of focus that really is important wherever you are so that everyone is prepared to teach ELs."
The following list outlines the instructional methods that all teachers should be able to exploit:
So, what policies can strengthen a district's ESL Teacher Pipeline?
Daniela walked through a series of flexible policies that states could use to address bilingual educator shortages, including:
Providing multiple pathways to certification.
Offering a menu of certification requirements.
Allowing probationary certification.
Allowing waivers for bilingual programming or bilingual educator requirements.
In addition, Daniela provided more details on the benefits of these types of policies:
As an example, Daniela highlighted the Logan Square Neighborhood Association (LSNA) in Chicago. Their impressive "Grow Your Own (GYO)" program highlights promising paraprofessionals and parents, then pairs them with teacher preparation programs and teacher education classes.
"The reason this is effective is that taps into community resources: it's really asset-based," said Daniela. "A lot of times we think about other models that recruit from outside. Those folks who come from a different state or district might be transient whereas folks who already live in a district are more likely to stay and be there permanently."
To sum up, if your district wants to strengthen the ESL teacher pipeline, take the time to watch the full webinar. As Daniela reminded us, this is a priority for whole communities, not just ESL teachers.
"Everyone is a teacher of ELs," said Daniela. "That should shape how districts approach and how they support teachers in the field. It's not just for a siloed group of teachers: it's really for everyone."
---
No comments