The Best LMS for ESL Teachers
In this post, I'll talk about the best LMS for ESL teachers. Whether you're an individual teacher or manage a school roster of 1000+ students, an LMS can be a helpful tool!
LMS: Learning Management System, or Logistically Miserable Solution? LMSs can be confusing, to say the least (I even had to Google the correct plural form). In case you have no idea what I'm talking about, allow me to make this extremely simple:
An LMS is nothing more than a way to manage students, assignments, and learning materials.
An LMS can have a lot more than that, of course, but they all boil down to a way that (supposedly) saves teachers and administrators time by organizing students and class materials in one place.  However, in case you can't tell by my parentheticals, LMSs often have a checkered reputation among teachers.  They can be difficult to use, clumsy to navigate, and tricky to master.
Today I want to share a few LMSs that might be suitable for individual teachers or smaller institutions. That means that they need to be inexpensive, and above all, easy to use. Maybe we can find the coveted best LMS for ESL Teachers!
.
1. No LMS
.
First, let's consider no LMS at all. Because introducing any LMS adds a layer of complexity, it's something you should only think about when the things you're currently doing to manage students, schedules, and lesson materials are no longer working. We can fall victim to "shiny object syndrome," and spend an entire weekend setting up a custom LMS solution that's currently serving 0 students. The moral of the story is: the simplest thing that will do the job is almost always best.
.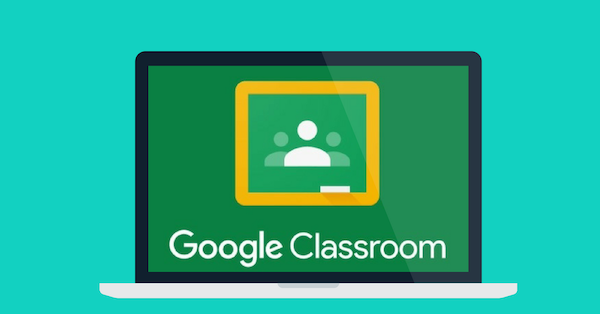 .
2. Google Classroom (sort-of LMS)
.
Next, let's check out Google's option. Before Google opened up their Classroom product to everyone (it used to be only for schools and those with .edu email addresses), Google products served as a de facto LMS for many teachers: Lesson notes in a Google Doc, sessions in the Google Calendar, course materials organized on a Google Sheet, communication via Gmail, and even class sessions in Google Hangouts. Now that Google Classroom is open to everyone (and free), it's a convenient way to unite these services under one umbrella, with a dedicated "course feed" where you can make announcements, respond to student posts, and even create and grade assignments. It's a free, user-friendly way to add structure to your classes.
.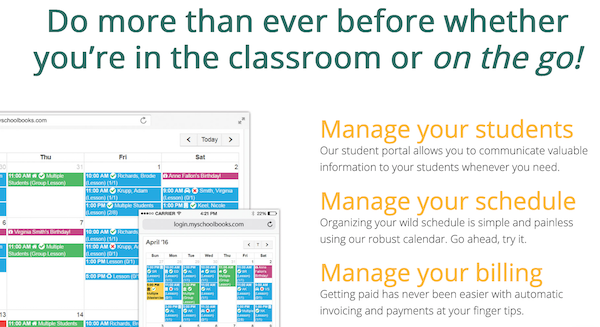 .
.
Third, we'll look at a teacher-specific platform. My School Books combines the power of a basic LMS and adds tutor management software on top of it. In addition to student communication and management features, My School Books can handle scheduling, payments, and even host a tutor website and blog. It's a versatile product that has features for both online teachers and in-person teachers, such as expense tracking and mileage. It's easy to use and inexpensive, and they have multiple teacher plans as well. And as a member of the Off2Class family you get an exclusive 90 day free trial with this link.
.

.
3. Moodle (synonymous with LMS)
.
Moodle is the first true LMS on this list, but it's third for a reason: it's way more power than most ESL teachers need, and is therefore that much more complex. Because it's free and open-source, people have done amazing things with Moodle across many industries. If you want to design a complete online learning platform from scratch, Moodle can do it, but for most teachers it's like trying to slice a tomato with a battle axe.
.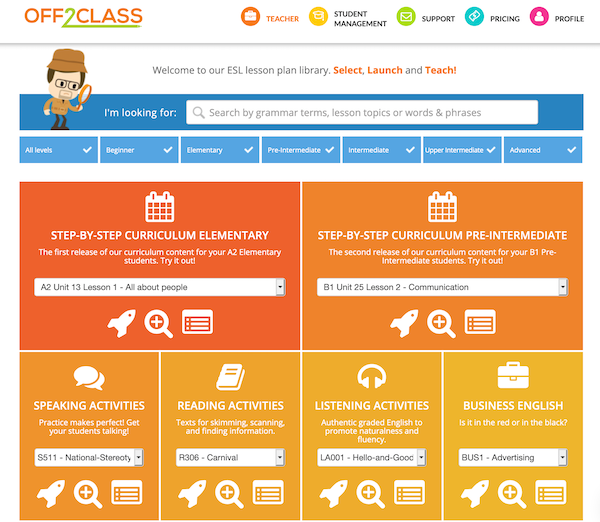 .
4. Off2Class (best features of an LMS)
.
Back to what I said above: the simplest thing that will do the job is almost always best. Off2Class provides nearly 800 ready-to-teach lessons that can be combined into custom courses based on the real mistakes your students make on our Placement Test. Manage students (and teachers if you're a school), mark lessons as complete as you teach them, assign and grade homework, and integrate with video platforms like Zoom — all without leaving the site. Off2Class was purpose-built to be everything ESL teachers need in an LMS, with nothing unnecessary to distract you.
Got an LMS that you love and that's easy to use? Let me know in the comments so that I can update my list of recommendations.
​
---