Introducing the Off2Class Teacher Panel: v 1.0!
Off2Class is thrilled to release the first version of the Teacher Panel!
Improving the teacher experience on Off2Class
We believe that improving English Language Learning outcomes starts with saving teachers time. By saving teacher's time, they can better focus on supporting and teaching learners. To that end, we have built The Teacher Panel, designed to save time by making it easier to access and review all student work.
How? Our Teacher Panel displays by default all submitted homework, placement tests and assessments submitted by your students, in the same place. You can filter the records by class. This allows you to make sure you've marked and reviewed all submitted homework for a class before you need to teach the students.
We know that teaching doesn't stop when you leave your classroom (virtual or physical). Therefore we've built the Teacher Panel to work easily and gracefully on your mobile device. While not a stand-alone app, accessing the Teacher Panel will be seamless and easy. This allows you to stay connected to your student's progress and "empty the inbox," whether you're on your phone or in front of your computer.
Our product manager Orus, walks through the mobile features of the panel in the embedded video!
Creating the new Teacher Panel
The Teacher Panel has been within the Off2Class Product Team's sights for some time. We are a company built by language teachers for language teachers. We listen to teachers, particularly as our community of online teachers has grown. Over the years, we have had a number of requests for a central page from which teachers can manage all assignments for all students. In fact, for the last couple of years, this has probably been the most requested product feature from our users.
Along with an aggregated view of all submitted assignments, teachers can also view a single type of assignment and filter by class. We highly recommend that you watch the video in which Off2Class Product Manager Orus takes you through the Teacher Panel. After that, check out the rest of the Off2Class Tutorials on Youtube!)
How will teachers benefit?
Teachers can:
locate all submitted assignments in the one place
filter the record by class
review and reassign assignments
For example, if you have to teach Class 7B Eng Intermediate in two hours, you can filter to view all submitted work from those students and make sure you review everything before you teach the class.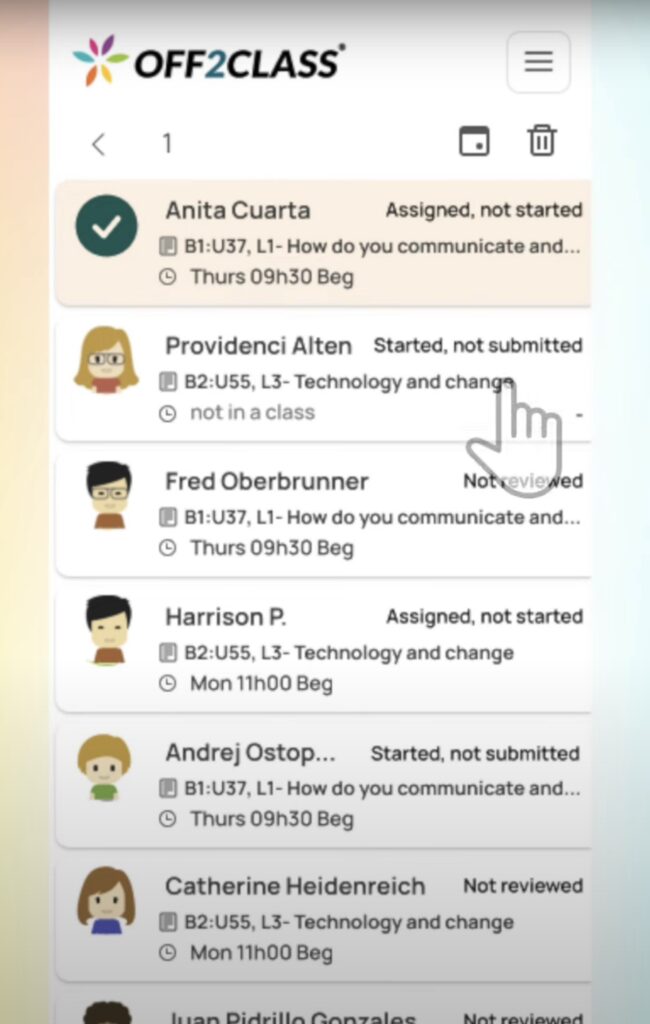 Additionally, teachers can:
view all assignments by type (homework, placement tests and assessments)
view by status
For example, you may like to look for all overdue homework that you have assigned to Class 6A Beginner and reassign that homework to ensure it gets done.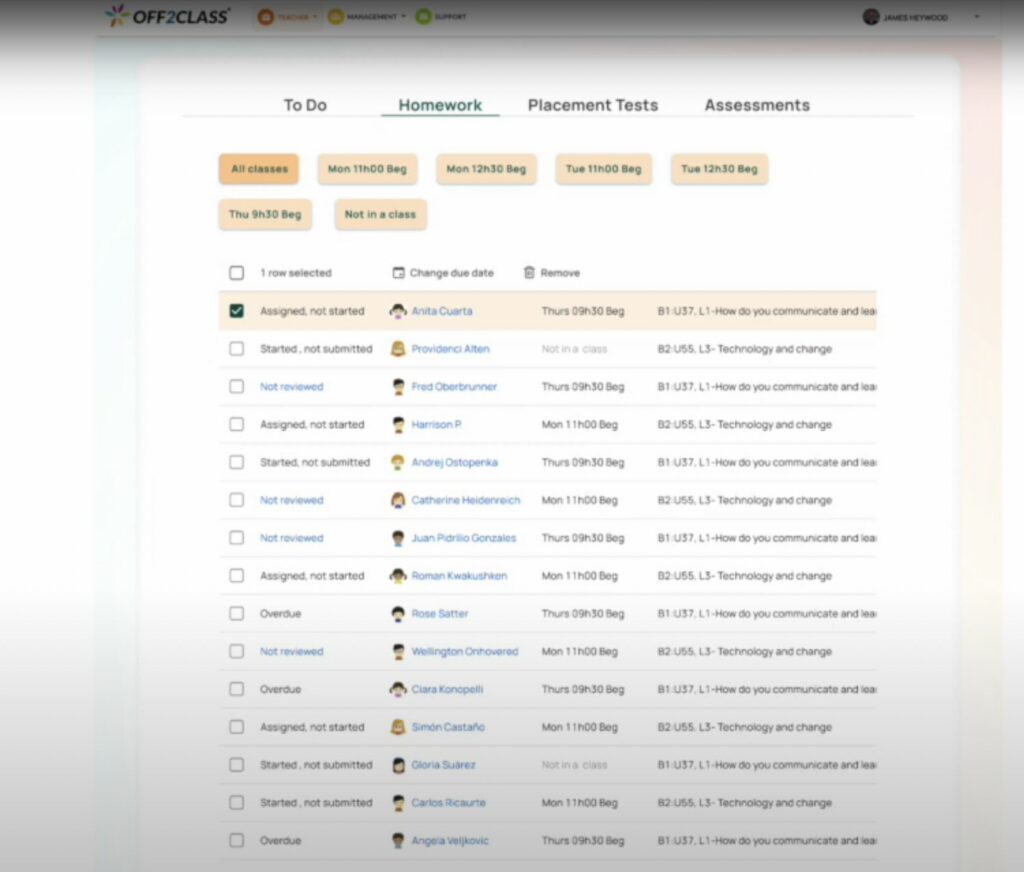 Our Development Team has worked hard on this feature. Software development is often a thankless task. The ability to display, filter, sort and manipulate millions of records is an expectation of every end-user in today's digital world. As a result, we often fail to celebrate the hard logic and demand for accuracy that goes into creating an easy-to-use panel displaying data in an easily understandable format for thousands of users. So thank you, Off2Class Dev Team.
And if you're wondering what our second most requested feature is, well, you'll be pleased to know that we're going to be releasing that in the second half of 2022. Stay tuned!
---
No comments