How to create customized ESL learning plans for your students
In this post I'll show you how to use Off2Class to create customized ESL learning plans. It's one of our most powerful features and we've made a lot of changes and updates since we first introduced this ability last year. Let's start with a video where I walk you through the entire process:
.
.
.
.
Why create customized ESL learning plans?
.
This is a feature allows anyone — even rookie teachers — to create entire courses for students that are guaranteed to be relevant. The relevance is guaranteed because the lessons that populate the learning plan are based on the mistakes the student makes in the placement test. Rather than just randomly assigning lessons at a given level, you're starting with lessons that target your student's actual mistakes. Here's how it works:
First, your student answers a question incorrectly on our placement test.
Then, the lesson that will fix that error is automatically added to the learning plan.
Finally, once the student completes the placement test, all of the relevant lessons are collected into the learning plan.
.
Find the learning plan
.
Since the learning plan is automatically generated once a student completes their placement test, they need to complete that first! Once your student completes the placement test, here's how to find the learning plan:
Navigate to your student management area, click on the student, and scroll down. The learning plan is the tab next to the lesson history table.

.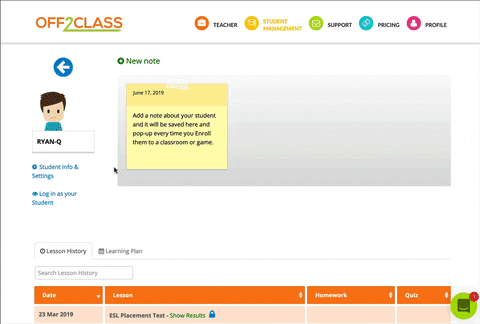 .
Remove lessons from the learning plan
.
The first step when customizing the learning plan is to remove anything that you don't want to teach, or that you think the student doesn't need. By default, the learning plan populates with lessons that correspond to every single mistake your student makes on the placement test. Most of the time, that's exactly what you want, but there are circumstances where you might not want every lesson.
The example in the above video is an advanced student who made one mistake on a singular/plural noun. It's likely that I can correct this error with some simple drills and spaced repetition. I probably don't need an entire 45-60 minute lesson dedicated to teaching the structure of singulars and plurals!
All I need to do is click on the "Customize Learning Plan" link, and then click on the red minus sign to remove the lesson from the learning plan. It's easy:

.
.
Add lessons to the learning plan
.
Even though the learning plan is full of lessons (often it will be many lessons), it's almost always a good idea to add more. Because the default learning plan is based on grammar mistakes, all of the lessons will be grammar lessons. While grammar is clearly important, you'll still want to add variety to your ESL course.
Thankfully, adding lessons to the course is a snap. You have two tabs to choose from: Recommended Lessons and All Lessons. Recommended lessons will be only those that correspond to the student's Placement Test grammar level; while All Lessons is every other lesson in the library. Simply use the search bar and add lessons:

.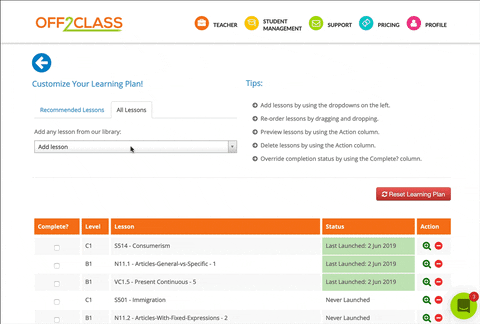 .
Re-order the lessons in the learning plan

.
Once you add the lessons you'd like to use to supplement your course, the final step is to arrange the lessons. By simply dragging, you can put the lessons in the order in which you'd like to teach them:

.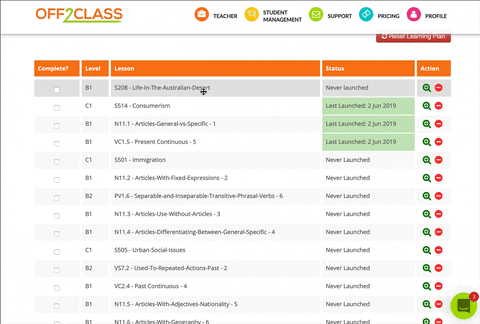 .
Start customizing today
.
This feature is a game changer, both for individual teachers as well as those who teach in schools. If you're an individual or freelance teacher, this is a feature that will help you come across in an extremely professional way to your prospective students. If you work in a school, and especially if you manage many students, custom learning plans allow you to give each of your students the lesson content they need with very little planning. Its' a win for everyone!
Have you used this feature yet? Many of our teachers tell us that this is their favorite tool on the site, but others have never used it. What do you think? Have you tried it yet? Let me know in a comment below!

---