How to Plan an ESL Course: If you've never done it before
Welcome to 2018! Many of us may need to Plan an ESL Course this semester…
The call to Plan an ESL course will be an easy task for some of us. We can use past courses we've planned as a starting point or perhaps use an existing plan and adapt it.
Yet, for many of us, there might not be a previous 'template' at our schools to follow. We may be at a new school or be planning for a new course type within an existing school. Even more daunting, we might be planning our own private lessons!
Today's article is geared to those that have never planned an ESL course before. For teachers that have planned lessons but not courses.
A request to Plan an ESL Course for the first time can be daunting. We've all planned individual ESL lessons. But, how do we link one lesson to the next without relying solely on a pre-packaged course book? How do we take into account the needs of a student intake if we've never met them before? How do we juggle the need to plan an ESL course with the fact that our first class is tomorrow!
A simple method to Plan an ESL Course that is linked to your students' needs
I'd like to outline a method that you can use today to plan your next ESL course. You can adapt this method to any ESL teaching environment. Are you planning an online ESL course or a classroom course? You'll be able to use this method for both environments. Equally, it also works for both classroom lessons and one-on-one tutorials.
Note: In today's example, I'm going to plan a course for a single student. Yet, you can adapt this example to a group environment. Get in touch in the comments section below for advice on using this method with your group.
Step 1: Plan an ESL Course: Determine Your Student's Needs
You'll need some form of a diagnostic so that you can obtain a starting point for understanding your student's ESL needs. You can, of course, find a host of ESL assessments on the web or even design your own.
My recommendation would be to assign your student our ESL Placement Test. Within a couple of clicks, you'll have assigned your student a placement test that they are prompted to complete online. You'll have the choice of including Listening, Reading, Writing and Speaking with the mandatory Grammar assessment.
The following is a short demonstration of assigning our ESL Placement Test
Step 2: Review Your Student's Results
Now that your student has completed their ESL Placement Test it's time to review the student's results.
Here's a snippet of what you'll receive for every student that sits the placement test: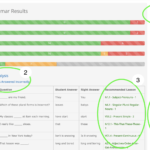 When reviewing these results there are a couple of items I'd like to point out that will help you interpret a student's learning profile and needs as you plan an ESL course:
Grammar Proficiency Level: We provide the student's overall Grammar Proficiency Level based on the world's most used framework, the CEFR. We also provide a rubric to interpret the results. But we'd recommend not focusing too much time on the student's level classification (see #2 below).
Gap Analysis: This is where we suggest focusing your attention! We provide you with a table showing every grammar question that the student got wrong as well as the correct answer and the lesson from our library that links to the deficiency. Rather than rely on relatively broad level classifications (#1 above) you now have the exact deficiencies that you know your student is struggling with.
Recommended Lessons: For every deficiency, we've noted in #2 above, we list the lesson from our ESL Lesson Library that you can use to address that deficiency. These lessons will form the starting point to plan an ESL course. We automatically populate this student's Learning Plan in Off2Class with these Recommended Lessons. We'll adapt them below in step #3 to plan an ESL course.
Listening and Reading Diagnostic: If you've assigned the Listening and Reading portion of the assessment we'll provide you with a recommendation on whether the student's score either supports or does not support the grammar proficiency. We'll use this info in our next step as we plan our course. You'll also have an example of the student's writing and speaking that you can use to form an overall picture of the student's needs.
The following is a short demonstration of reviewing your student's ESL Placement Test results
Step 3: Plan an ESL Course using your student's Learning Plan as a starting point
In Step 2 we produced a list of grammar-focused lessons linked to topics that we know our student is struggling with. How do we know these lessons are relevant to the student's needs? Because our student displayed the deficiencies when completing the placement test.
Now we need to adjust our student's learning plan (i.e. our course plan) by adding non-grammar focused lessons to it. There's only so much grammar that any one student can take. How should you go about adjusting this all-grammar course plan into something that better addresses our student's needs? This comes down to a number of factors:
If your students sat the Listening or Reading section of the placement test, we provide you with a list of non-technical (i.e topic-based lessons) that are at an appropriate level for your students
Does your course have any specific outcomes? Can you match these outcomes to lessons within our lesson library using our search functionality?
Does your student have any specific interests? Are they interested in Travelling or Politics, or perhaps Sports? This can be a great way of narrowing down which topic-based lesson to include in a course.
Perhaps your school's profile or current student body can add some insight?
You should also use this opportunity to take into account any scheduling parameters such as class frequency, session timing or any assessments that might need to be planned etc…
The following is a short demonstration of customizing your ESL Course Plan
Step 4: Monitor your ESL Course Plan and optimize it
While we plan an ESL course, many of us won't have the luxury of being in contact with the students we are actually developing the plan for. But once you begin teaching you have the best asset for your course planning of all: access to your students!
Our final step is not actually a discrete point in the course planning process. Here we would simply suggest that you continually monitor how your students are reacting to your chosen lessons and adjust your course plans accordingly. Don't think of your course plans as a static 'A to Z' linear path. As you learn more about your students, their needs, their weaknesses and their goals, you should adjust your plan accordingly.
If you've used Off2Class to assign our Placement Test and set up a Learning Plan, then our customization features noted in the demo video in Step #3 can be used to adjust your plans at any time.
We hope that we've provided you with a framework that you can use or adapt to Plan an ESL course.
If you've got experience planning an ESL course let us know in the comments below! Equally, if this is your first time planning an ESL course, feel free to jump in on the conversation!
---