The new Off2Class free account
The new Off2Class free account is here to help accommodate the current surge in online ESL teachers and institutions needing to get their ESL teaching online. Here's Kris, our CEO and cofounder with the official announcement:
A brief history of Off2Class
We're no strangers to online ESL. Off2Class was founded in 2014 as a way to empower independent online ESL teachers as well as institutions that need to teach online. We started as nothing more than a collection of a few dozen lessons. What made us unique is that the lessons we created were optimized for an online environment and designed to be teacher-led. We weren't trying to replace teachers, we were trying to empower them.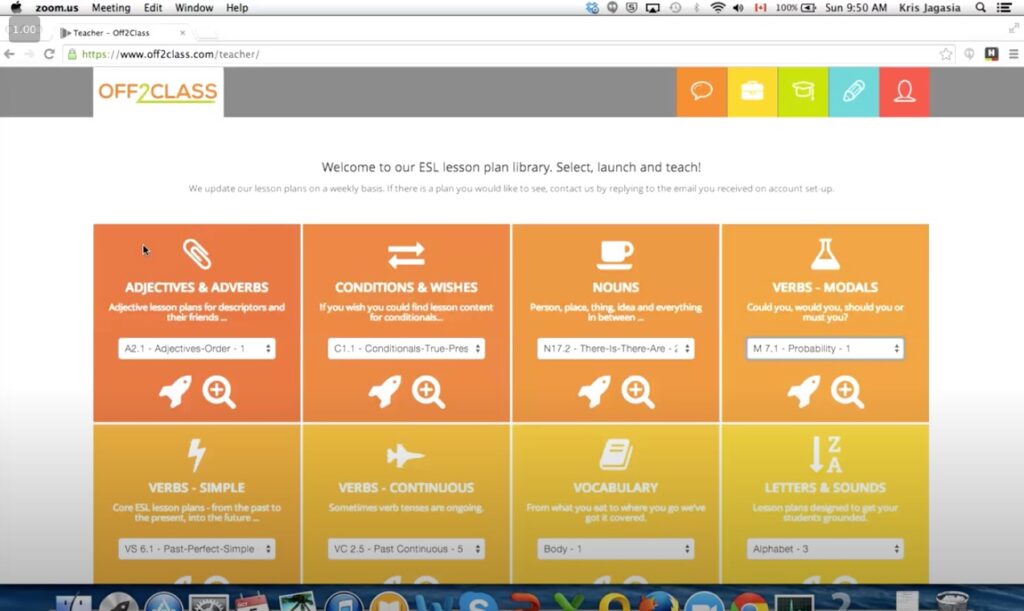 In the last five years that humble lesson collection has grown to a library of more than 1,000 lessons, and now includes homework and a step-by-step curriculum to walk students from A1 to C1 with lessons in sequential order. We've also added a comprehensive placement test, as well as powerful student management features. Off2Class is now the go-to resource for online ESL. We still empower individual online ESL teachers just as we always have, but now we can be found in universities and language schools all over the world.
Unprecedented global circumstances
While there has been a gradual trend for years toward online education in general, the trend turned into an immediate paradigm shift in March as thousands of schools all over the world faced COVID-19 closures. Programs both public and private needed to transition from in-person to online virtually overnight in order to continue to serve their students.
Since then, we've seen a tremendous increase in Off2Class usage as the world adapts to online ESL. Many are going online for the first time. We're working harder than ever to support these new teachers in every way we can. Every week we help more teachers learn how to use Off2Class, and how to adapt to ESL online in general.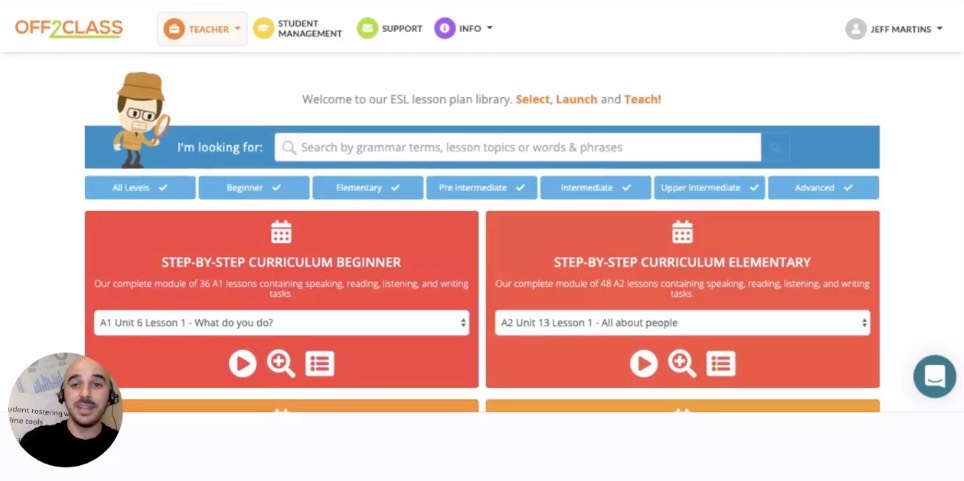 Today's response: a new Off2Class free account and community resources
Back in March, we started planning an Off2Class free account. We identified creating a free account as the best way to make online ESL accessible to a global audience. The first goal is to make online ESL accessible, and our free account does that. The second goal is to empower everyone with the tools they need to undertake online ESL, even without experience. That's why we've launched live weekly webinars and professional development in our Facebook group. We've also added a video resources section of our website dedicated specifically to online ESL teaching. Our goal is for everyone to be able to use the Off2Class lesson materials to successfully teach ESL online.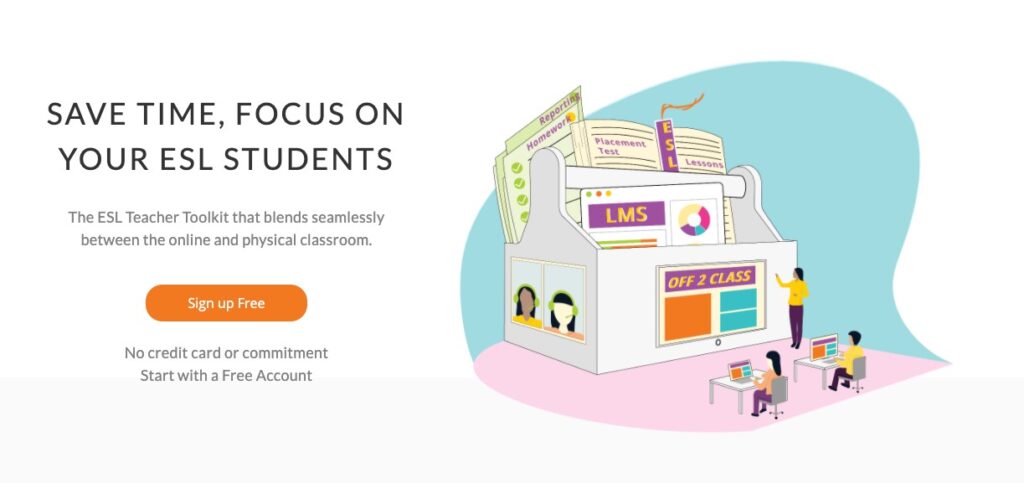 The next steps
This is new territory for us. In addition to redesigning our website (our web design had remained relatively unchanged since 2015!), the Off2Class free account represents something that we've never done before, and we're excited for the future. Our mission has always been to empower ESL teachers, and this is our boldest step yet toward fulfilling that goal.
Starting today, it's possible for anyone to sign up for the Off2Class free account. We're also taking one more step that we haven't before: we're asking our community to help us spread the word.
The Off2Class free account lowers the requirements to allow almost anyone to teach ESL. If there is anyone in your local or online communities that would benefit from free access to this tool that we've spent the last five years working on and we believe is the single best resource on the internet for online (or even in-person) ESL, please send them to Off2Class.com to set up their free account.
---