The Off2Class Marketing Kit for ESL Teachers
Grow your visibility online using our free Marketing Kit for ESL Teachers.
Welcome to the "I Teach Using Off2Class: Marketing Kit"! The purpose of this free marketing kit for ESL teachers is to help build your teaching practice and allow you to proudly share that you're part of our amazing teacher community.
This is one of the most frequently requested resources from teachers and schools. We know you want to let students know the benefits of learning with Off2Class. We hope these free marketing tools for ESL teachers will help you do just that!
What is included in the "I Teach Using Off2Class: Marketing Kit"?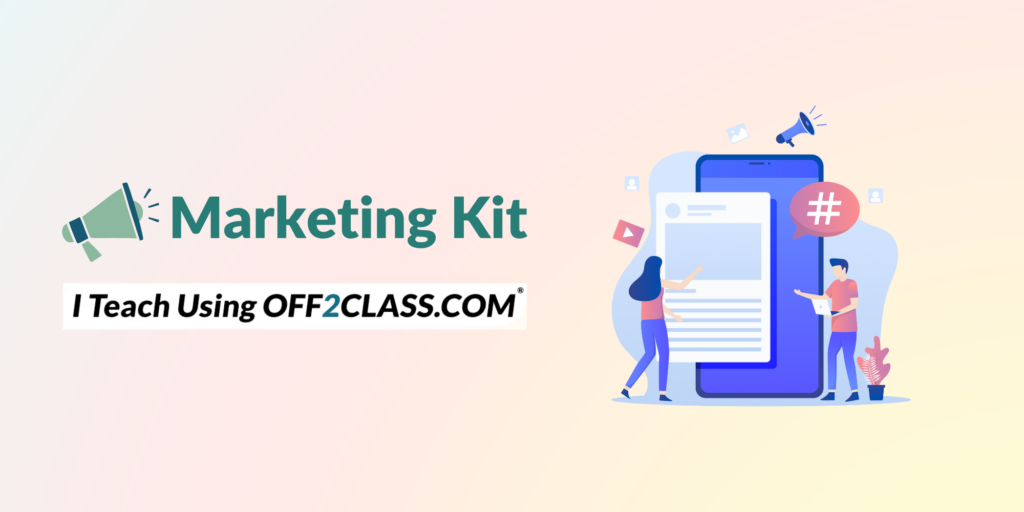 Whether on your website, blog or social media feeds, advertising your use of Off2Class can be a great way of differentiating yourself from the crowds. The Kit includes free downloads that you can use wherever you advertise your English classes.

The Marketing Kit includes text snippets, images, and a Canva template. Use the resources to promote your ESL teaching and find new students.
How to use the Marketing Kit
To use the Marketing Kit, we strongly suggest starting with this document: "Start Here: Marketing Kit Instructions and User Agreement." This document includes links to all of the resources. It also tells you how to use the kit.
Quick links: choose your resources
Once you have read the Marketing Kit Instructions, you can take a look at each asset and download the ones you want to use! Each document has instructions so you know exactly what to do.
Learn more about the Marketing Kit
Not sure how to use Canva? Want to update your website?
To help launch the kit, Sarah Collings and Chris Rush hosted a live webinar with instructions on how to use Canva, download images, and update your website copy. You can catch up with the webinar here:
Exclusive Facebook Group Competition
To celebrate the launch of the Marketing Kit, we hosted a competition in the Off2Class Facebook Group to see how different teachers used the kit. It was amazing to see different teachers using the Kit on their social media pages, website and email marketing!
We selected a winner randomly from all the entries, and can announce the winner is the fantastic Union Jack English School! Check out their website and the work they are doing to promote English learning. This is what Nataliia from Union Jack School said when we let her know she had won:
'We have started working with Off2Class a year before quarantine. A Placement test, great curriculums for all levels, word lists, meaningful lessons and tons of additional materials have allowed us to reduce the preparation time for lessons and make life easier for our teachers. With the help of Off2Class, blended and flipped learning was organised. When quarantine started, the platform turned out to be a lifebuoy
for our school. We have never worked online before. Thanks to Off2Class, we switched to online teaching easily. We are currently in our fourth year of partnership. I want to express my deep gratitude to the whole team for their support, quick response to emerging questions, for good material, for saving our teacher's time, for wise advice in videos and for a loyal price.' – Natalia Kolesnykova, Union Jack English School
The Off2Class Facebook Group is an exclusive space for ESL teachers. We work hard to make sure it is one of the most supportive and positive spaces for ESL teachers online, and we now have over 10,000 ESL Teachers in the group! We also share free resources and events just for members. Do you want to stay tuned for more competitions and incentives? Make sure to join the Off2Class Facebook Group for ESL Teachers today!
---