Lessons Learned: 2.5 Years Teaching ESL Online
Hello, my name is James Heywood and since the beginning of 2013 I've been teaching ESL online, on a full-time basis.
Since that time, I've logged almost 4.500 hours online, teaching a mix of Young Learners and adult students. This month, I'm moving on from online ESL teaching to pursue a new project. I think it is a fitting time to share some lessons learned with other teachers who may be interested in teaching online.
Please feel free to get in touch either in the comments section of this blog or by email. I'm always happy to field individual questions.
My top lessons learned after 2.5 years of teaching ESL online:
#1 Set your prices at a rate you can live off and live with 
When I first started teaching ESL online I was tempted to undercut my prices in order to attract my first customers. Be careful! As we've discussed before on this Blog, your first students will become your most prolific source of future students. Price information will be one of the first topics discussed between existing and prospective students. If you undercut your prices below a living wage, it will be difficult to climb out of this rut in the future.
#2 Bend over backwards for your first students
We all know that finding students as an independent online ESL teacher is difficult. We've discussed strategies on how to find your first students before. Keep in mind, that your first students will be the word-of-mouth source for your future students. Do your best to make their experience incredible. Answer emails promptly, provide homework, and try your best to adapt lessons to their needs and goals. And remember if you're teaching Young Learners, your ultimate customer is the parent!
#3 Don't get buried in technology
In today's exciting world of EdTech it sometimes feels necessary to stay up-to-date on all the latest blogs releasing the latest news in educational technology, especially if you are teaching ESL online. My advice is: don't. Follow just one or two blogs and most importantly, find the 3-4 pieces of technology you need to deliver your business and master them. Stay in touch with blogs to find out about new releases, but do it every now and then. Here's my suggestion for the ideal teaching ESL online technology 'stack':
Videoconferencing system: Zoom.us (basic accounts are free and it performs incredibly well)
Payments: Paypal, it's basic and simple, and your students will know how to use it. Fees are a bit higher than other payment gateways, but before going through the integration pain, it's a great way to get started.
Communication and file sharing: Gmail and Dropbox or Google Drive
Lesson content and homework / self study: Off2Class (shameless plug!)
#4 Learn from others 
Although teaching ESL online is a relatively new field (people are always amazed when I mention to them what I do for a living!), there are some great bloggers out there. I got some great pieces of advice when I was starting out from:
#5 Focus on finding your customers through Offline channels first
It might seem paradoxical that I'm suggesting finding your students (for an online business) through offline channels, but I am! At the beginning of my venture I spent quite a bit of money on online advertising. I found it quite difficult to differentiate myself from the hundreds of other options students have when picking an online ESL teacher. My first students came from relationships that I had developed from being an offline teacher. If you are lucky enough to have relationships with students, use them to get your first online students. A personal recommendation is the easiest way to differentiate yourself from other online ESL options.
About the author: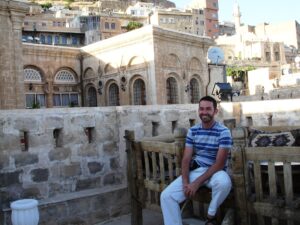 James Heywood is an online ESL teacher and has been teaching ESL online (on a full-time basis) since early 2013. After years of teaching in language institutes and private schools, he started the transition to online in late 2012. He has taught a variety of ESL students including young learners, adults and adolescents in one-on-one and group settings. Off2Class (ESL lesson content for private ESL teachers) was launched to provide lesson content resources targeted to teachers running their own private tutorials.
---