Our favourite tool for online ESL teachers
The Off2Class team has been teaching ESL online for the last three years.
Today, we would like to share our favourite tool for online ESL teachers…
Our favourite tool for online ESL teachers is a videoconferencing system called Zoom.us. You may think that in a world of productivity applications, Ipad apps, interactive games, mobile learning and online whiteboards; that a simple videoconferencing system is nothing special (especially when Skype and Google Hangouts are free). We completely disagree!
We've realized that when it comes to tools for online ESL teachers, less is more. It makes more sense to find the 2-3 pieces of technology you need to deliver your online ESL lessons,  rather than constantly staying abreast of the latest apps and trends. This will give you more time focus on more important things such as finding students and keeping them happy. The videoconferencing system you choose, is a critical piece of your technology "stack" as an online ESL teacher.
Our favourite tool for online ESL teachers:  Zoom.us
(Please note, we have no commercial relationship with the guys behind Zoom, we just love their product!)
Zoom.us is a videoconferencing system that Off2Class has been using for our online lessons for the past 3 years. We came to the conclusion that it was our favourite tool for online ESL teachers after testing every videoconferencing system we could get our hands on (Skype, Google Hangouts, WizIQ, Go To Meeting etc…). What we love about Zoom is that it has every feature you need to run an awesome online ESL class, without any excess weight. It also works extremely well in low-bandwidth environments (this is great if you're teaching students in less-developed countries). Basic Accounts are free.
Here's a summary of our favourite features (for a full list, go here):
No heavy software for you or your participants to download (works as a browser plugin)
Extremely simple and intuitive class joining process (students just click a link to join the class)
A great selection of annotation tools, so you can share your screen, and then write and draw all over the screen like a real classroom
Easy process to record classes (a selection of files are created including audio-only MP3s and full-format Mp4 files)
Ability to teach up to 25 students in a class
A great chat function (send chats either to your entire class, or privately to one student at a time)
Here's a screen shot of Zoom in action (screen sharing Off2Class content, while using annotations):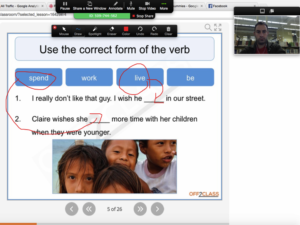 Basic Accounts are free! (Pro Accounts are only $10/month). The main restriction on Basic Accounts is that group meetings (i.e. classes with more than 1 participant) are limited to 40 minutes (one-to-one lessons can run for unlimited time lengths). If you are only teaching one-to-one (rather than group lessons) a Basic Account gives you everything you need.
Here's a webinar of James, from Off2Class, teaching using Off2Class content in a Zoom classroom.
We find the host of key features (recording, chat, annotation, screen sharing) with ease-of-use for joining and participating in lessons, combined with great performance when bandwidth is low, makes Zoom our favourite tool for online ESL teachers.
Tell us what you think! Are you a Skype teacher? Google Hangouts? WizIQ? Have you tried Zoom? Let us know!
---