4 Essential Tools for Online ESL Teachers
Technology is getting better and better and that means it is easier than ever to stay on top of your student's ESL progression even if your students are on the other side of the world.
In many cases we online ESL teachers live far away from our students and do not get the standard face-to-face time that many people are used to in a classroom setting.
Having the right tools for online ESL teachers available to you means being able to give the right kinds of lessons and support to your students that they both need and deserve while maintaining efficiency.
Here are some of the tools for online ESL teachers that I use on a regular basis. Some are great to stay in touch with your students and others simply make life as an online teacher (and student!) easier and more efficient:
FluentU
What I like about FluentU is that it really does take real-world videos that fluent English speakers would watch and turns them into teaching tools. They have a nice, natural approach to learning English that eases the students into both the language and the culture.
They have hundreds of entertaining videos that your students will enjoy watching. They have all been annotated and the words have example sentences and definitions. Their interactive tools are my favorite aspect of the app. This can be a great tool to keep your students engaged between live sessions with you.
For example, if the student clicks on the word brought, this is what they see: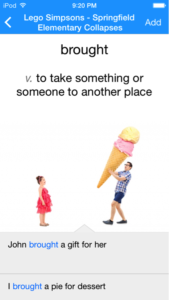 Asana
This is an excellent free tool to plan out any lesson or project. It allows you to stay in touch with students and keep tabs on their progress in an easy and efficient manner. You can use it to easily breakdown any lesson or project into easy to digest and manage pieces.
I also use it to keep track of my ideas and notes on new lessons and as a place to set deadlines for my students where they can go and ask any questions they might be struggling with.
Watch this video by Jack Askew to see a little more of about how Asana can be used as a tool for online ESL teachers.
Off2Class
Off2Class is a powerful tool for online ESL teachers. You will have a massive library of speaking, listening and reading activities right at your fingertips. Off2Class will show you exactly how to teach the material in a way that is both interesting and fun for the students.
You can also use our placement test to see just where your students are in terms of their progress and level of fluency.
Last Pass
And last but not least I use Last Pass on a daily basis. While this isn't exclusively a tool for online ESL teachers, it is one that can make a teachers life a lot easier. I find that with all the different sites I use as teaching tools, remembering all the different passwords can be a challenge.
Last Pass will generate and then remember all of my passwords for me in one place and will auto-fill all of my login details for each site. It is hands down the fastest, easiest and most secure way to generate and store your passwords.
We hope you enjoy these recommendations! Let us know your favourite tools for online ESL teachers below! 
---
Please provide your name and e-mail address so that we can send you the download link: