Planning Your Vacation – An ESL Lesson Plan
Add new lesson In this post, we will introduce a lesson plan that will get your ESL students talking about vacation planning On Vacation – Planning Your Destination is part of Off2Class' Functional Language Series. This lesson plan doesn't contain explicit grammar instruction, rather, it is designed to promote authentic language skills. If your students enjoy vacationing continue reading to learn more about this lesson plan.
Planning Your Destination at a Glance
In this lesson, students will be required to do a variety of tasks that revolve around vacation planning. The lesson begins with an activity that elicits vacation-related vocabulary. Then, students will move on to a reading exercise that will test their reading comprehension. Then, students will move on and do a role-play exercise. Finally, students will have the chance to share their ideas and opinions about their ideal holiday destinations.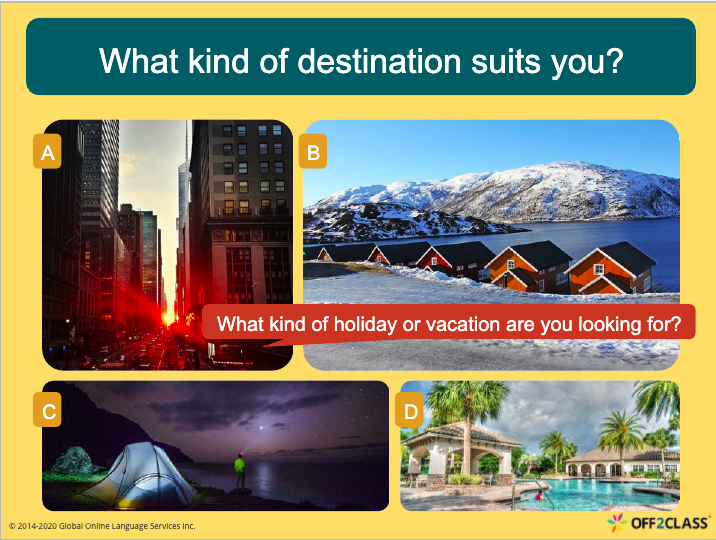 Download the lesson plan On Vacation – Planning Your Destination
Vacation Planning – How to use this lesson plan
This is a fantastic lesson plan to use with students of all ages and backgrounds. I've never met a student who doesn't enjoy planning vacation destinations – even travel agents love this lesson! As well, this is one of my favorite lesson plans to use with new students because it is relevant to most people, regardless of age or profession. I'll often use it to help me grasp their level of English if they're apprehensive to take a placement test. It's also a fun activity to use in a corporate classroom setting! Business English students often need a relaxed day in class, and this lesson plan allows just that!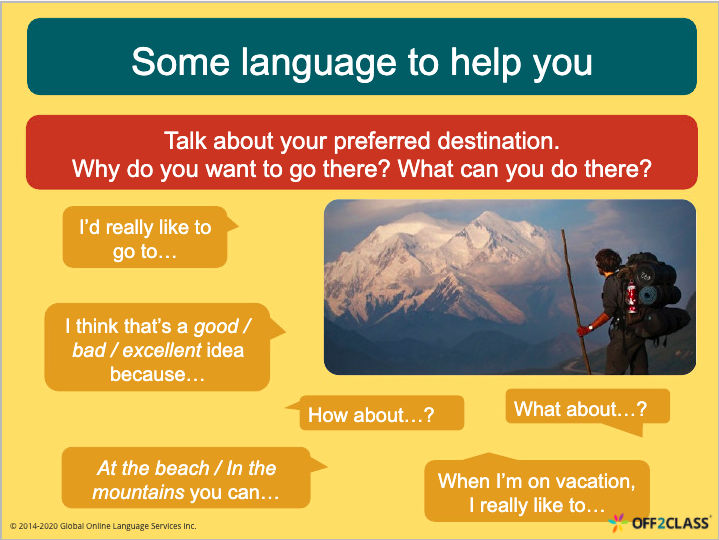 This vacation planning ESL lesson plan is so much fun, you'll want to check out Off2Class's Lesson Library for more ready-to-teach lesson plans! Off2Class has ten other lessons that form the Functional Language – On Vacation Series! Additionally, you'll find hundreds of other teacher-led lesson plans for students of all levels in an array of topics. But don't forget – before teaching this lesson, make sure you sign up for a FREE Off2Class teacher account so you can access the extra-helpful teacher notes and homework assignments. Spend less time planning and more time teaching with Off2Class!

If you found this lesson plan helpful, please share it with other ESL teachers and comment below! We love to hear from experts like you!
---
No comments