How to use Off2Class: Live Onboarding
In today's post I'll share 3 tips on how to use Off2Class. I'll also show you how you can join our next live Onboarding!
Do you have questions about how to use Off2Class? Have you ever thought to yourself: "Oh, I wonder how to do this particular thing?" Today I'll help you get answers, and share 3 hacks to help you get the most out of Off2Class.

.
Sign up for the Live On-boarding here!
.
Adding a student without sending the Placement Test
Usually, the most effective way to add a new student is by sending them the placement test, since it adds them and sends the test with a single step. However, there are a couple of reasons why you might not want to send the test right away. Maybe your student doesn't want it, or maybe you already have a good idea of their level, or maybe you forgot to send it to them before your first lesson and now there's no time and you just need to enroll them into a lesson immediately!

No matter the reason, all you have to do is to click on "Student Management" in the top menu, and then click the little plus sign. Then, type in their information and you're all set!
.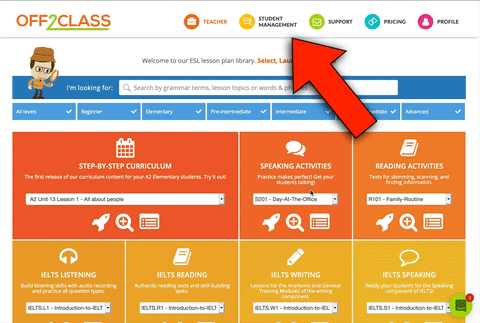 .
Assigning homework to keep your students coming back
As someone who has worked with hundreds of independent teachers who use Off2Class, if I could give only one piece of advice for keeping your students, it would be this:

Assign homework for every lesson you ever teach, including your very first one.

Sending homework creates an almost magical connection between now and the next lesson, even if there isn't a next lesson on the calendar yet (and even if it's not purchased yet)! Homework left undone is bothersome, nagging students in the back of their minds until they complete it. It's the absolute best way to make sure they don't forget about English lessons in the busyness of life that inevitably happens between your English lessons.
Because it's so important, we try to make it absolutely as simple as possible. The homework dialog appears every time you close the Off2Class classroom:

.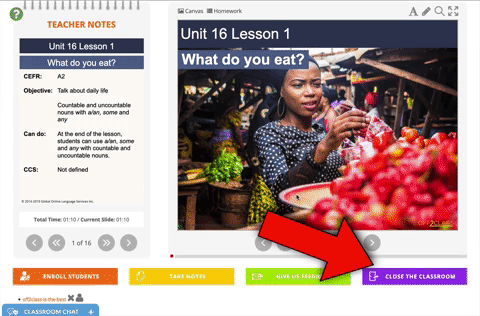 .
Even if you don't finish a lesson (or don't even start one), you should still assign homework. Even without a student, you can open a classroom, close it right away, and send the homework. Because the student has access to the lesson summary, even if you're not able to teach the lesson ahead of time, it works wonderfully as a flipped classroom assignment, so that students work things out on their own the best they can, and you can address the trouble spots in the next lesson

Customizing your student's learning plan
This is how to use the placement test to create a course that's truly customized for your student. This tip is slightly more advanced than the others, but the result is amazing! Once the student completes the test, you'll see the "learning plan" tab at the bottom of their profile. By default, "lesson history" will be selected. First, you'll need to click "Learning Plan."
.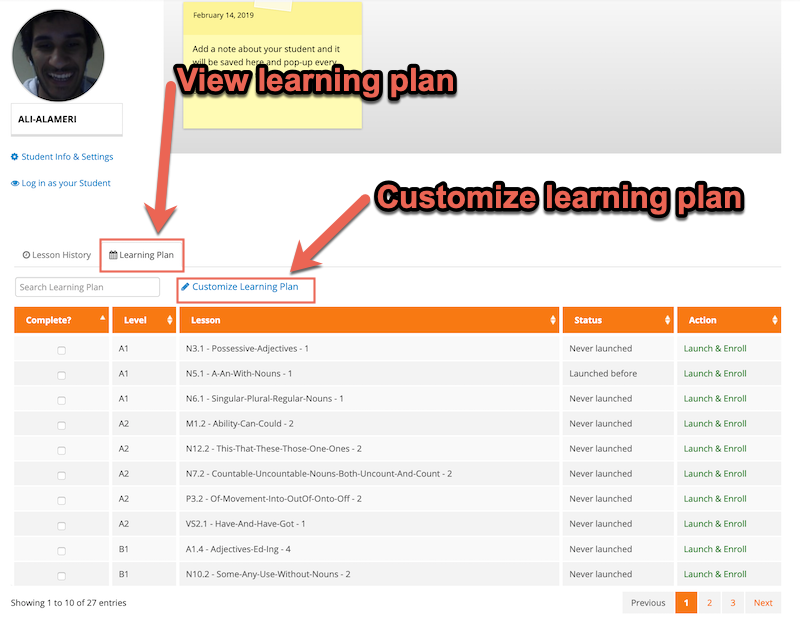 .
Then, you can click "Customize learning plan." This allows you to add, subtract, and reorder lessons according to your teaching style and your student's goals. As a result, you'll have a one-of-a-kind course plan that can really make you stand out as a teacher.

These are just three tips for how to use Off2Class. For more, along with a demonstration of how to do each of these, come to my next live onboarding! I'll also take your questions at the end about any teaching related topic.

.
Sign up for the Live On-boarding here!
.
Got a specific question about how to use Off2Class? Leave it in the comments below so that I can cover it during my next live onboarding!
---