The End of Screen Sharing for Online ESL
Screen sharing for online ESL Lessons has been a mainstay of teaching online for many years…
And we should know! Our team here has been teaching ESL online, in one form or another, since 2012. We even launched an online ESL school that gave us the inspiration for Off2Class. Through our work, we've come into contact with a multitude of online ESL teachers, teams, schools and startups. If you've been teaching ESL online, you know what screen sharing is (and don't worry if you don't, we explain it below). Today, we'd like to propose a new paradigm for your online teaching. We're hoping that this will mean the end of screen sharing for online ESL lessons. And most importantly, your online ESL lessons.
First, a bit of background on screen sharing
For those of us who haven't had the chance to teach a student online, here are the basics:
Teachers and students communicate by using a video conference system (such as Skype, Zoom, Google Hangout, Wiz IQ, etc.).
Digital lesson content is critical for successful lessons (lesson content and the teacher's face consume 90% of the student's visual field).
Most teachers use the 'screen sharing' functionality of their video conference system so that both teacher and student can be on the same 'page' of the content during the lesson (the teacher is in control of which lesson slide the student can see while the student views the teacher's computer screen from their side of the video conference).
Of course, many teachers have incorporated other tools for online lessons: Google Docs for live document editing, Online Whiteboards as a 'break-out' space and so on. Yet, the above has been the standard template for most online ESL teachers since we started out in 2012.
The problems with screen sharing for online ESL lessons
Screen sharing has never been a perfect solution for sharing live lesson content with your online students. Here are the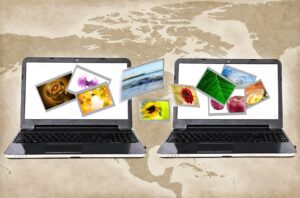 main drawbacks:
Bandwidth and general 'bugginess': Screen sharing uses up quite a bit of Internet bandwidth. If there is a connectivity 'blip' during your lesson, your video call can crash. In addition, even with perfect Internet connectivity, many video conference systems have buggy screen sharing. For example, Skype's often simply doesn't load up, or it drops out mid-lesson. We've been recommending teachers use Zoom.us for many years. But as of late, I've even noticed Zoom can crash when you're switching between different documents or applications. A video call crashing mid-lesson is the digital equivalent of a fire alarm in the middle of class: something that we only want to happen once or twice a year, if ever!
One-way only, teacher to student: When sharing a screen with a student, interactivity goes only in one direction. A teacher can annotate using a pen based on a how a student is reacting to the content, but the student can't use the same pen on their side. You can have the student share their screen but then you lose lesson control. Of course, you can edit a 'live' document using Google Docs, but this will also cause a loss in control of the lesson flow. You're no longer controlling exactly what the student sees using your screen sharing tool.
We present to you: the end of screen sharing for online ESL lessons!
We recently released a major upgrade to our ESL teaching tool. What used to be a one-way 'screen sharing optimized' ESL teaching tool has been converted to a fully interactive (two-way) system. Teachers and students now login to an Off2Class lesson and each can interact with the ESL content in real-time.
Students can type into and edit a lesson (just like Google Docs or Slides), and annotate using a pen tool (great for matching activities and concept checking using pictures).
Teachers have a host of adaptive tools at their fingertips. Like students, they can edit the content and annotate using our pen and text tool. In addition, teachers can:
Run a Google Image search (by right-clicking any word in the content), great for visual learners!
Run a Google Translate in their student's native language (also by right-clicking on any word)
Use an online dictionary to look up definitions
Use a text to speech function for any word or block of text (great for aural learners who are tired of hearing your voice!)
Easily switch to our popular Whiteboard (called the 'Canvas') which lets teachers save text, drawings, images and YouTube videos to expand upon our lessons by pairing their own content with ours
User our chat tool to type to students in real time (great for concept checking parts of the lesson) which easily copies and pastes for saving after class
The best part? The tool is teacher-led. Your students can interact with the content but you control the flow of the lesson. When you change a slide, the student view changes accordingly. When you move to your lesson canvas (our Whiteboard), your student sees it too. Are your students fooling around on the lesson chat? Disable it. Are your students playing with the pen? Disable it. And so on…
We've combined the two-way interactivity of Google Doc with the teacher control of screen sharing!
And of course, our ever-growing 670-lesson ESL library (with homework) comes 'baked into' the tool.  In addition, you can choose to pair the tool with whichever video conference system you choose.
Watch this short demo to see our ESL teaching tool in action with Skype:
Finally, this ESL teaching tool is not only for online teachers!
We've always worked with educators teaching ESL in a number of environments. From face-to-face tutors to classroom teachers, and, of course, online teachers! Our teaching tool is increasingly used by classroom teachers who want to bring interactive digital lesson content into their classrooms. And of course, we support a blended approach. Some schools use us in their classroom environments and pair this with an online offering. From the student and teacher perspective, it's the same teaching 'environment'.
Wath this short demo to see our ESL teaching tool in a classroom environment: 
Get in touch below! 
Have you had a chance to use our teaching tool or are you still screen sharing?
Comments are always welcome and here's to what's hopefully the end of screen sharing for online ESL!
---