Group ESL lessons this school year at Off2Class
We're excited to announce that it's easier to teach and manage group ESL lessons at Off2Class!
It's almost time to head back to school (at least in the northern hemisphere), and no matter who or how you teach, it's a good time to think about group lessons for your ESL students.
First, a bit of background
Three years ago, we started working with many classroom ESL teachers. In other words, teachers in classrooms who use Off2Class lesson content to deliver group ESL lessons. We've been delighted to be a part of such an exciting learning environment. For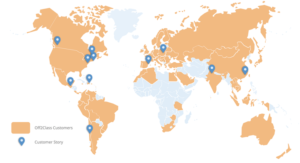 example, the Central American Refugee Centre provides group instruction to adult refugees on Long Island, New York. From a K12 perspective, Xiamen International School in China uses Off2Class to guide English Language Learners from all over the world. We're now inside classrooms in 50 countries!
The transition into the classroom has been exciting, but we knew something was missing
Many classroom teachers found that the platform was a bit tricky to use for large student rosters. We're excited to announce that teachers can now:
Group their students into classes on their student management panel. This way, when launching a group ESL lesson on Off2Class, all students in a session can be logged in with one simple click
Manage rosters and attendance by overriding a class enrollment with a simple de-enroll process
Assign homework to an entire class with one click, or use this feature to assign group self-study, learning plans
Of course, once inside the classroom, we've also optimized the way our group interactivity tools work:
Teachers can disable the classroom chat by applying a setting on their profile page, especially useful with younger learners who may misuse the chat function!
Teachers can disable the editing feature of the lesson content by using the right-click menu, a great idea if too many students want to type at once!
Annotation tools can be shared with one student at a time, which is great for class exercises
You can review these features on our group ESL lesson tutorial here.
Group lessons work in and out of the classroom
One of the best things about the class groupings is their versatility.  There are teachers using group lessons in a variety of settings.  For example:
Classroom teachers whose students have devices can achieve a new level of student participation by having every student logged into the lesson and able to interact with the lesson content
Classroom teachers whose students don't have devices (and who share Off2Class lesson content via smart board or projection) can log lesson participation and assign homework to all students in a single click
Online teachers (working in schools and freelancers) can use groups to reach more students at once
There's more to come!
We're continuing to add features to better support teachers providing group ESL lessons. We have a lot more in store for the 2019-20 academic year.
If you're starting a new academic year over, we hope you have a fantastic start. Wishing you a tremendous 2019-20!
---
Please provide your name and e-mail address so that we can send you the download link: