How to teach relative clauses
Hi,
I'm James Heywood and I've been teaching ESL as an independent online tutor since 2012. In this post I will walk you through the strategies and lesson plans that I use to teach relative clauses.

Off2Class has a Relative Clauses category aimed at students who are ready to tackle complex sentences and dependent clauses. The category is designed for you to teach relative clauses to your students in a logical manner. It contains eight lesson plans to enable your students to grasp both the form and function, while providing opportunities to produce the target language.
As with areas of the English language such as reported speech and phrasal verbs, ESL students will probably already have had exposure to relative clauses before they study them formally. Since the relative pronouns which and who, and the relative adverbs when, where and why are used as question words in English, students will probably be familiar with these terms before you start to teach relative clauses.
And remember, if you are a subscriber to our site, you can contact me here for a free one-on-one videoconference about how to teach relative clauses.  I'll take you personally through the lessons, answer your questions, and ensure you're confident and ready to teach relative clauses effectively.
The following is a summary of what you will find in our Relative Clauses category:
Introduction to Relative Clauses (RC1.1 to RC1.2)
The relative pronouns that, which, who and whose:
The woman who is standing over there is my sister.
The lion is an animal that lives in Africa.
The director whose film we just watched is from the United States.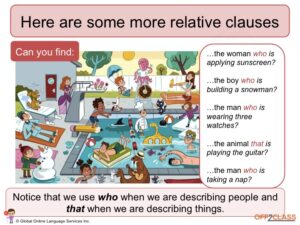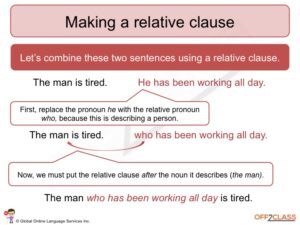 Relative Clauses, Subject and Object Pronouns and the Relative Adverbs (RC1.3)
Here we demonstrate how relative pronouns can be either the subject or object of a clause:
The woman who is standing over there is my sister.
The woman who I met yesterday works at the local bank.
And the relative adverbs:
I don't understand why he didn't take the job.
This is the city where I was born.
I can't remember when we were supposed to meet.
Relative Clauses with who and whom (RC1.4)
We introduce the usage of whom as the object pronoun for people, and the differences in register:
The woman whom I invited to my party vs. The woman who I invited to my party.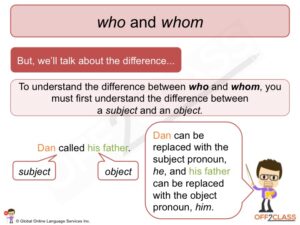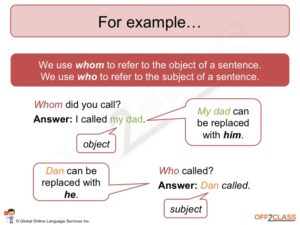 Prepositions in Relative Clauses (RC1.5)
We introduce the relative adverb substitution rule so that students understand the difference in form and usage of sentences, such:
The city in which I lived. vs. The city which I lived in. vs. The city in which I lived.
Defining and Non-defining Relative Clauses (RC1.6)
Here we look at how intonation changes for what are also known as Restrictive, and Non-restrictive Relative Clauses, and their difference in meaning:
My brother who lives in Brazil is a farmer.
My brother, who lives in Brazil, is a farmer.
Shortening Relative Clauses (RC1.7)
Here we demonstrate the reduction of relative clauses in particular circumstances:
The man (who is) standing at the bus stop looks tired.
The woman (who was) sent to jail committed theft.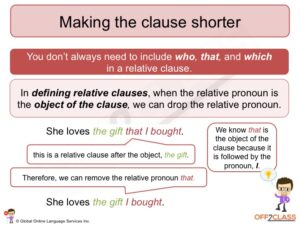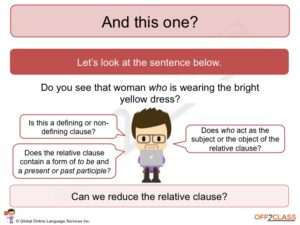 Quantifiers with Relative Clauses (RC1.8)
In the final lesson of our series, we examine how quantifiers can be used with relative clauses, such as:
I watched many movies last year, two of which were directed by Spielberg.
I have many good friends, most of whom live in my city.
And as always, we welcome your feedback about our Relative Clauses Lesson Category, especially if you use them to teach relative clauses to your students.
You can leave a comment below, send a message through our messenger widget (bottom right of screen when you're logged in), or even while teaching using the in-classroom Give Us Feedback button.
---