ESL Lesson Plan Download – Possessive Adjectives
Welcome to Off2Class!
We've had repeated requests from teachers in the Off2Class community to release an ESL Lesson Plan Download from our content library.
We're proud to announce that we've released an ESL Lesson Plan download covering Possessive Adjectives!
The Off2Class Lesson Plan download is a complete lesson from the vast ESL Lesson Library on Off2Class.
Get your copy of the Off2Class Lesson Plan Download here!
To download the adjoining set of Teacher Notes, click here!
This Possessive Adjectives lesson was recently released as part of our update to our pronouns lessons. You can read more about that release here.
How should this 'Lesson Plan' be used? 
We use the term 'Lesson Plan' here though it is somewhat of a misnomer. This document is not just a plan for you to run an ESL lesson, but ready-to-go content that you can use in a live setting to teach.
The lesson content is teacher-led. Lead your students through the slides on a screen (by projecting them onto a screen in an in-person setting or sharing them online in an online setting).
Both online and 'offline' classrooms are increasingly using screens as a medium to present lesson content. Our content is perfect for these environments. Screen-based classrooms include:
online video conferencing classrooms (such as on Skype or Google Hangouts)
physical classrooms equipped with either TVs, projectors or IWBs; and,
private tutoring sessions using a laptop or tablet.
How should the Teacher Notes be used?
We've released an adjoining set of Teacher Notes that are designed to be used with the lesson content. These Teacher Notes move synchronously with the lesson content (each teacher note slide matches a lesson content slide). Each ESL Lesson in the Off2Class ESL Lesson Plan library is matched with Teacher Notes: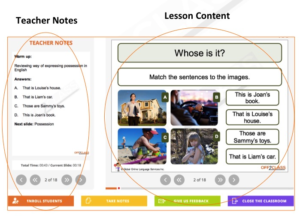 The Teacher Notes provide information to elicit and concept check target language, provide practice – and for exercise slides – we provide you with answers.
Ideally, you'll be set up to view the lesson content and the adjoining Teacher Notes simultaneously.
Create your own ESL lesson content!
Copy the slides from the ESL Lesson Plan download and adapt them to build your own creations! We recently hosted a webinar to guide teachers on how to build digital content. Watch the webinar here. This webinar is a perfect complement to getting started with our ESL Lesson Plan download.
We need your feedback!
We're committed to providing more tools for busy teachers! Let us know what you think of the ESL lesson plan download below.
Show off your own creations by linking them below!
---