How to teach Modal Verbs – free lesson content
Need lesson content to teach modal verbs to your ESL students? You've come to the right place! We have 21 lessons designed for teaching modal verbs to your ESL students. You can find them in our Verbs-Modals category. If you haven't yet set up an account for Off2class, you can do so on our Home Page.
We developed our modal verbs category because we found it extremely difficult to locate a complete series of lesson content covering modal verbs, designed for private teachers/tutors, online. Teaching modal verbs is a critical concept to develop natural speech in your ESL students and we hope that our series will be of great help to private tutors and teachers. We have divided our 21 modal verbs lessons by use. We have 7 main uses for modal verbs:
Here's what you can find in each of our use categories:
M1.1 – M1.3 – Modal-Verbs-Ability
We use can, could and be able to to express ability, possibility and permission. We also use can to express polite requests, and can/could to express general ability. Be able to is used to express specific ability: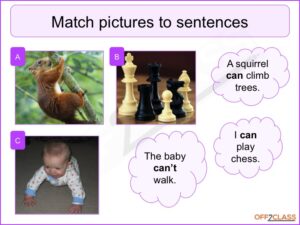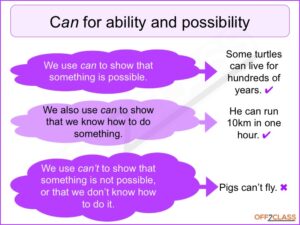 M2.1 – Modal-Verbs-Requests
We use may I, can I and could I for polite requests (e.g. may I borrow your phone?). We also use polite requests with you as the subject using the construction would you, will you, could you, can you (e.g. would you turn off the light?).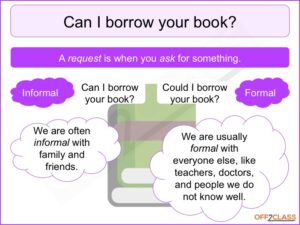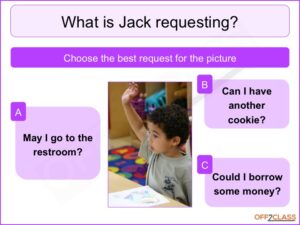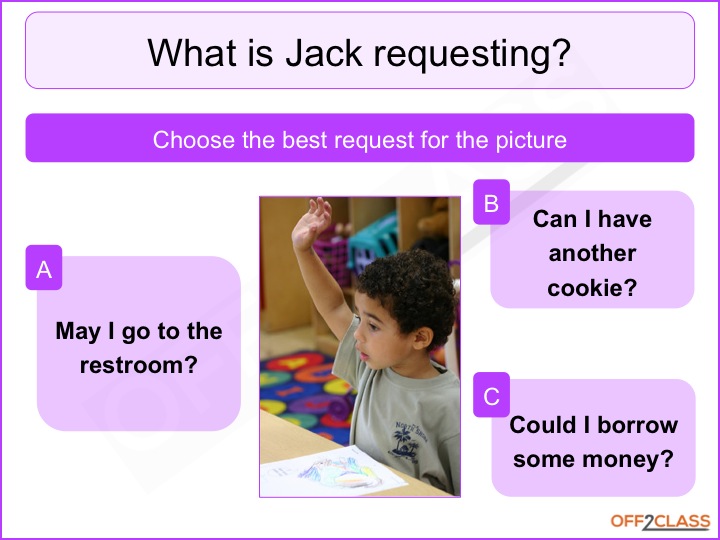 M3.1 – M3.6 Modal-Verbs-Necessity 
We use must, have to and have got to to express necessity (e.g. you have got to finish the report tonight!). Had to is used to express necessity in the past. We also use necessity modals to express opinions, obligations and rules. Need to is used to express an urgent level of necessity. Must not is generally used for prohibition including rules and regulations (e.g. you must not run on the pool deck).
M4.1 – M4.3 Modal-Verbs-Advisability
Should and shouldn't are used to express suggestions, duty, responsibility and expectations. I think ….. should is used to express suggestions while you had better is used for a much stronger suggestions. Ought to is an equivalent for should: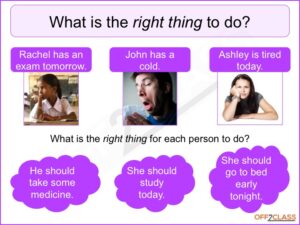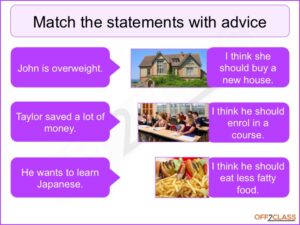 M5.1 Modal-Verbs-Expectations
We use be supposed to to express an expectation (e.g. It is supposed to rain today). This construction can be used in the present tense and the past tense, and for each subject in the positive and negative form (e.g. They weren't supposed to be here yet).
M6.1 Modal-Verbs-Suggestions
The modal verbs of should and could can also be used to express suggestions. We also use let's, why don't and shall I for suggestions (e.g. Why don't we go to the beach today?):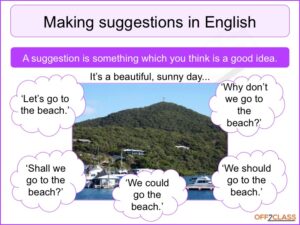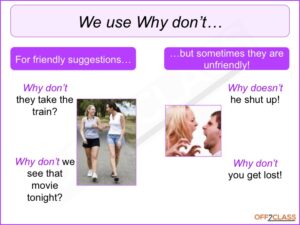 M7.1-M7.6 Modal-Verbs-Probability
We have six lessons covering modal verbs to express probability. In order of probability (i.e. 0% to 100%) the following modal verbs are used to express probability: may, might, could, must, can't/couldn't. The verb to be is used to express 100% probability: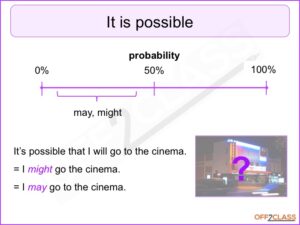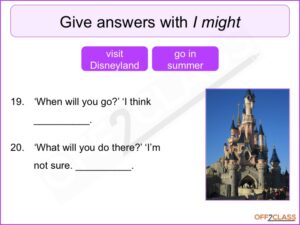 As you can see, we have fairly exhaustive set of modal verbs lessons ready for you! As always, we would love hear your feedback if you've tried teaching these lessons with your students!
---