How to retain online ESL students
As an online ESL teacher, you have probably noticed that keeping your long-term students engaged and interested can be a big challenge…
But, keeping your students motivated is essential if you want to retain online ESL students as long-term customers. And remember, retaining students is a critical element to growing your online ESL teaching business!
Everyone learns at different rates, you could find that some of your students feel overwhelmed while others may find themselves bored. This is why it is important for you to take a personalized approach to getting your students coming back for lessons week after week.
Here are some strategies that I've used in the past to retain online ESL students:
Learn as much as you can about your students
The more you know about your students, the easier it will be for you to tailor your ESL lessons t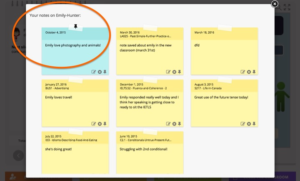 o their interests. This is key to keeping your students engaged week after week. At Off2Class, our lesson plans come with a built-in note taking system which you can use to save notes about your students on the fly. Favourite hobbies, sports and foods are a good start!

Ask plenty of questions of each and every student to make sure they all feel comfortable with you. This will allow you to get to know them and their interests better while instilling in them a confidence in the fact that you care about them and how much they get out of the class.
Teach through hands-on experience (even online!)
The more tactile the lesson, the better chance that the information will stick in your student's minds. This presents a natural challenge for online ESL lessons!
One easy way to do this is to hold an online arts and crafts class where you encourage your students to use magazines or newspapers that they have laying around the house. This will give you ample opportunity to teach new English words and phrases.
You could even host an online cooking class where you teach them how to make something simple like pizza. There is a wealth of noun and verb opportunities with cooking.
Get your students talking
To retain online ESL students it is essential that you are not the one doing all the talking during class.
Concentrate on showing your students that they do not need to be afraid to make mistakes. The more they speak, the more comfortable they will become. Ask plenty of questions and encourage them to tell stories. This can be about their day, their weekend or something interesting that happened to them in the past. Whatever gets them talking.
Make use of varied lesson content
Off2Class is an online ESL lesson content tool that offers an extensive and ever growing library of grammar, idioms, speaking activities, reading activities, vocabulary, business English and IELTS lessons. With our vast lesson content library you will have just about everything you need to teach ESL online at your fingertips. You can easily switch between different themed lessons which is critical for maintaining motivation and energy levels and ultimately to retain your online ESL students.
We hope you get some good use out of these strategies to retain online ESL students! Please let us know which strategies have worked for you! 
---