How to Grow your Online ESL Teaching Business
Dear Teachers, the following is an excerpt of an article I wrote for the wonderful ELT Jam a couple months back. Enjoy!
Your own online ESL business! Sounds great doesn't it? But there's a catch! To become a full-time online ESL teacher, you're going to need a lot of students. Exactly how many depends on how much you charge per lesson, and for how many hours per week your students take lessons with you. If you're currently tutoring only a handful of students, that means growth! It's time to grow your online ESL Teaching Business!
A simple way to break down growth of your online ESL Teaching business
I like to think of the growth of your online ESL Teaching Business as a product of two important metrics:



The above analysis is purposefully over-simplified. I've left out a number of factors (most importantly retention) that will affect your growth. Nonetheless, it does provide a framework for you to think about growing your business:
(A) How many students can I get to try me out as a teacher?
(B) Of those students, how many will convert to becoming long-term clients?
In my work at Off2Class I've had the pleasure of meeting with hundreds of ESL Teachers looking to make the jump into online teaching. Almost every online teacher (or aspiring online teacher) I've met with asks me about how they can improve (A) (i.e. find students) yet doesn't mention (B) (i.e. how are they are going to convert prospective students into long-term customers).
Interestingly, as a teacher, you have much more control over (B) than you do over (A) and both are equally important to growth. There's no simple solution to finding new prospective online students (it's a crowded marketplace with lots of competition) but when you do find a prospective student who wants to trial your services, it's completely within your control to sell yourself as the right choice for the student.
Sell yourself based on what you can do differently!
Your key competitive advantage when you run your own online ESL Teaching business is personalization. As an online ESL teacher you're able to personalize the learning experiences of each student.
I suggest personalizing a student's learning experience from your first email communication or phone call and onwards. Use your first session with a student to convey that their ESL learning experience with you will be tailored directly to meet their needs. This is your competitive advantage as an independent ESL teacher. You can individualize the learning experience for each of your students. This isn't an option available to language schools and you should take full advantage of it.
Tailor the Learning Experience From the Start!
Recently, Off2Class released an ESL Placement Test. The original goal of the free placement test was to provide teachers with a way to set a level diagnostic for students. The intention was not to use it as a tool for prospective students.
However, I've noticed an interesting strategy emerge. Many of our teachers like to send the placement test to prospective students before their first sessions together. After their students complete the test, we produce their Gap Analysis (which outlines their ESL weaknesses) and an Individual Learning Plan (which outlines the lessons required to address those weaknesses). These analyses form a great tool to sell a unique learning experience to prospective ESL students and convert them into long-term clients. In your first session together, you can walk your students through the personalized plan you've crafted to address their unique language weaknesses and goals.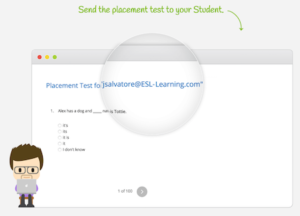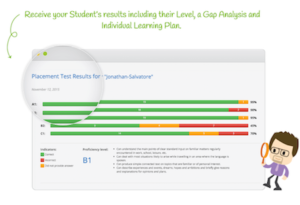 The other practical feature of the placement test is that you can send it to prospective students with a couple of clicks. This helps with an element of growing your online ESL business that we haven't yet discussed. No matter how well you personalize your approach with prospective ESL students, you will never convert 100% of your leads! You need to find scalable (i.e. easily-repeatable) ways of selling yourself to prospective ESL students.
And of course, as an independent ESL teacher, it is also critical to determine whether a student is serious about taking lessons with you before investing too much time into teaching them (especially if you offer free trial lessons). If your prospective students aren't willing to sit a grammar diagnostic, then it could be likely that they aren't too serious about learning with you!
If you're interested in using our free ESL placement test with your own students (or prospective students), check it out here. It's free to use and so far the feedback has been very positive. It could be just the tool you need to grow your online ESL Teaching Business
---