How to Teach Prepositions of Place and Location
In, at, on, above, below, off, on, near, close to, far from – as ESL teachers we all know that teaching little words is tough sometimes! We couldn't find any good materials online for teaching prepositions of place and location so we decided to build our own…
…and we're happy to announce that they are ready, for you to teach! You can find our 8 lessons covering prepositions of place and location filed under the Prepositions Category on our Teacher tab. If you don't yet have an account for Off2Class, set one up on our Home page. Here's a brief summary of what you can expect to find in our prepositions of place and location series:
P2.1 – Of-Place-At-In-On (P2.1 to P2.3)
We start our series with the most common prepositions of place and location (and sometimes the trickiest for ESL learners) – in, at and on. Remember, we use in to show location inside a continent, country, city and a room, a part of a room and other defined areas (the tree is in the backyard). We use at to describe places where people do things (I'm at work). We use on to describe streets, floors/levels, street addresses and vehicles. Our first three introductory lessons provide ample exercises for your students to naturally discover the uses of these core prepositions of place and location; and see how often they are used in everyday speech: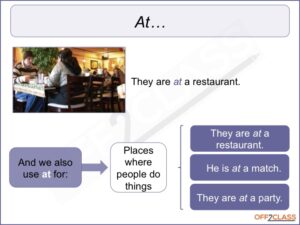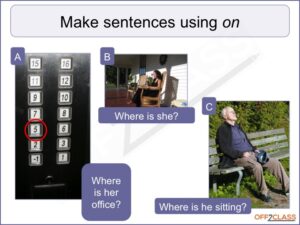 P2.4 – Of-Place-Above-Below-On-Off-Between-Among Against-InFront-Behind – (P2.4 to P2.6)
In the next lessons in our series we explore a series of more advanced prepositions of place and location; used to describe place and location in reference to other objects/nouns. We recommend tackling these lessons once your students are comfortable using the more basic prepositions of place and location: at/on/in. Because place and location can be difficult concepts, we introduce each new preposition by using a very basic diagram, that relates the location of one item, compared to another. We've found that this practice works quite well with our own students. Here are some examples for the prepositions on, off, under/underneath/below/beneath: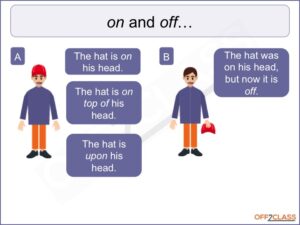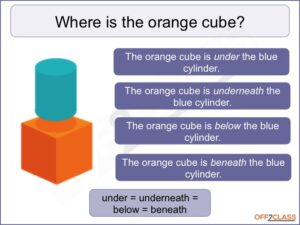 P2.7 – Of-Place-In-Inside-Within-OutOf-OutsideOf-Near-Far-Beyond (P2.7 – P2.8)
In our final two lessons we cover the most advanced prepositions used to express place and location in relation to other objects/nouns. Some of these prepositions can take on a more subjective reference point (e.g. Madrid is near Paris when referring to flying, but far from Paris when referring to driving). To understand these nuances, the ESL student must be at a stage where they can understand context in a given example or sentence. For these reasons, we recommend holding off on these last lessons until your students are very comfortable with describing place and location. Again, we introduce each preposition of place and location by using very simplified graphical examples such as these: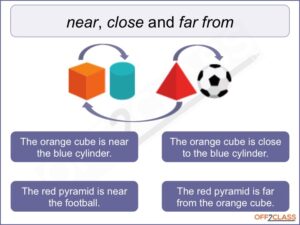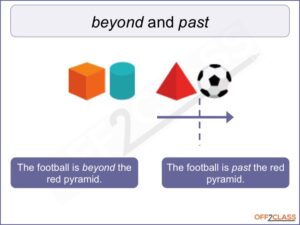 We hope that you get as much use as we have out of our prepositions of place and location series! As always, let us know how it goes!
---