ESL Placement Test for International Student Enrolments
International student enrolments at private K12 schools are increasing
Private schools in English-speaking countries are seeing increased international student enrolments.
Recently, the Australian Department of Education and Training reported a 13% increase in international student enrolments in November 2017 compared to November 2016.
Increased international enrolments at private schools are due to several key factors:
The desire to create an international culture: private schools understand that the best way to prepare their local students for a globalized world is to expose them to international students.
Differentiation and prestige: international student enrolments help market a school locally. The international culture of a private school acts as a key differentiation factor compared to other education options.
Economics: at many private schools, international students help fund operations, because they often pay both tuition and accommodation fees.
What does this mean for administrators?
We now need to assess English language proficiency! When considering a new enrolment, we can no longer take native English proficiency as a given.
English language competency should be assessed when making an admissions decision. Once the student is admitted, the assessment results are used to enroll students in the correct course of study.
Of course, there are resource constraints. Private schools may not have a student body large enough to warrant a full-time ESL teacher. Assessing and managing ESL needs are often left to English Language Arts teachers. Such teachers may not have relevant ESL teaching experience.
Private K12 schools use our ESL Placement Test to help manage their international student admissions
The first step in international student enrolments is making an admissions decision. Private schools use a variety of different methods to assess English language proficiency. Most notably:
An informal assessment of English language proficiency, such as an interview. Challenge: a non-standardized approach makes it difficult to compare results across students. How can we compare Student X and Student Y? If we only have one place left on the course, who should we admit?
Requiring a standardized test score such as TOEFL or IELTS. Challenge: Both TOEFL and IELTS test are lengthy, and demand at least 5 hours of a candidate's time. These standardized tests might be too costly, too time-consuming, and too complex for a student enrolling in certain institutes. TOEFL is primarily for students entering universities. IELTS scores are accepted primarily for university entrance and immigration purposes.
Our ESL Placement Test is an easy-to-deploy English proficiency test that is used to help inform admissions decisions. Here are some of the key factors that administrators enjoy:
Ease of deployment: the test can be sent to a student in a couple of clicks. The student is prompted to log in from any internet-connected device. Admin staff can set the test interface to the student's native language.
Multiple skills tested: an administrator can add listening, reading, writing and speaking skills tasks to the grammar assessment. By customizing, schools can match the test to their existing admissions process. For example, our speaking assessment requires students to record themselves answering a graded question from a personal point-of-view. If the school runs its own interview process, the interviewer can consult the recording ahead of time. This will reduce an interviewer's need to assess English proficiency during the interview process.
Understandable results: you don't need to be a trained ESL educator to make sense of a student's results. We grade students based on the CEFR and provide can-do statements to interpret the results.
The enrolment process continues after a school makes an admissions decision
Our ESL Placement Test provides a starting point to address language needs.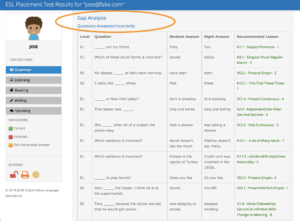 A student's results include a Gap Analysis outlining the language deficiencies identified. These gaps form the basis of the student's Individual Learning Plan. The learning plan is a set of lessons that address a student's language gaps.
The student's learning plan allows schools to provide individual ESL attention. The goal here is to get the student up to their peer group stream as quickly as possible. By focusing on known deficiencies, you can provide this support as efficiently as possible.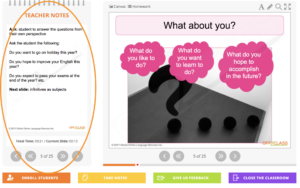 Each lesson in the learning plan contains extensive teacher notes. Teacher notes guide teachers through each lesson. This is especially useful for English Language Arts teachers who must provide ESL support to international students.
Teachers have a choice of working through lessons with their students or providing the lessons as a self-study tool.
The placement test results form an excellent tool for communicating with other teachers about a student's abilities. The can-do statements help set reasonable expectations on a student's abilities.
Finally, a teacher can reassign the placement test. Since it draws from a large database of questions, schools can assign it multiple times to the same students. Multiple assessments inform further decisions. For example, a student may no longer require additional ESL support or may benefit from a new Individual Learning Plan.
If you'd like to learn about how Private K12 Schools are benefiting from our placement test, please consult this customer story, about Canada's largest private School, Blyth Academy. Also, let us know how it benefits you in the comments below.
---