How to convert your trial ESL students into customers
My name is Kris Jagasia and I work on product development here at Off2Class. In this role I have the opportunity to interview and spend time with teachers at every angle of the ELT spectrum.
The sheer diversity of teachers I come into contact with is what keeps my job interesting.
Yet overall, it's my work with online freelance ESL teachers that I find the most rewarding. There's something about their energy levels and enthusiasm that I find infectious and encouraging!
Today, I'd like to discuss a theme that's been coming up in my teacher interviews – how to sell lessons to trial ESL students. That is, once you have a student that's interested in learning with you, how do you convert them into long-term customers?
First, let's step back a couple steps in the funnel…
You don't need to be a marketing guru to understand the concept of a funnel. At the top you have all your 'leads'. Students that have come into contact with you wether it be through social media, your blog, word-of-mouth referrals, emails or marketing campaigns. Then you have your tria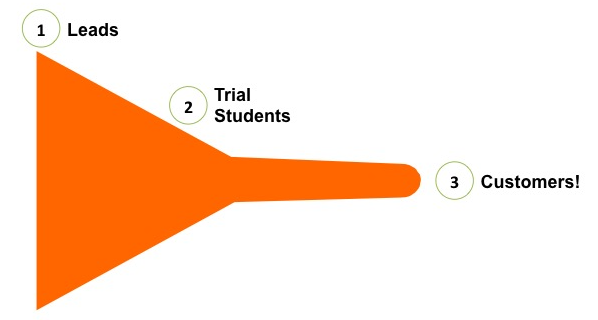 l ESL students. Students that you've had direct communication with and are interested in taking lessons. Finally, the last step, the sale! Whether you explicitly offer trial lesson or not, there will be a point, where your 'trial' student is trying you out as a teacher. It's your job to close the sale.
Almost every online teacher I've met with seems to have one question at the top of their minds: 'how do I find students?' When I dig a bit deeper, I find out what they are really saying is, 'How do I find leads'. 'Do I need a Blog? Should it be in Wordrpess or Wix? What about Twitter? Isn't it good to start a Facebook group? I've heard email marketing is the way to go?' And so on. There seems to be an obsession with the top end of the funnel.
These days there are some fantastic resources (including Elena Mutonono and Jack Askew) that focus on strategies for setting up your online ESL business and generating leads.
Why are we more obsessed with leads than with conversion (i.e. sales)?
I've found that most teachers de-emphasize a critical element of growing an ESL business: closing the sale. I'm not sure why this is. My suspicion is that the first stage in the funnel (generating leads) is the safer and more comfortable place to be. When you're doing marketing from the safety of your computer it's going to be more comfortable than closing a sale in direct communication with a student. Very few of us are natural-born salesman. We would rather tinker away on your blogs than be closing a sale in live communication with a student.
Of course, every step in the conversion funnel is important, but I would argue that the final sale is the most important part. You don't want to throw away all the hard work you've done on getting your leads because you can't close sales to trial ESL students.
You need a strategy on how to sell to your trial ESL students. Just showing up to your trial lessons and talking about your qualifications as a teacher isn't going to cut it. 
How to convert trial ESL students: take a personal approach
How do you convince your trial ESL students that you are the right choice as a language coach? From my experience, this comes down to personalization and trust. If you're able to use a personal approach to establish trust between you and your students, you'll be able to convert them into customers.
One strategy to convey trust…
Recently, we released a free ESL Placement Test. The original goal of the placement test was to provide teachers with a way to set a level diagnostic for students. However, I've noticed an interesting strategy emerge. Many of our teachers like to send the placement test to prospective students before their first trial session together.
After their students complete the test, the tool produces a Gap Analysis (which outlines their ESL weaknesses) and an Individual Learning Plan (which outlines the lessons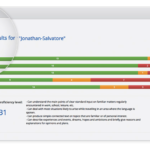 required to address those weaknesses). These analyses form a great tool to sell a unique learning experience to your trial ESL students. In your first session together, you can walk your students through the personalized plan you've crafted to address their unique language weaknesses and goals.
This level of personal attention is one example of a mechanism to build trust between you and your prospective student. Trust will be formed because you'll be showcasing a tailored approach to your student's needs (rather than generically trying to sell yourself based on your experience and qualifications). It's the opposite of a one-size-fits-all approach that the student has seen before (all too common in the ELT industry).
Many of our teachers have reported a huge boost in their conversion rates by using this placement test approach on marketplaces such as italki and Verbling. So much so, that we even hosted a webinar on the subject for the italki teacher community. Chris Rush, who got 30 students in 30 days on italki and recently appeared on our blog, also emphasizes this approach when converting trial ESL students.
Wait but is this only for online teachers?
This strategy is not exclusively designed for online lessons or marketplaces. Whether you are teaching one-2-one online, in-person or even in-house corporate lessons, you can use our placement test to build trust and showcase a personal approach to your trial ESL students.
The best part of this strategy for busy ESL teachers is that you can use it at scale (i.e. easily-repeat it). You can send the placement test to trial students with a couple of clicks. Your student's Gap Analysis and Individual Learning Plan will be waiting for you when you're ready for the trial lesson. Just share your tailored analyses and impress your student!
Let us know what you think! Do you find yourself focusing on leads over conversion? What's your unique strategy for converting trial students into customers? 
---
Please provide your name and e-mail address so that we can send you the download link: