How to get Online students: 30 students in 30 days
Welcome to the 6th instalment of our Entrepreneurial ESL Teacher Story series where we highlight teachers from the Off2Class community that are growing their own independent teaching businesses.
Today, Chris Rush who has been teaching Business English online since 2012 at Better Business English is going to share his story of how to get online students when you're starting out from scratch! Take it away Chris!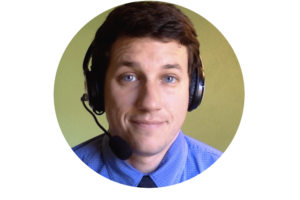 As I've networked in communities of online English teachers, there's one question I hear far more than any others. Where (and how) do I find students? If you teach online, I'm guessing that this frustration is familiar to you.  I know many good teachers who excitedly switched to online teaching because of the greater freedom, only to quit later, because they simply couldn't figure out how to get online students. Today I'm going to share some strategies on how to get online students for your own teaching business, when starting from scratch! I used these exact strategies and was able to generate 30 students in 30 days.
I'm certainly no stranger to this.  I've been teaching online since 2012, and figuring out how to get online students has been a challenge.  Word-of-mouth is critical, but it's unpredictable and slow. So what does a new online teacher do?  Usually, more or less what I did:  I made a website, wrote some blog posts, took out a few paid Facebook ads, and emailed every English learner I knew.  I had high hopes, ready to help people while having the freedom of working from anywhere!  And what happened when I did those activities?
The internet didn't notice.  Not a single student.
With some time and consistency, (years), things did progress.  Incrementally, I built up a student base. But I still had to chase students to pay invoices, and I still had to convince them that I was worth $25 an hour.  I was questioning everything:  Would teaching online turn out to be the dream job I had hoped for?
If someone had told me that it's possible to start from zero (no students, no email list, no prospects) and build over 30 regular clients, charge more than $35 per hour, and spend $0 in ads, I would have said it was impossible!  
Yet that's precisely what happened in the first 30 days that I joined italki.
For those of you who don't know, italki is the internet's biggest language marketplace. The format is simple.  When you sign up to teach, you get a teacher profile.  On your teacher profile you get to write a few paragraphs about yourself and upload a short YouTube video where you introduce yourself to future students.  That's it.  There's no website to make, no blogging to do, no ads to buy.  You set your own prices (italki gets a cut) and fill out your availability.  If it sounds simple, that's because it is simple.  
I learned that it's possible to have lots of success with italki. And that it can be your answer to the age old question of how to get online students. But, you need to make sure you excel in 3 key areas:
1. Stand Out from the Pricing Crowd
Many teachers fail on italki because they look at all the competition (over 1,000 certified English teachers), get intimidated, and think that the only way to attract students is to try to undercut everyone else on price.  Not only is that bad for your bottom line, but because hundreds of teachers are already doing that, the competition at the bottom is intense.  
Instead of joining the fray, charge higher prices.  In addition to the benefit of getting more money for the same amount of work, you'll have much less competition, and you'll attract the kind of students who will be happy to work with you.
2. Talk to your Students, not about Yourself
This is a mistake I see teachers make all the time.  In both the written introduction and the YouTube video (the only 2 things students get to see and base a decision on), teachers constantly talk about themselves.  Their qualifications, their experience, where they went to school, where they live, and on and on.  It's really helpful to know this important truth: students don't care about any of it.  
When a student reads your writing or watches your video, they want to know that you understand them first. A student will always choose a relatable teacher with no experience over a teacher with a stacked CV but who seems stiff.  Every teacher offers "fun and interesting lessons" in their videos. If your video is 3 minutes long, you should spend no more than 15 seconds talking about yourself (and it shouldn't be the first 15 seconds)!  Instead of talking about yourself, you should talk about the benefits of taking English lessons with you.  What can you help a student do?  Maybe it's feel more confident when they speak, or ace an English interview for a better job (two things that I promise).  People don't buy lessons just to learn — they buy the lessons for the potential of what it can do for them.  
3. Nail your Trial Lesson
Here's a scenario I see often: a student will take a trial lesson with another teacher who charges half of my rate (you can see on a student's profile who they've taken lessons with).  Then they take one with me and before the lesson is even over they book a package, spending hundreds of dollars more than they would have with the other teacher. It's solely because I know that a trial lesson has to unfold in a certain way in order to make it very easy for the student to say "Yes" at the end.  I don't know what other teachers are doing in their trial lessons, but I assume they meet and greet for a few minutes, spend almost the whole lesson teaching something that may or may not be helpful to the student, and then at the very end say "I hope you buy a lesson package from me".  This method may be friendly and congenial, but it doesn't convert potential students into paying customers.
The key is not to think of a trial lesson as a lesson.  I make a point of not actually teaching during my trial lessons. You know what I do a whole lot of?  Listening.  Just like when they watch the YouTube video, the student above all wants to be heard, understood, and validated. Don't assume you can solve their problem without listening to them explain it in detail first.  Then, once you understand what they need, repeat it back to them in your own words, and ask them if it's correct.  If you do this right, your student will give you an emphatic "Yes, Exactly!," relieved to have found a teacher that understands.  Then, tell them how you can help.  
Below you'll find a video walkthrough of my italki profile and intro video!  This is my own profile that I use every day to build my student base, and I'll explain each element step by step so that you can get the same results I do.  This profile gets me an average of five new students per week, and the lifetime value of each new student is over $500 (and growing).

Thanks to Chris for sharing his strategies on how to get online students, when starting from scratch!
If you have any specific questions for Chris leave them below!
---