How to find students on italki
We've hosted a number of articles and webinars with a theme on growing an online ESL teaching business. Recently, we've explored how to grow by leveraging the popular tutor marketplace: italki.
Today, I would like to consolidate a number of these pieces into our definitive guide on how to find students on italki! 
For those of you that don't know, italki is a language tutor marketplace where teachers set up profiles and students select teachers to learn with. Mastering how to find students on italki can be a powerful tool for teachers starting out online who need to find their first students.
Step 1 – setting up your profile to win 
When you sign up to teach on italki, you build a teacher profile.  On your teacher profile you get to write a few paragraphs about yourself and upload a short YouTube video where you introduce yourself. Chris Rush (a successful italki teacher) taught us that the structure of the profile is simple. But, it is critical for attracting student leads. Chris has this advice on setting up your profile:
Stand Out from the Pricing crowd. Your initial instinct will likely be to undercut your prices in order to generate student leads. The problem with this strategy is that there are already hundreds of teachers doing that! You need to stand above the fray. Additionally, your initial students will set the bar for your long-term pricing. As word of mouth builds, raising prices becomes tough.
On your profile talk to your students, don't simple talk about yourself. Your students only get to see 2 things on your profile, a video and a short blurb. Chris Rush recommends, 'instead of talking about yourself, you should talk about the benefits of taking English lessons with you. People don't buy lessons just to learn — they buy the lessons for the potential of what it can do for them.'
Step 2 – first contact with prospective students
If your profile is optimized you will soon start to obtain leads through the italki system. Students will message you and ask for a trial lesson. This is where the real work begins to find students on italki. Nailing your conversion rates from 'lead' to 'customer' is critical. Recently, we held a webinar for the italki teacher community where we discussed using the Off2Class placement test to convert leads into customers. We advocate sending your students our placement test as soon as they request a lesson with you. You can do so in a couple of clicks. This will show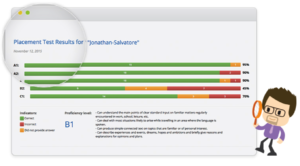 the student that you are going to be taking a very personalized approach to their learning and will start to build trust. When your students complete our placement test, we'll produce a Gap Analysis and a Learning Plan to target those weaknesses.
Step 3 – Nail your Trial Lesson

If you want to find students on italki you need to become a master at the trial lesson. Think of it as an interview. Here are some key points to keep in mind:
Start by listening. Allow the student to explain their problem and then explain to them (using their words) how you will be a solution to this problem. Like in the video and profile, don't talk about yourself and your qualifications.
If conversation runs dry or there's extra time at the end, review your student's Gap Analysis and Individual Learning Plan. Pointing out a student's exact ESL weaknesses and your plan to fix them will help build trust. You are now showcasing a personalized approach to solving your student's problems!
Sound simple? That's because it is! Cracking how to find students on italki can be hugely beneficial for any teacher starting out in the world of online ESL. Let us know what you think below. Have any of these strategies worked for you?
---