The Top 12 Teachers of 2021 on Off2Class

Off2Class is made for teachers and used by teachers.
From Thailand to Venezuela, over 80,000 ESL teachers use Off2Class in over 120 countries and counting.
Fun Fact! Since 2015, over 6 million lessons have been launched via the Off2Class platform.
Teachers power our platform. As we grow, we wanted to pay tribute to some of these amazing instructors, particularly the ones earning high praise from their ESL students!
Looking back at 2021 and based on feedback from thousands of ESL students using Off2Class, we identified 12 of the highest-rated teachers from our global community.
We asked these teachers to share their teaching philosophies so that we could share them with the rest of the Off2Class community.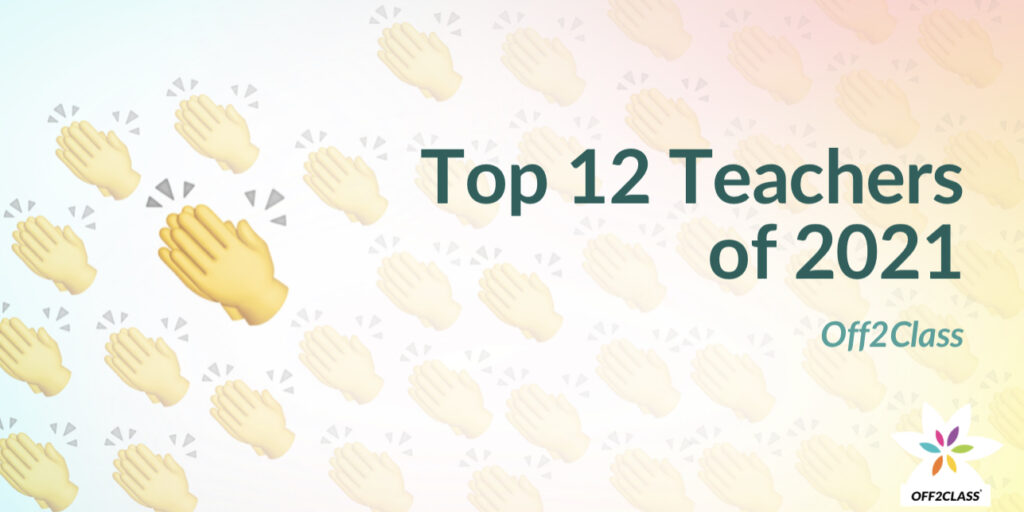 In no particular order…here are 12 of the highest-rated teachers of 2021!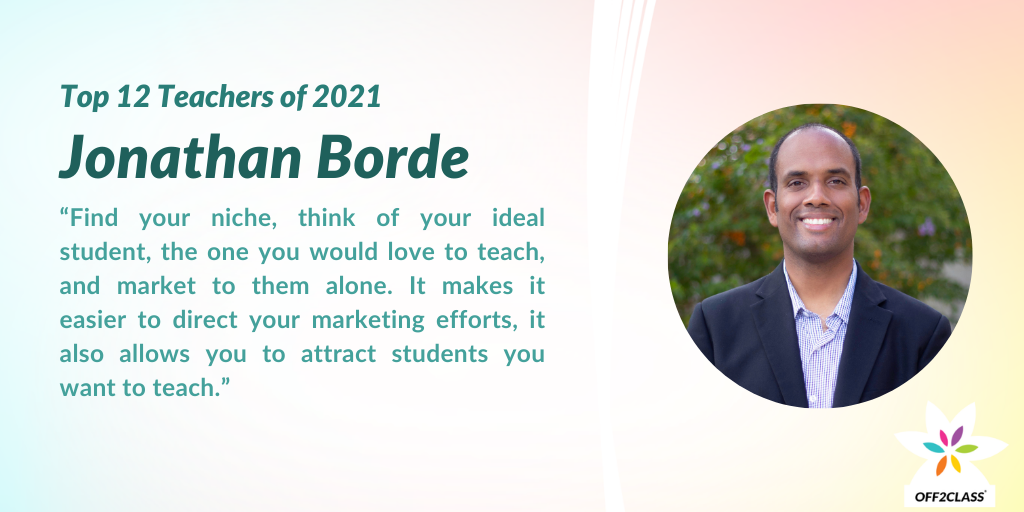 Think of your ideal student, the one you would love to teach, and market to them alone."
Jonathan Borde, Business English on Italki.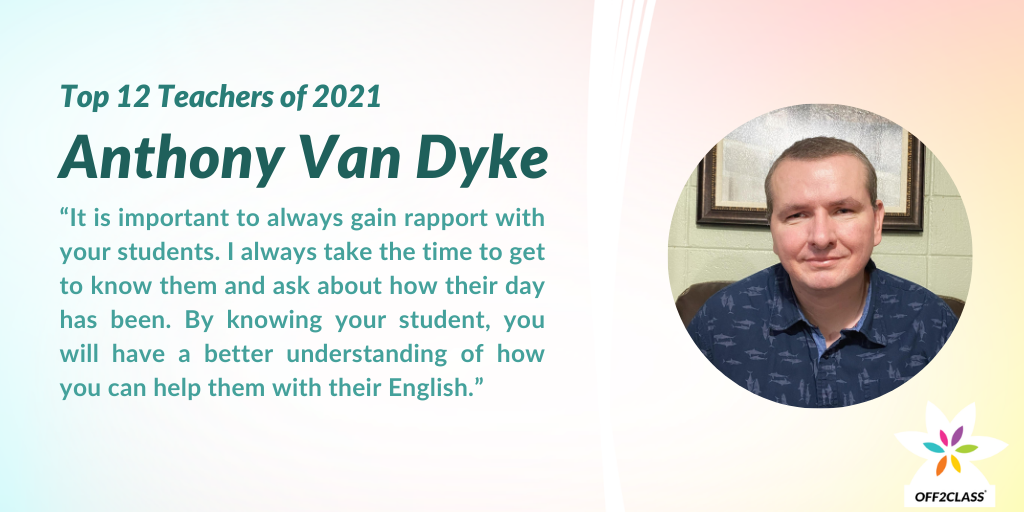 "By knowing your student, you will have a better understanding of how you can help them with their English."

Anthony Van Dyke, English2Go, Costa Rica.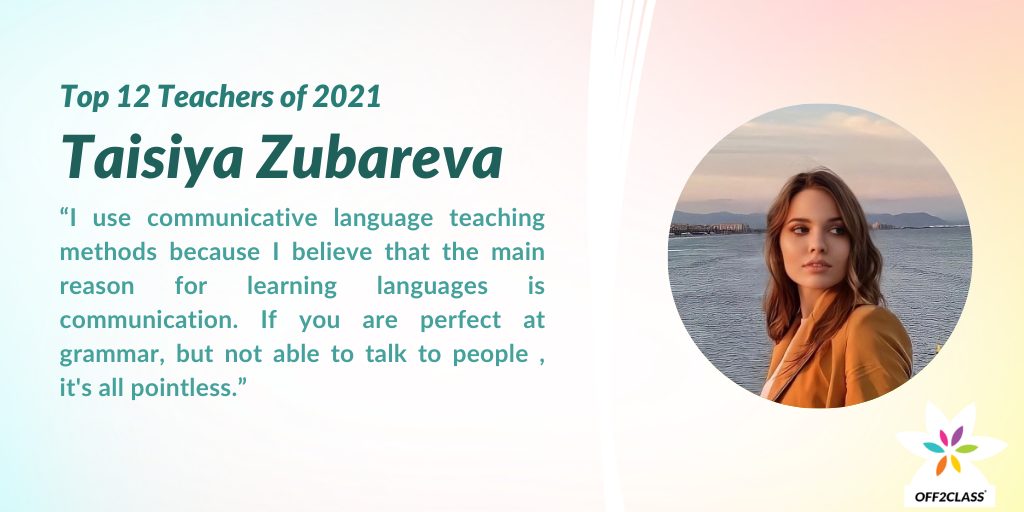 "I study motivation techniques with psychologists and try to implement them during my classes. "
Taisiya Zubareva, Online English Teacher.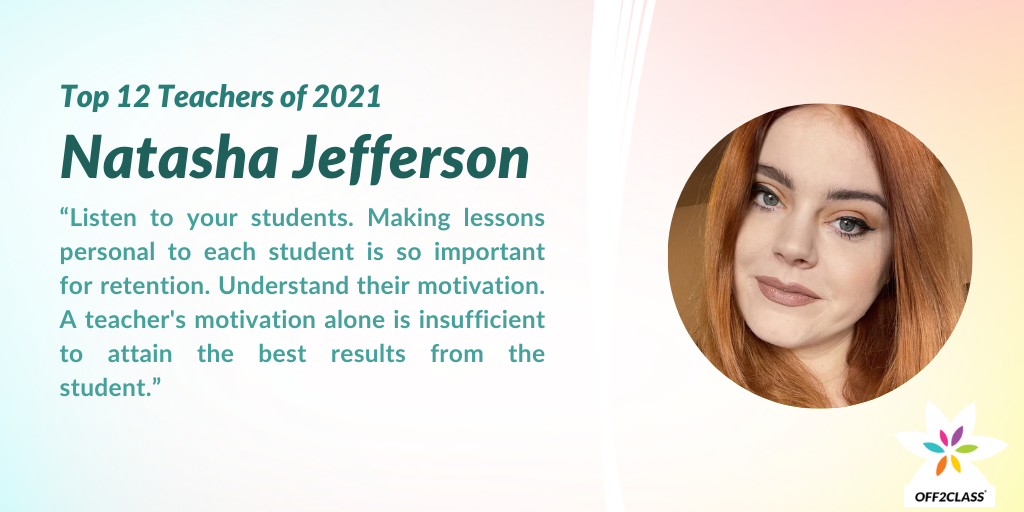 "Understand their motivation. A teacher's motivation alone is insufficient to attain the best results from the student."
Natasha Jefferson, Online Teacher at Preply.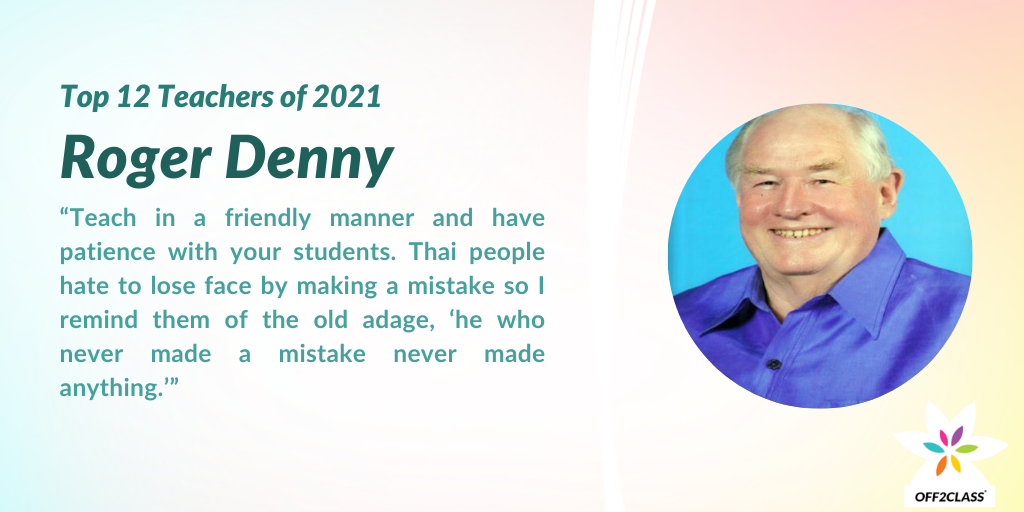 "If I had to give one piece of advice it would be to teach in a friendly manner and have patience with your students."
Roger Denny, Teacher of Young Learners, Thailand.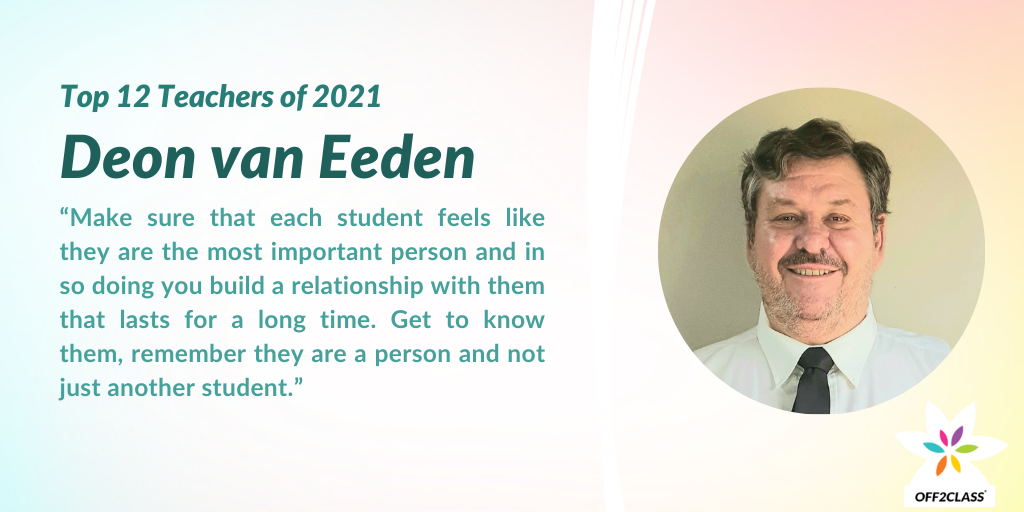 "Get to know the person and show a lot of interest on their well being and that of their families, remember they are people and not just another student."
Deon Van Eeden, Online Teacher on Preply and Amazing Talker, South Africa.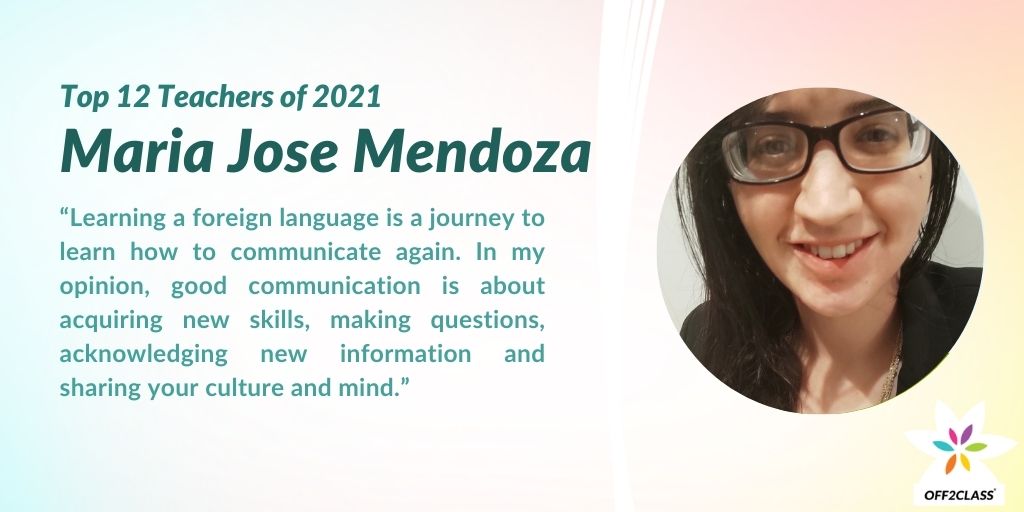 "I believe a teacher should create an environment for their students to be curious and explore, without feeling vulnerable. As their guide in this journey, I listen carefully to their needs in order to answer their inquiries through interactive fun clases within a safe space for them"
María José Mendoza, Online Teacher of Adults in Chile, Spain and USA.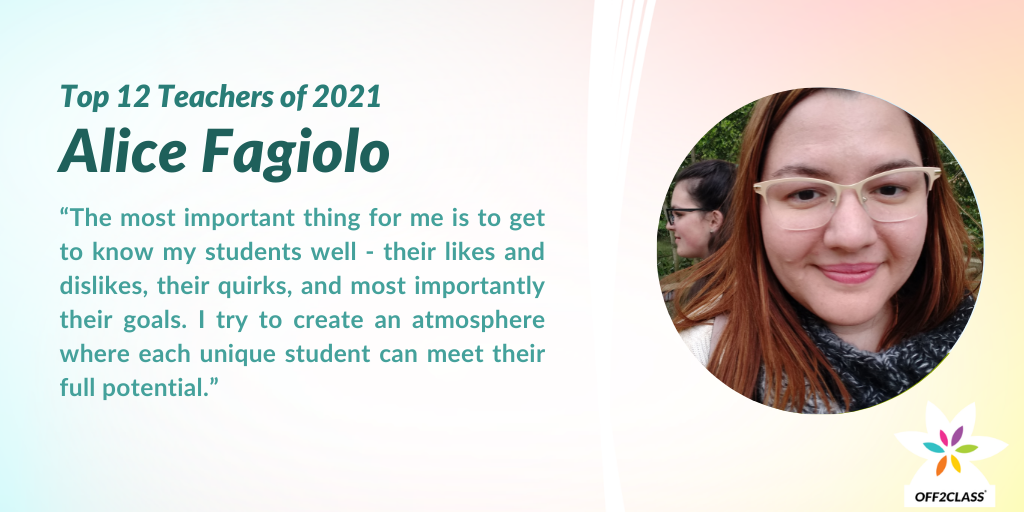 "Each of my students is unique, so I try to create an atmosphere where my students can meet their full potential."
Alice Fagiolo, English Teacher to Adults.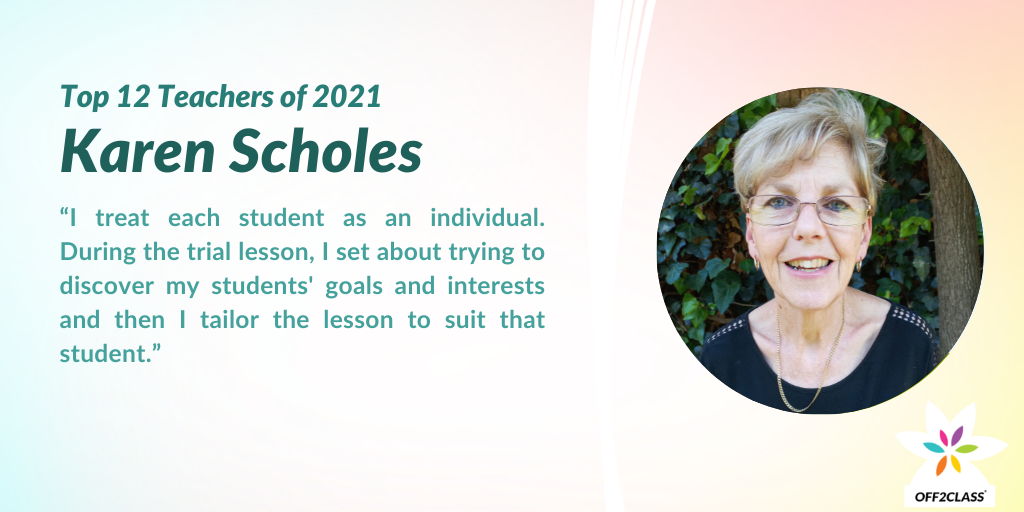 "Treat each student as an individual."
Karen Scholes, Online English Teacher to Adults.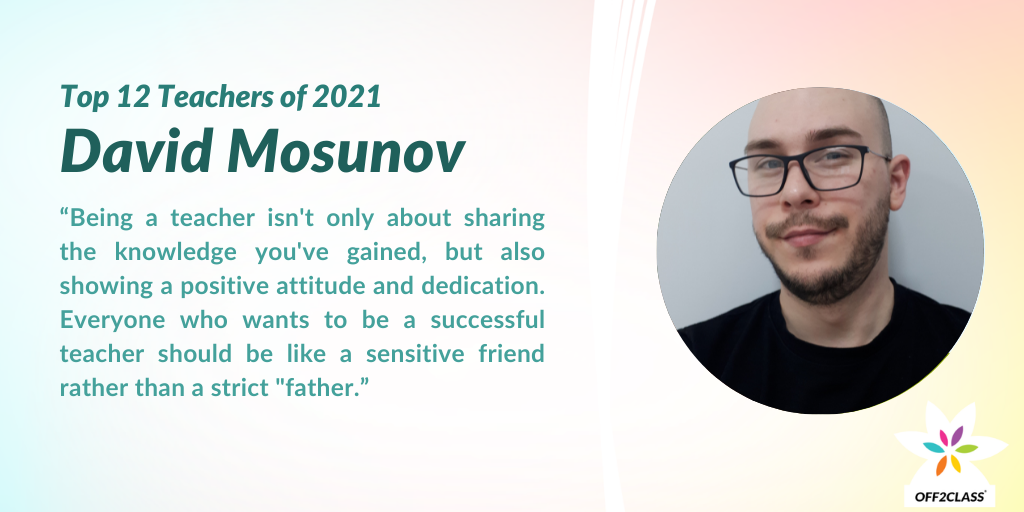 "Being a teacher isn't only about sharing the knowledge you've gained, but also showing a positive attitude and dedication."
David Mosunov, Private English Tutor to Young Learners.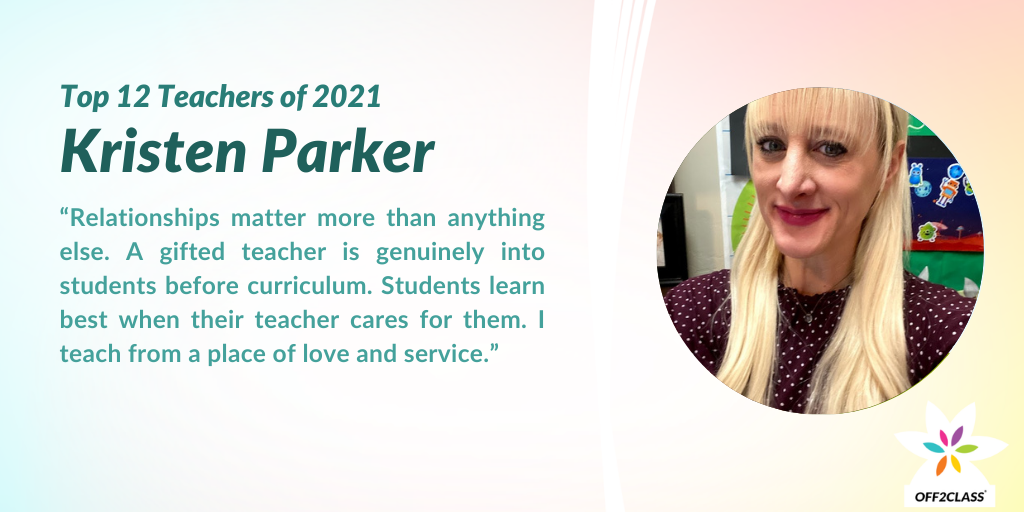 " My teaching advice is actually quite simple: relationships matter more than anything else."
Kristen Parker, Online English Teacher, Utah.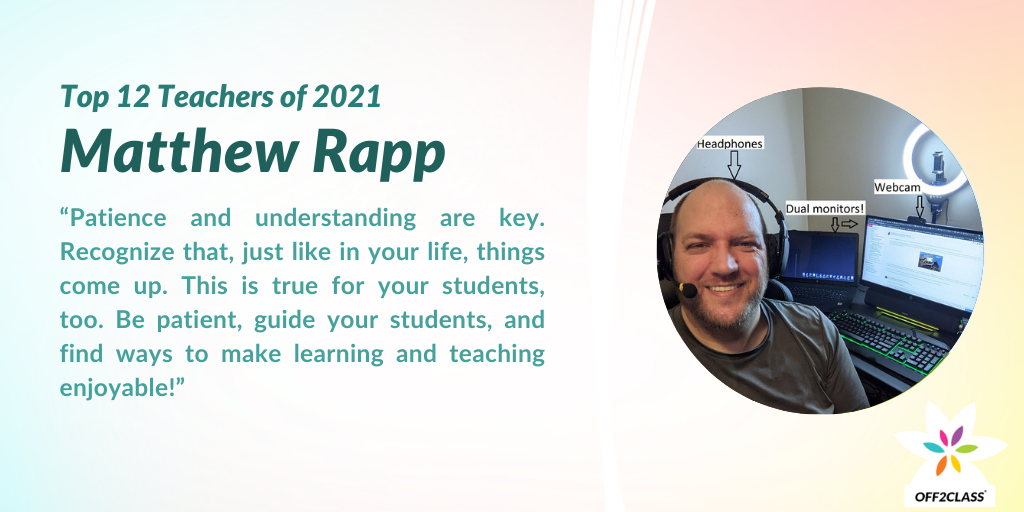 "Be patient, guide your students, and find ways to make learning and teaching enjoyable!"
Matthew Rapp, Online English Teacher, USA.
Do you want to be one of this year's highest-rated teachers on Off2Class?
One skill shared by all the Top 12 Teachers is that they collect feedback from their students. We often think about giving feedback – but asking for our students' opinions is a key to retaining students in the long term. The ratings feature on Off2Class gives students the option to leave feedback, without any additional admin for the teachers. You can make sure the ratings feature is turned ON in your Teacher Settings Page.
What is your teaching philosophy? Join the conversation in our lively Facebook Group, where over 8000 ESL teachers share questions, tips and resources.
---
No comments