Online ESL Teacher Community: Clare
English learners, are you looking for a teacher? Meet online ESL Teacher Clare, a professional online ESL teacher who can help you achieve your English goals. Book a consultation with Clare here!
.
.
.
Meet online ESL Teacher Clare, an Online English teacher from London
.
.
About You
.
You are a busy person but you need to change your life: you want to get that promotion or attend the university of your dreams. Or you are ready to invest in your future but don't know where to start. You want to feel confident when speaking English so you can present as well as you do in your native language.

Perhaps you've got kids to look after, and fitting in your studies seems to be an unpleasant chore, a chore that must be done but so must the washing and the cooking and the running the kids to football and and and…

You'd like to be able to talk about a wide range of topics, not just business or studies. You want to discuss art and history and travel and maybe even religion and politics.

Well, now you've found me, you can relax and enjoy learning! Let's make change together.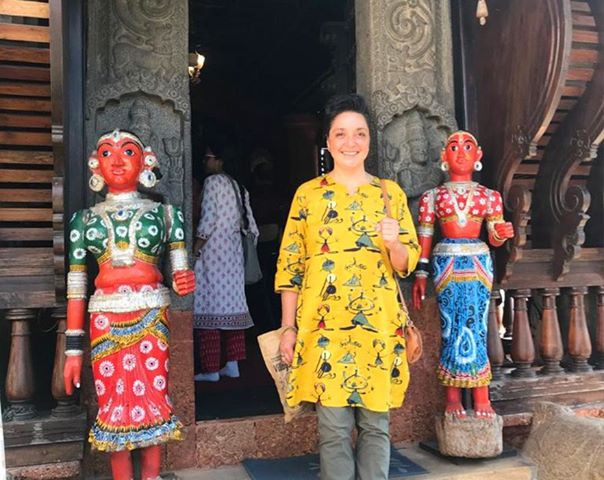 .
A student centered approach
.
If you are anything like me you need ways to take the frustration out of your language learning, but don't quite know how. There's just so much material out there, so many websites and course and apps, it can be all so confusing.

I'll take the stress out of your learning (because stress hinders progress) with my semi-automated online learning system, interactive lesson plans, and a streamlined study plan, designed especially for you. Perhaps you need help editing a presentation, an email, a job application? You can bring materials to class and we will work on them together.

Instead of endless grammar drills, I will encourage you to reflect, to collaborate, to learn through topics you enjoy, whilst learning the skills you need to perform well in all your endeavours.

In addition, you are invited to join my community of change-makers and make meaningful connections with like-minded learners. With collaborative projects, your English will improve without even feeling it!
.
.
What you can expect
.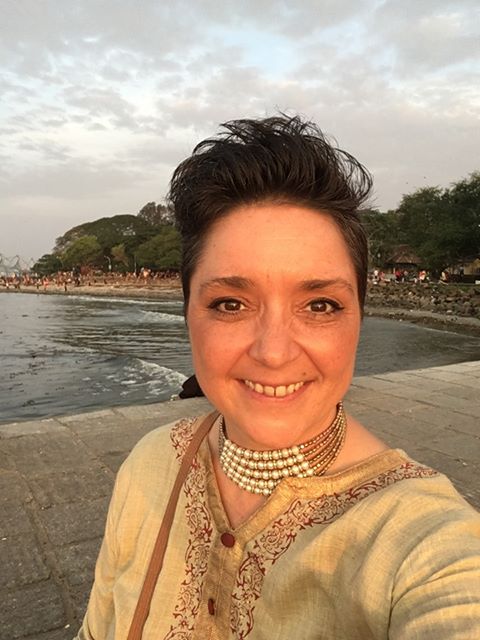 .
Once you've booked a consultation you will receive a free Placement Test and a personal coaching session, during which I examine your level & develop an individual learning plan to tackle your English challenges.

My lessons are never repetitive. My library of lesson plans cover speaking, reading, listening, grammar, Business English, idioms, IELTS, and much more.

General English – improve by one level within 3-6 months
English for Study – IELTS exam or university preparation, interview, presentation practice and more
English for Work – job interviews & skills, business management and more
Intensive English Bootcamp, a special 20+ lesson package covering a variety of skills for fast-track improvement.
.
About me
.
After many years running my own catering businesses from a young age, I wanted to change my life. So I went to university 15 years ago, to retrain to become a teacher at the University of London, where I studied for a BA in Religion & Philosophy with Arabic, German, and Media & Gender Studies.
.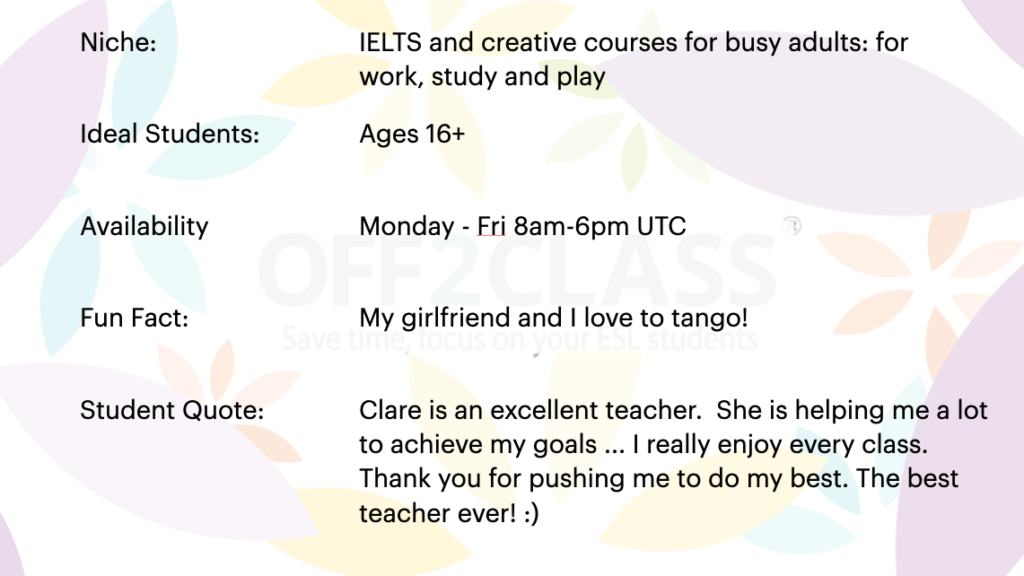 .
Being a mature student brought many challenges, things that have informed my approach to teaching now. I know what it's like to have to juggle kids and work and studies. I know what it's like to have to learn how to use a computer at an older age! I've fully embraced modern technologies but use them sparingly, and will help you come on board every step of the way.
I look forward to e-meeting you online. Feel free to send me a message if you have any questions about my lessons.
More teachers from the ESL Teacher Community
View all