Caitriona McTiernan: Online ESL Teacher
For as long as she can remember, Caitriona McTiernan has always been interested in teaching.
"I always thought that teaching English would be a great way for me to explore my creative side and take on interesting roles, from activity leader and video content creator to online independent teacher."
In 2016, inspired by her mother's colleague's story of teaching abroad for a year, Caitriona completed her TEFL course and made her first trip abroad to Mondragón, Spain, to teach English at a summer school. She was instantly drawn in. Following the completion of her bachelor's degree in business, she decided to combine it with her teaching skills to continue building upon a career in English as a Second Language (ESL).
Today, besides managing and teaching via her very own ESL online platform, TPR Teaching, Caitriona also writes freelance for MSN and The Associated Press Wire. She has students from all across the world, including students from Hong Kong and China, among many other countries.
English as an avenue to understanding our world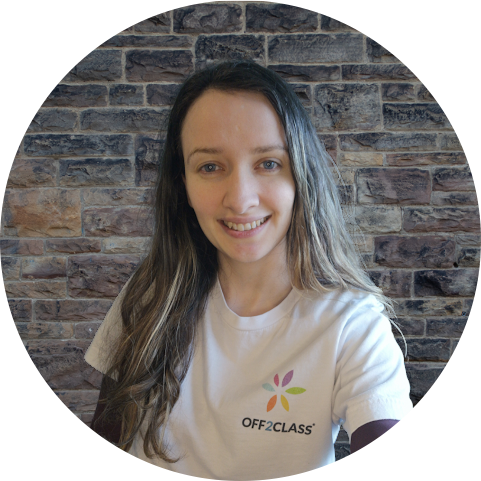 Caitriona knew, from first-hand experience of traveling abroad, that having a solid command of English opens up many opportunities for students (and teachers) who want to broaden their horizons.
"You will learn a lot about yourself and others… Having a good understanding of English helps with cultural exchange and opens up many career opportunities for those who want to pursue a job abroad," Caitriona explained.
Indeed, as the most commonly used international language, English is becoming essential in almost every profession and field of study. This is precisely why Caitriona incorporates many Off2Class Business English lesson plans into her work with adult and teenage students. "The students appreciate it when I can draw from my experience in the business world and give context and insight into the various expressions."
Building strong relationships with students through the Total Physical Response (TPR) method
From the start, Caitriona deeply understood that to be a good teacher, she must first get to know her students and form good relationships with them.
"When I was growing up, I felt that some teachers liked to play the role of the authoritative boss figure and weren't particularly pleasant to students. While it's important to exercise a certain degree of authority, I come from the mindset of total respect for students, their individuality, and their learning curves."
And to further engage and connect with her students from all four corners of the world, she embraces the Total Physical Response (TPR) method in her everyday teaching.
"The teaching method of TPR (total physical response) uses actions and movements to demonstrate spoken words… this suits all types of learners and helps simplify the language."
Many adventures ahead
Looking ahead, the sky's the limit for Caitriona's ESL journey.
"I am looking forward to moving to Vietnam in the coming months," she shared.
Outside of her freelance work at MSN and the Associated Press Wire and sharing tips and tricks about teaching online via her website, Caitriona will be teaching online in Hoi An, Vietnam, in June 2023 for a month.
Caitriona is one of the fantastic English Tutors at Off2Class. Interested in learning more about how we support school districts and teachers of English Learners? Book a demo with our friendly sales team today.
More teachers from the ESL Teacher Community
View all