Teach the Past Continuous – Free Lesson Content
We've released a five part series of lesson content designed for you to teach the Past Continuous!
The past continuous is an essential tense for ESL students to develop natural speech. For this reason we've released a set of five lesson plans that you can access here. If you haven't already, request an account for our private beta to get access to our ever growing set of ESL lesson plans. They cover grammar, vocabulary and phonics and are designed for teachers running their own private ESL classes and tutorials. Below we'll give you an idea of how to teach the past continuous using our lesson content.
How to teach the past continuous using our five-part series
Our five-part series will take your students from no prior knowledge of the tense to a working knowledge of the positive form, negative form (including contractions), question form (including question words) and the various uses of the tense. They will also learn to differentiate between the appropriate uses of the past continuous and the past simple.
In Past Continuous-1 we introduce the positive form of the tense and focus on using timelines to show its basic time reference. In this lesson we focus on the form rather than the uses of the tense: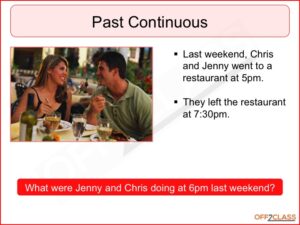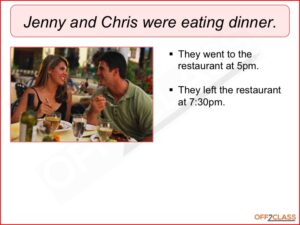 In Past-Continuous-2 we introduce the negative form and contractions. Similar to Past-Continuous-1, the focus is on form of the tense rather than its various uses: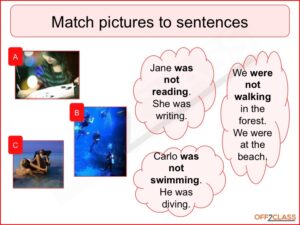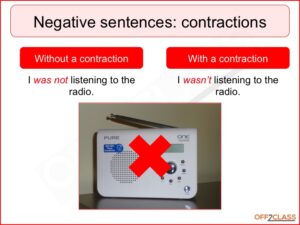 In Past-Continuous-3 we start with a review of the positive and negative forms, and move to a simple analysis of the different uses of the tense (actions in the past and interruptions). For interruptions, we introduce the use of conjunctions (when and while) to join the clauses containing the activities that were happening (past continuous) and the interruptions (past simple).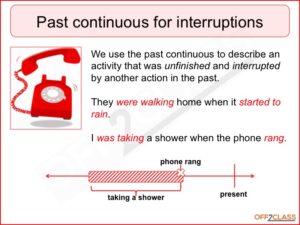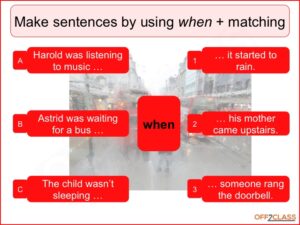 In Past-Continuous-4 we introduce the question form, including the use of question words (What, Where, When, Why). We also revisit the concept of interruptions with the past continuous.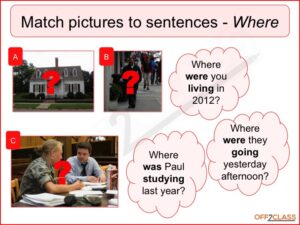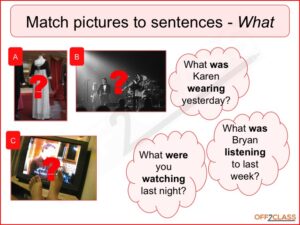 In Past-Contiuous-5 we review the uses of the tense already covered and we introduce two new uses (two activities that were happening at the same time in the past, and to create atmosphere, such as in a story). We then introduce state verbs (i.e. verbs such as like and want, which do not take continuous forms). We also demonstrate how some state verbs (e.g. to think) can be used in both simple and continuous tenses, yet carry different meanings. We finish with a comparison of the applications of the past-continuous vs. the past-simple (background, continued actions vs. short completed actions).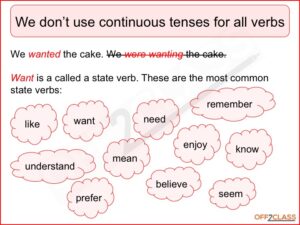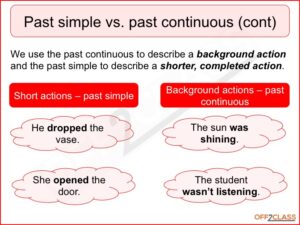 We hope you feel inspired to teach the past continuous using our five-part series!
---