How to teach IELTS Listening and Webinar
Listen up! Off2Class now has a category of lessons dedicated to IELTS Listening.
Coaching a student to succeed in IELTS Listening is not solely about vocabulary and grammar. Success is determined more by the skills needed in the exam along with a familiarity with the question types that students encounter. We've released a group of teacher-led lessons that focus on what your students need to know for the Listening portion of the IELTS exam. These lessons form the perfect toolkit to coach your candidates to achieve the highest Band possible!
To celebrate our latest IELTS release, we held a webinar to train teachers on the toolkit they need to teach IELTS candidates.
A very powerful session if you're thinking of coaching IELTS candidates:
IELTS.L1-Introduction-to-IELTS-Listening
In this lesson, we run over the structure of the test, including the format and context of the recordings used. The lesson contains eight audio files that also examine two often overlooked skills required by students – the ability to hear English letters when spelled out, and the student's ability to hear number accurately.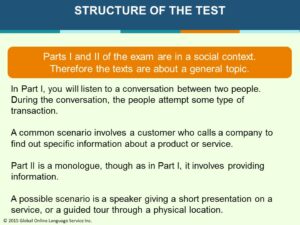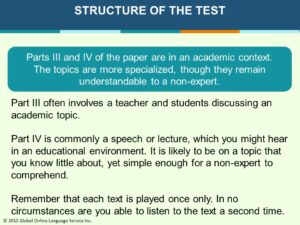 IELTS.L2-Flowcharts-Notes-Tables-Summaries-and-Forms
The second lesson in this category examines the different ways in which information is presented to us on a daily basis. Examples of flowcharts, notes, tables, summaries and forms are presented, including the question types most often associated with these – short-answer and sentence-completion questions.
IELTS.L3-Short-Answer-Questions
IELTS candidates often lose points in the exam because they fail to read instructions carefully. An answer in IELTS can be grammatically correct, yet marked wrong as it does not fit the parameters of the instruction, When a questions says,
Write no more than two words and/or a number for each answer
, it means what it says. Does you student read questions carefully?
IELTS.L4-Sentence-Completion-Questions
Sentence-completion questions require a certain elasticity from the student. IELTS makes use of paraphrasing and the student must recognize this. Is your student's lexical resource agile enough to make nouns of verbs? Can your student paraphrase? And what about those
distractors
?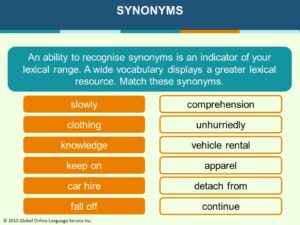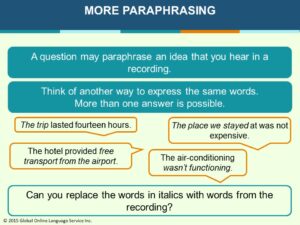 IELTS.L5-Plans
,
IELTS.L6-Maps
and
IELTS.L7-Diagrams
While we make use of maps, plans and diagrams on a daily basis, we aren't quite as used to listening to lengthy explanations of them. These three lessons offer multiple opportunities to practice those all-important
prepositions of location and movement
.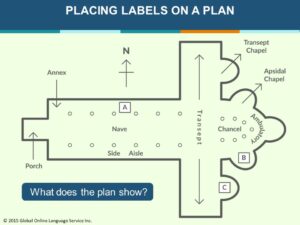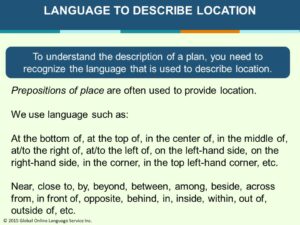 IELTS.L8-Multiple-Choice-and-Matching-Questions
Everyone is familiar with multiple choice questions… yet IELTS takes them to another level. If a single question offers three options, you can almost guarantee that the recording will mention all of them. This means that close attention is required to reading all options 
before
listening to the recording. Recognizing d
istractors
and paraphrasing are important skills to answer these questions types.
As with all Off2Class lessons, each IELTS Listening lesson contains a homework or extension activity. These homework assignments contain their own set of audio recordings and comprehension questions!
We'd love to hear your comments and feedback on our IELTS Listening lessons!
---