Lesson Plan Series: Opposite Adjectives
In this post we would like to highlight a lesson plan series designed to teach students vocabulary around opposite adjectives. We've found that vocabulary focused lessons can be an enjoyable change of pace after a series of  grammar focused lessons. We like teaching opposite adjectives because learning the opposite of a word can reinforce vocabulary. Months ago when we were preparing for our own private students, we found that the existing materials online were not suitable for private lessons. Most resources we found focused on activities and games that are geared towards the traditional classroom. We've had some great results teaching our lesson plans with our own private students and we hope that you will as well.
We have divided the lessons into a three part series. The first lesson focuses on comparing common opposite adjectives such as big/small, clean/dirty, cold/hot and  young/old. Once the adjectives have been introduced through pictures the student then practices them through gapfill exercises. The first lesson plan finishes with freer practice where the student can form their own sentences based on pictures. Here is a screen shot of how we introduce the adjectives: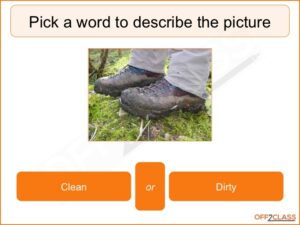 Here is a screen shot of the freer practice portion of the lesson: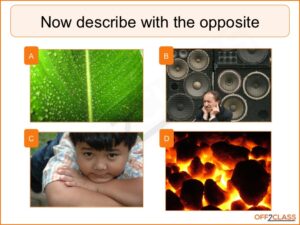 The second lesson in the series has a similar structure to the first lesson, but introduces more advanced adjectives. These include soft/hard, wide/narrow, clever/stupid, light/heavy and healthy/sick.
Our third lesson in the series begins with the introduction of advanced opposite adjectives but also introduces the comparison of similar adjectives used to describe different nouns. For example, short/tall (to describe height) vs. short/long (to describe length) and young/old (to describe age of living things) vs. new/old (to describe age of non-living things). Here is a screen shot of how we tackle similar adjectives used to describe different nouns: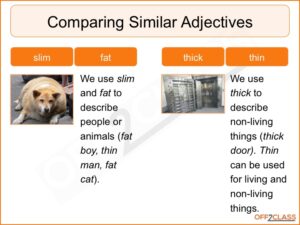 We recommend this set of lessons as a vocabulary break that can be introduced after a period of grueling grammar. The lessons can be a great tool to increase the overall energy level of your private lessons.
Please let us know if you've used these opposite adjective lesson plans with your own private EFL students!
---
No comments