Vocabulary for ESL Students – Six Lesson Plans to Get Started
In this post, I will cover vocabulary for ESL students and introduce six free lesson plans designed for ESL Teachers. You can use them alone as targeted vocabulary lessons, or as supplementary lessons. Useful in your brick-and-mortar or screen-enabled ESL classroom, these lesson plans are guaranteed to enhance your students' vocabulary. Continue reading to learn about these fun, free lesson plans!
Often enough, ESL students think their vocabulary is lacking, even if it isn't. Students are always excited to learn new words because they often get caught up in grammar rules and end up treating vocabulary as an afterthought. So here is your chance to introduce your students to one (or all) of these teacher-led lesson plans. Below you'll find six options, each featuring useful, everyday jargon.
Vocabulary – Body
This is a great lesson plan for students of all ages and professional backgrounds. In this lesson, your students can practice major parts of the body (head, back, shoulders, knees, etc) and how to use them in simple sentences. Ideally, your students will know how to use the present simple and past tenses to complete this lesson, but you could easily skip those activities too.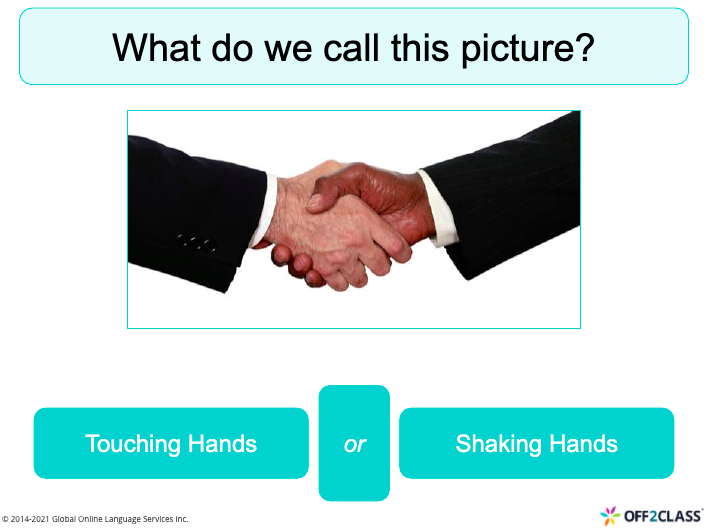 Download the lesson plan Vocabulary – Body here:
Vocabulary – Family
This is an introductory lesson, but would also make a great review lesson for students of all ages and levels. If your students are advanced, use it along with the speaking lesson plan My Family. In this lesson your students will learn vocabulary related to immediate family members (mother, father, brother, sister, etc) and practice reading simple family trees. After completing this lesson, your students will gain knowledge and you will learn more about them!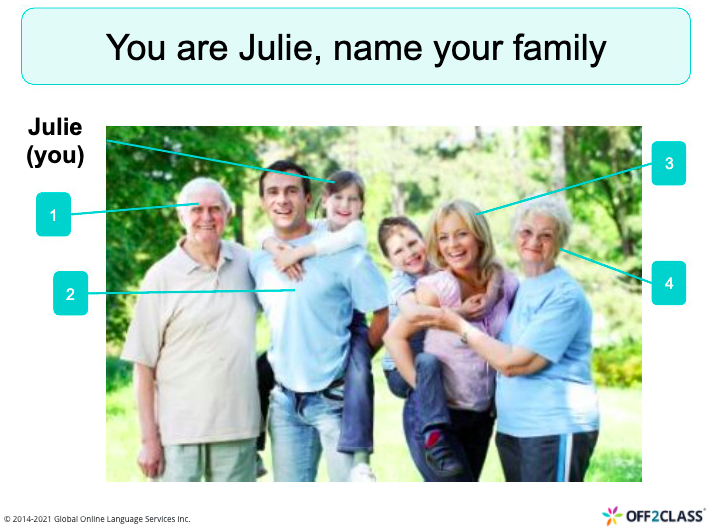 Download the lesson plan Vocabulary – Family here:
Vocabulary – Food Introduction
This lesson plan introduces common food items like fruits, vegetables and other staples. I've said this before and I'll say it again, most students love to talk about food, so use your creativity and turn this lesson into a communicative activity. This vocabulary lesson plan also pairs well with the unit Are you Hungry, which is part of Off2Class's Step-by-Step curriculum.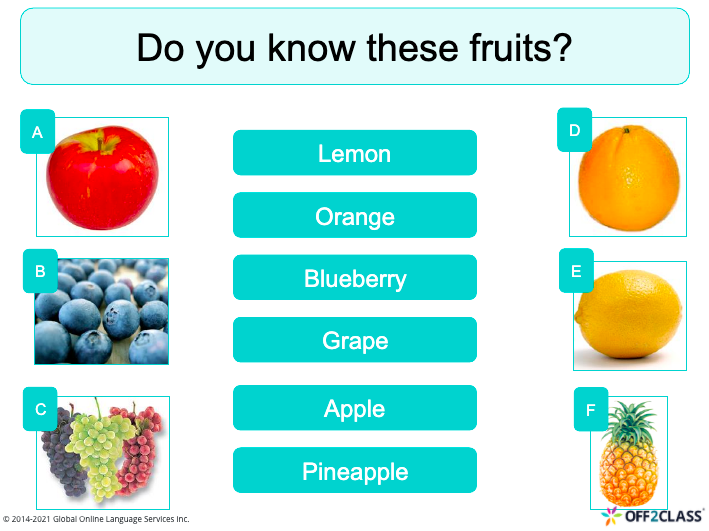 Download the lesson plan Vocabulary – Food Introduction here:
Vocabulary – Jobs
In this lesson students can practice talking about vocabulary related to jobs, where jobs are performed and tools. Employed students or those looking for work will really enjoy this lesson! After teaching this lesson, check out our lesson plan A Day at the Office and allow students to put this new vocabulary in use.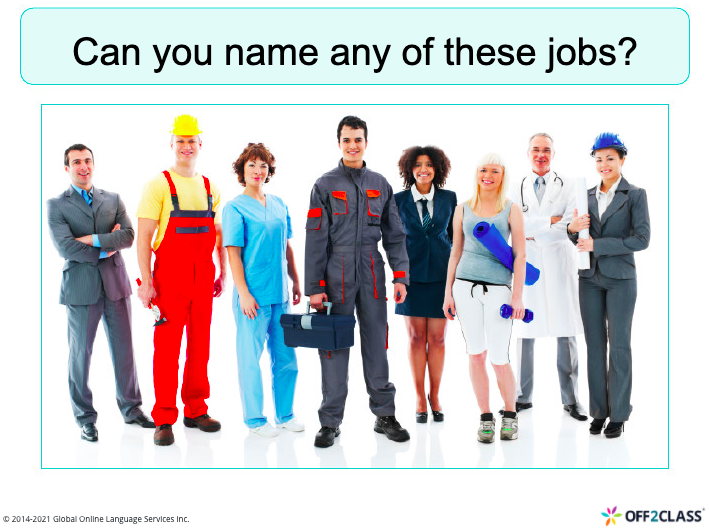 Download the lesson plan Vocabulary – Jobs here:
Vocabulary – Clothing
Even though this lesson plan is geared towards working students, students of all backgrounds will appreciate this lesson plan about clothing. It features clothing-related vocabulary that is a bit more specific (collar, high heels), as well as useful adjectives to describe clothes. Also, this makes it a great vocabulary-focused lesson plan for intermediate-level students! Finally, this lesson goes perfectly with the third lesson in our Step-By-Step curriculum on Money and Shopping.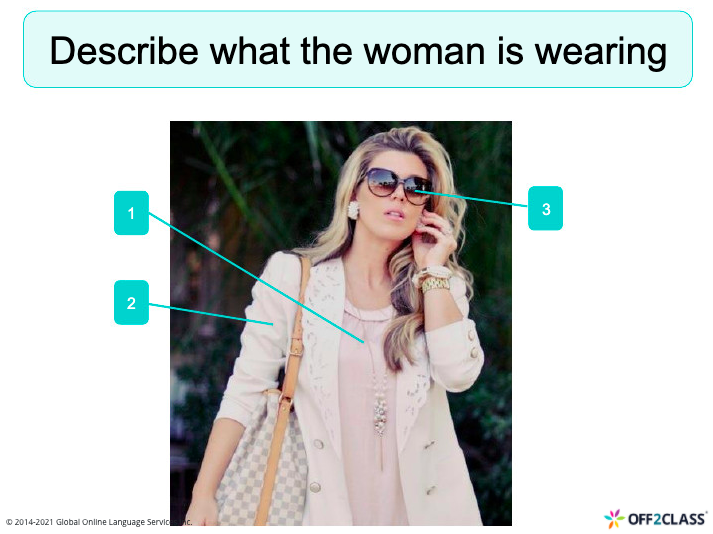 Download the lesson plan Vocabulary – Clothing here:
Vocabulary – Nationality
Students will love practicing the vocabulary in this introductory lesson plan on nationality! Students will work on pairing countries with nationalities and languages. Ideally, they will have a bit of prior experience identifying countries and flags. If your students are just starting out, try using this lesson along with the first unit in Off2Class's Step-by-Step curriculum Let's Start.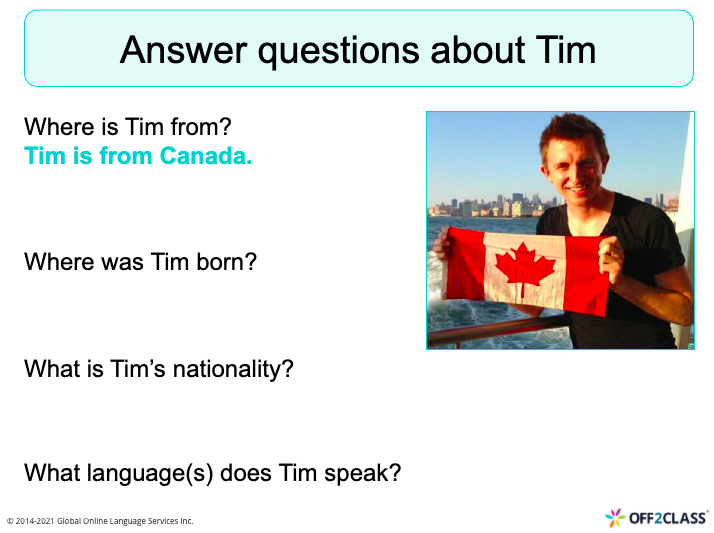 Download the lesson plan Vocabulary – Nationality here:
I love to focus on vocabulary in my ESL classroom as it helps all students feel more confident and better able to express themselves. I recommend that you take your lessons to the next level by signing up for your free teacher account. Use your teacher account to assign homework and access the provided teacher notes. While you're at it, browse our Lesson Library where you'll find hundreds of ready-to-teach lesson plans. Off2Class has designed these ESL lesson plans with the teacher in mind. With the click of a button, you can have your next ESL lesson ready to go. Leave the hard work to Off2Class and spend more time teaching the subject you love!

Finally, if you found these lesson plans helpful, please share them with fellow teachers and comment below. We love hearing from teachers like you!
---
No comments