Teaching Business English: Advertising
Today I will introduce a business English lesson plan about advertising. I will also talk about how you can use it to practice business-related vocabulary in your ESL classroom. I know from experience that business English students always want to increase their vocabulary and conversation skills—so why not introduce it? Even if your students are not business students, you can still use this lesson because it is guaranteed to get your students talking.
Teaching Business English with Vocabulary and Discussion
This lesson plan focuses on simple concepts that students can use to practice speaking English. Since advertising is a universal topic, you can use this lesson with students of all levels and interests. In this lesson, students are introduced to vocabulary and concepts related to brands, target markets and advertising channels. Also, they will have the opportunity to talk about the pros and cons of advertising. While doing so, you can encourage your students to use adjectives to talk about their opinions and/or experiences. 
Download your free lesson plan here:
This is a fun, communicative lesson plan that is perfect as a supplementary lesson or as part of Off2Class's Business English lessons. There are 25 different lesson plans to choose from. You can use them sequentially or based on your students' interests. If you want to get your students talking and using their workplace skills, Off2Class's Business English lessons will do the trick!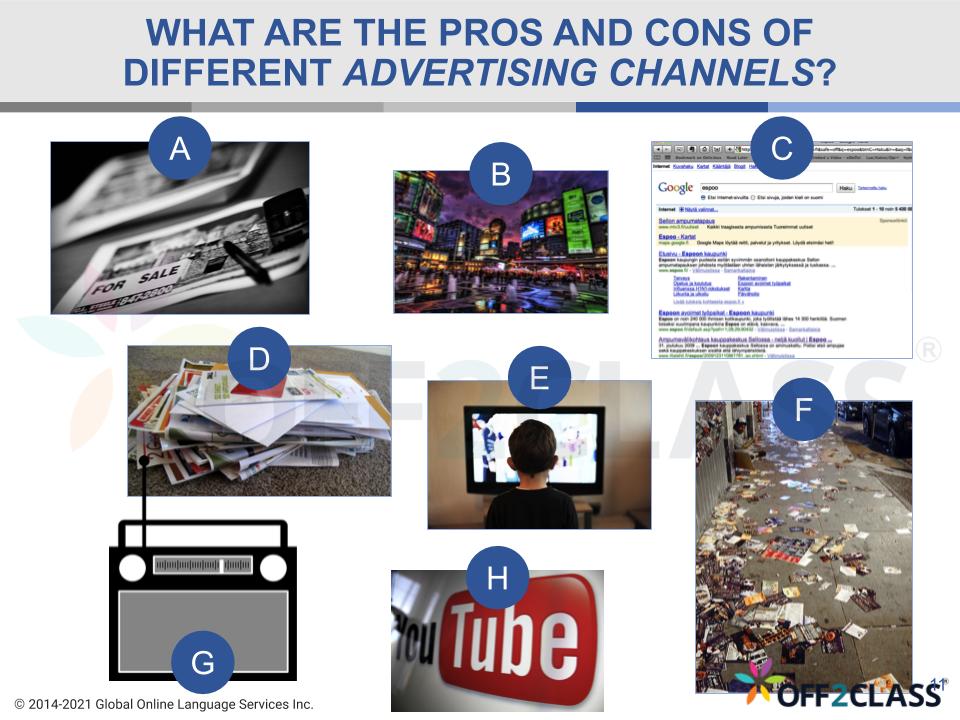 Don't forget to create your free teacher account to access the teacher notes, homework and assessments. As well, check out the Lesson Library, where you will find hundreds of ready-to-teach lesson plans that are just one click away. All of Off2Class's lesson plans are communicative and suitable for online or in-person classes. We know that lesson planning is hard work so Off2Class has done it so you don't have to!
If you liked this lesson plan, share it, like, and comment below. We love to hear comments and suggestions from teachers just like you!
---