Complete materials to teach IELTS Reading online
Extra, Extra! Read all about it! Off2Class now has a category of lessons designed for you to teach IELTS Reading online!
All students read every day. They read signs and notes, news articles and gossip columns. They scan timetables for information and browse reviews for the latest book to read, film to watch and restaurant to visit. But how do you teach IELTS Reading online? Success in IELTS requires strong use of these skills – skimming, scanning and looking for specific information. IELTS Reading also demands that candidates understand the format of the exam along with the questions types, of which there are many.
If you'd like to learn how to teach IELTS Reading online, signup for our next webinar here. You'll get first-hand exposure on how to make the best use of our latest lesson category.
Off2Class has released a series of IELTS Reading Lessons that will make teaching candidates a rewarding experience. We provide you with clear examples of questions and oodles and oodles of practice. As with all of our content, each lesson is beautifully presented and works well on smart phones, laptops, tablets and interactive whiteboards. Each teacher-led lesson comes with a homework activity that allows students to strengthen their understanding of the concepts taught in class.
Introducing IELTS Reading 
IELTS.R1-Introduction-to-IELTS-Reading
This introductory lesson runs over the format of the test along with the principal question types and skills required.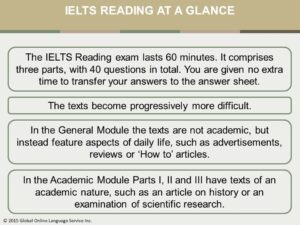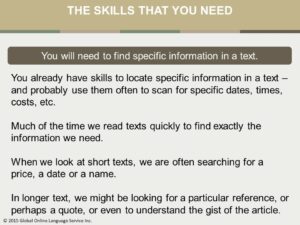 IELTS.R2-Flowcharts-notes-tables-summaries-diagrams
As in the IELTS Reading exam, the student must often supply answers to a pre-determined format. Here we provide an overview and exercises to practice filling in notes, flowcharts, tables, summaries and diagrams.
IELTS.R3-Short-answer-and-sentence-completion questions
One mistake that many IELTS candidates make in the exam is to ignore or misunderstand the question parameters. When a question asks the candidate to answer using no more than two words and/or a number, it means what it says. In this lesson, we provide exercises to help your student focus on instructions!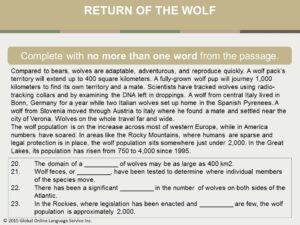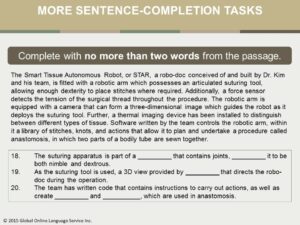 IELTS.R4-Matching-information
Questions in IELTS Reading exams may ask the candidate to match a number, date, description, reaction, reason, cause, effect or finding to information in the text. A great lesson to help your student search for key words in the question to locate specific information in the text.
IELTS.R5-Matching-headings
Unlike every other question type, a matching headings task will appear before the text, not after it. Skim reading skills are put to the test as a candidate searches for the main idea in a text and matches it to possible options.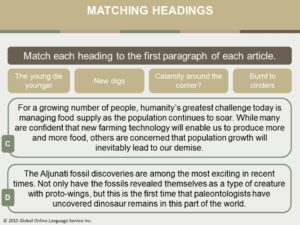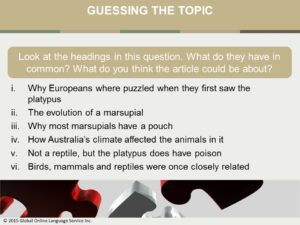 IELTS.R6-Matching-sentence-endings-and-matching-features
Students will be familiar with matching sentence endings, though it's a challenge to do so in long IELTS texts. In this lesson we also look at the matching features task, where students must examine a text which usually contains multiple names, dates and theories.
IELTS.R7-Multiple-choice-questions
Like every standardized text, multiple choice questions are common in the IELTS Reading exam. Again, the importance of reading instructions becomes paramount as the candidate may need to choose one, two or three of the options presented.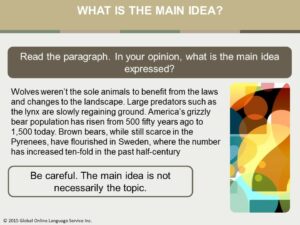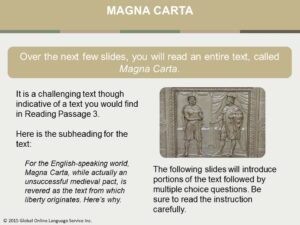 IELTS.R8-Identifying-information-and-the-writers-views-or-claims
Perhaps the most challenging and interesting question types in the exam! Students often need assistance with differentiating between false/no and not given. We help your student distinguish between a writer's view and a claim, with plenty of exercises to practice identifying them.
We hope that you and your students enjoy using our newest lesson category to teach IELTS Reading online. As always, we look forward to hearing your suggestions and feedback.
---