How to fix ESL placement testing at language institutes
My name is Paulina Stepien and I have worked in Spain and Canada as an ESL instructor for four years in both private language institutes and also online
During this period, I've encountered some recurring issues with the process of ESL placement testing at language institutes. Every private language institute is a little bit different. Yet, consistently, whether in Spain or Canada, student intake and proficiency testing have always been a slightly chaotic process. It seems that the process for school owners, directors, teachers, and administrators, is unnecessarily stressful. In addition, placement testing can be stressful for prospective students. In today's post, we will take a look at the issues tied to ESL placement testing at language institutes as well as their consequences. Finally, I'd like to offer some solutions to streamline the process. 

First, a bit of background about how assessment typically works at a private ESL institute: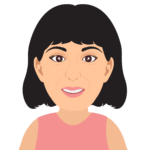 In my experience, most approach assessment by administering a test in-house. This means that students come to the institute and complete a written test covering essential skills like reading, writing and listening along with an interview provided by a teacher or a staff member who evaluates the student's speaking level. In many cases, these tests were developed many years ago and have not been updated since. 
So what could go wrong?

A) Busy-season 'crunch'
The busiest time for administering placement tests is at the end of the summer and the beginning of the academic year (September/October in the northern hemisphere). This is also the time when receptionists and support staff are overwhelmed with phone calls from prospective students inquiring about schedules, availability, prices, etc. There is also an increase in foot traffic into institutes and referrals from sales and referral partners. 
An increase in foot traffic is a bonus but not when it is accompanied by long wait times and lineups. The consequence of an over-crowded reception area and the overwhelmed staff is the appearance of disorganization. This is not a great first impression when prospective students are shopping around for the best ESL institute.
B) In-house testing doesn't provide flexibility and consumes resources

In-house ESL placement testing at private language institutes requires resources. It often takes place in classrooms and disrupts the regular schedule of ongoing classes. Teachers and currently enrolled students are forced to switch rooms, sometimes without any notice (as determined by the demands of new students, i.e. customers!). In addition, interviews can often pull teachers and academic directors from their existing duties to prospective students. Owners will often prioritize resources towards new, prospective students over those already enrolled at the institute. 
It is important to consider both current and prospective students during testing time disruptions. Again, it is essential that your institute doesn't appear unprofessional compared to your competition. 
C) Paper tests (and most 'generation 1' digital tests) don't have a flexible student language interface 
One other problem is during the actual writing of the test. It is not uncommon for students to have difficulty understanding instructions in English. They will often ask the proctors to translate the instructions. All of a sudden instructions need to be repeated, hands go up and the test is interrupted for others in the room. 

Students are unable to focus when there is too much noise and commotion. It is not an ideal environment for students who are looking to perform at their best and may not provide accurate results. 

Don't get me wrong, assessment is hugely important! But, at many language institutes, it is not managed effectively…
This is ironic because proficiency testing is a standard practice at institutes. The process repeats several (if not many) times a year at most institutes. Yet, in my work experience, it seemed like every large intake day was the first time the school had opened its doors to the public! 
A possible solution to fix ESL placement testing at language institutes:

Inefficient placement testing can cause confusion, wasted time and disruptions. For these reasons, I prefer to provide placement tests before students come into the institute. That way, once they walk through the doors their language level is already assessed. Wait times and crowding around reception are also minimized. Teachers are fully armed with a detailed diagnostic before students set foot in their classrooms. 
Of course, for this to be possible we need a test that is easy to deploy and that has clear instructions that can be translated into a student's native language. It is also essential that the test be responsive to different internet-connected devices such as mobiles and tablets. We can't be sure that all students will be taking the test on traditional laptops. 
Effective ESL placement testing at language institutes can be used as a sales strategy:
After working for private ESL institutes I started my own business teaching English to Spanish students online. I used the Off2Class placement test as an attractive incentive to get students interested in my services. Before I even met with them I would assign them a placement test. Once I had their results I would have a brief interview online. Having their results handy allowed me to focus on the nuances of their language deficiencies as well as confirm their English proficiency. I was also armed with a student's Gap Analysis (list of lessons based on their deficiencies).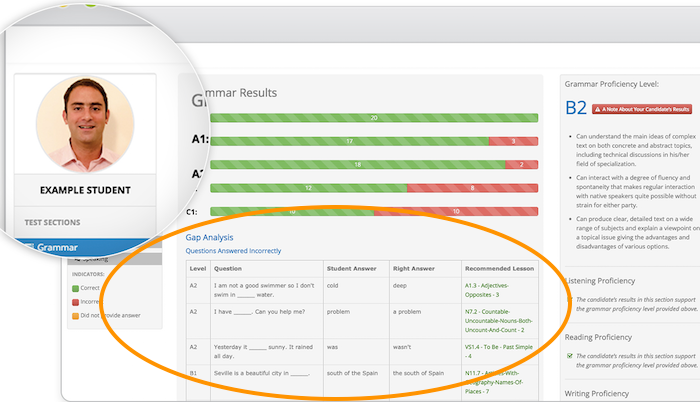 These tools were indispensable in selling my services as the right choice for these prospective students. Instead of having a general conversation as to why I was a great teacher (aren't we all!) I could have a very specific meeting about a student's deficiencies and my plan to work on them. The students also loved the personalized approach. It showed that I cared about their unique language needs.  
This personalized approach that I crafted for my online students is a perfect fit at the institutional level. 
ESL placement testing at language institutes is a vital part of the enrolment process. It's important to make this process a competitive sales advantage rather than an organizational burden.
If you'd like to talk about how Off2Class can streamline this process for you, please book some time with me, I'd love to chat about your institution. 
---
No comments