ESL Placement Tools for Higher Education Admissions
How to strengthen your international student admissions and enrolment process with effective ESL Placement Tools
In the latest SEVIS By The Numbers Report, the number of international students at US Higher Education Institutions showed a slight decline on a 12-month basis (0.5%). Although this drop may not seem significant, it marks the first decline in decades. The causes of this decline can be debated… Yet regardless, it is clear that there is now increased competition to enroll international students amongst higher education institutions. In the US, institutions are competing after a smaller total pool. While in countries like Canada and Australia, schools are competing for students that would have traditionally sought US admissions. Today, we'll explore how effective ESL Placement Tools for Higher Education can strengthen an international admission and enrolment process.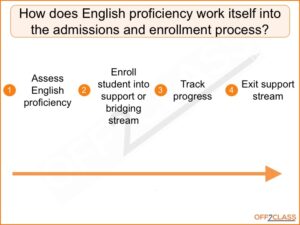 Let's start out with a little bit of background on how English language Proficiency works itself into the admissions and enrolment process at Higher Education institutions.
At the start of the process, some form of a diagnostic tool will be used to assess English proficiency before an admissions decision is made. Many institutions require a TOEFL or IELTS score/band and will complement this diagnostic with their own practices (e.g. a Skype interview). Next, a decision is made whether to admit the student directly or require them to enroll in an intensive English program (IEP) or bridging stream. Regardless of whether the student has been placed directly into an academic program or not – ESL proficiency will be tracked and monitored. Often, additional ESL support is offered to students in academic streams. Finally, students in bridging programs will eventually exit and be placed into their academic programs.
How can ESL Placement Tools for Higher Education strengthen the admissions process? 
Increased decision-making speed
Most higher education institutions will require an international student interview, whether by Skype or in-person before making an admissions decisions. Often, this is to ensure that a student's TOEFL or IELTS score/band reflects their true abilities. If the interviewer is armed with a detailed diagnostic of the student's English language proficiency prior to the interview, the interview process can be more efficient. The interview can also be more structured. This can result in a lower average time to make an admission and enrolment decision. Critical in a high-competition environment.
Offering a remedial stream to those that are 'close to the line'
Some students won't meet an institution's TOEFL or IELTS requirement, yet are 'close to the line'. If an admissions start date is 6 to 10 months in the future, schools can offer remedial support through distance learning to these students. The aim here is to help them 'get over the line' for the next academic year rather than defer to a bridging program. Of course, in an era of decreased international enrolments, offering a service like this can be a powerful tool to attract students. An ESL placement tool that both produces a diagnostic and an individual learning plan to address identified gaps, can reduce the guesswork in offering such support.
Putting a plan in place for students from partner schools
In an era of decreased enrolments, sourcing international students from partner schools has become even more important. Similar to #2 above, an ESL placement tool that produces a student's individual learning plan can be used to put a study program in place to get partner school's student 'over the line'. Of course, partner schools will view this type of support favorably. Again, having a tool to produce a student's individual learning plan is an essential piece to offering this service.
Offering personalized attention to all international students
For students placed directly into academic programs, offering ESL support services can be a unique value proposition of your international program. These support services can take different shapes. Many international programs will pair each international student with a coach (often a graduate or post-graduate student). Coaches will meet with their students every two to three weeks and provide support while also monitoring English language proficiency issues. Again, having an individual learning plan can be a powerful tool to monitor English language proficiency (especially when some coaches are not trained in English as a Second Language instruction).
Our ESL Placement Tools for Higher Education are used to strengthen admissions and enrolment processes. Here are some ways we can add value to your international program:
Gap Analysis and Individual Learning Plans
Our ESL Placement Tools provide a starting point to address language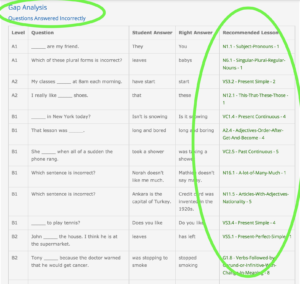 needs. A student's results include a Gap Analysis outlining the language deficiencies identified. These gaps form the basis of the student's Individual Learning Plan. The learning plan is a set of lessons that address a student's language gaps.
The student's learning plan allows institutions to provide individual ESL attention whether the student is in an academic stream or bridging program. As mentioned above, some schools will offer this support to students before they are admitted. By focusing on known deficiencies, your international office can provide this support as efficiently as possible.
Teachers have a choice of working through lessons with their students or providing the lessons as guided self-study.
Each lesson in the learning plan contains extensive teacher notes. Teacher notes guide teachers through each lesson. This can be especially helpful for support programs that are being staffed with coaches and advisors who lack formal ESL training.
Ease of deployment, professional feel
Our ESL Placement Test can be sent to a student within a couple of clicks. The student can sit the test from any internet-connected device. The interface language (labels, warnings, buttons, instructions) can be set to a student's native language and results are delivered back to you immediately. Finally, the test can be branded with your school crest. A high-quality tool c0nveys a professional tone to your incoming international students. It shows that your office is serious about its international program.
Multiple skills tested
Admissions teams have a choice to pair listening, reading, writing and speaking with our grammar diagnostic. By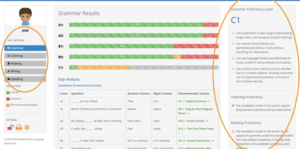 customizing our test, schools can match it to their existing admissions process. For example, our speaking assessment requires students to record themselves answering a graded question from a personal point-of-view. If an institution runs its own interview process, the interviewer can consult the recording ahead of time. This will reduce an interviewer's need to assess English proficiency from 'scratch' during the interview process and generally reduce the interviewer's prep time.
Understandable results
ESL Placement Tools for Higher Education Institutions should produce diagnostics that can be shared. Results should be understandable by faculty, admissions and recruitment teams. Results often need to be shared externally with partner schools and agents. Most of these team members and stakeholders will not have formal ESL training. Our ESL placement test produces results that can be easily understood by all. We grade students based on the CEFR and provide 'can-do' statements to interpret the results.
Test that can be re-assigned
Finally, our ESL Placement Test can be re-assigned. Since it draws from a large database of questions, schools can assign it multiple times to the same students. Multiple assessments inform further decisions. For example, a student may no longer require additional ESL support or may benefit from a new individual learning plan.
Interested in learning more about our ESL Placement Tools for Higher Education Admissions and Enrolments?
We're holding a webinar specifically to discuss ESL Placement Tools for Higher Education. The webinar is aimed at both recruitment and admissions teams as well as faculty. Anyone playing a role in the international admissions and enrolment process. You can find all the details of our webinar here.
We'd love to see you at the webinar. Of course, if you have any comments or questions, feel free to leave a note below.
---
No comments