Printable ESL Placement Test Certificates
You can print ESL Placement Test Certificates for your students on Off2Class!
We've added printable ESL Placement Test Certificates so that you can motivate your students to learn with you.
Each student's placement test produces a result based on the CEFR. Pro users can now create a branded certificate displaying the CEFR level and your company or teacher logo. CEFR is now the world's most recognized reference of proficiency for foreign language learners, so these certificates are a great tool to keep students engaged and motivated.
Watch this 1-minute demonstration to see how to generate a certificate within a couple of clicks:
Rewarding achievement is important
Our ESL Placement Test has become increasingly popular over the 1.5 years since we launched it. Our test was originally designed as a simple assessment tool to create learning plans for new students. Today, teachers use our placement test in a variety of situations:
To develop learning plans for new 'prospective' students
To assess listening, reading, writing and speaking abilities (along with our grammar diagnostic)
As a 'progress check' to measure improvement
Each combination of questions on our placement test is unique…
As our test draws from a database of over 800 questions, many teachers started to use the test to measure improvement. It is these teachers who inspired us to develop our ESL Placement Test Certificates. Teachers wanted a simple method to measure a student's ability at a starting point and to reward improvement. A typical scenario would be to assign the test when you start out with a student and to re-assign the test after three to four months of learning.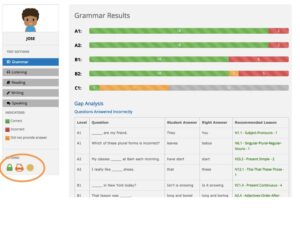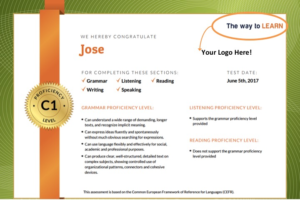 A student's ability to improve fluency in English is heavily dependent on their motivation. We hope that the ability to print ESL Placement Test certificates will be a great motivation tool for your students!
As always, let us know how you enjoy this new feature by leaving a comment below.
---