ESL Absolute Beginners: Recommended Pathways
Welcome to the first instalment of our latest Blog series: Recommended Pathways. 
There's been a lot of demand from teachers for recommended course structures when teaching students with our ESL Lesson Plan Library. This is what we plan to cover in the recommended pathways series. Over the coming weeks we'll be posting recommended pathways for various types of student profiles. First off, a course structure for ESL absolute beginners! 
What do we mean by an ESL Absolute Beginner? 
ESL Absolute Beginners are students that have had no (or very little) exposure to English lessons or the language in general. On the other hand, false beginners have been exposed to some formal or informal English language lessons yet have not acquired any functional grasp of the language. Absolute beginners generally have very little knowledge of the English alphabet or it major sounds.
So let's begin! The following is a recommended pathway through our lesson library when you are presen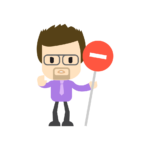 ted with the exciting challenge of teaching ESL Absolute beginners!
Disclaimer: This is not designed to be a prescriptive structure. We truly believe that teachers know their students best. The design of Off2Class has always kept this principle at the forefront. This pathway is only meant to provide a starting point. It can and should be adapted for the unique needs of your students as you progress through our lesson content and self-study activities.
Recommended Pathway: ESL Absolute Beginners
We recommend starting with our Letters & Sounds category. This category uses an image-heavy approach to teaching the alphabet and major consonant and vowel sounds in English. Like all of our lessons, they are d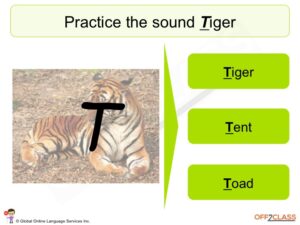 esigned for live conversation and contain bright and colorful images.

Goal: Familiarize your students with the major sounds on the English language.
When your students are comfortable with the Alphabet and major sounds of the English language, you can progress to basic nouns lessons. Here are some recommendations that have worked for our ESL Absolute Beginners in the past:
Goal: Basic understanding of pronouns and simple sentences. Exposure to a large number of nouns and their regular plurals.
Next, we suggest using our beginner ESL listening activities. Each of our listening activities and attached homework contains audio recordings of native English speakers. Your students listen for specific information and content. You also have ample opportunity to drill your students for pronunciation. which students at lower proficiency levels usually enjoy.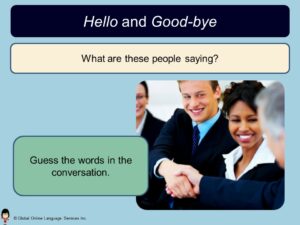 Goal:
Increased familiarity with basic sentence structure and parts of speech.
Step 4: The Verb To-Be
Next you can exploring the conjugation of the verb to be for all subjects. If your students respond well, you can progress naturally the negative and question form.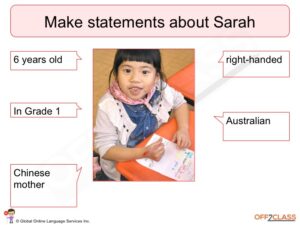 Goal: Expressing basic ideas and thoughts using the verb to be and familiarity with the contracted forms used in everyday spoken English.





So there you have it! Our first in our Recommended Pathways series. This should give you some great starting points the next time you encounter a new ESL Absolute Beginner.
Let us know what you think of this pathways series. Is there anything we can do to make it more useful to your teaching practice?
---