The Values of Off2Class – Entrepreneurship
Entrepreneurship means 'owning' what we undertake, and being responsible and accountable. We flourish because we encourage initiative, we acknowledge that iterations are part of our life, and we take ownership of deliverables and deadlines. We are willing to take risks.
Foreword
It is approaching ten years since three friends came together to create Off2Class with the simple goal of providing high-quality digital content to save teachers time. As the company has grown, nine core values have guided its development: Compassion, Competitiveness, Diversity, Entrepreneurship, Humor, Inclusivity, Internationalism, Progressiveness and Sensitivity.
In this series of blogs, we explain why each of these values matters to us through the words of members of the Off2Class team and our users. We share stories of how these values are fundamental to what we do and provide a space to celebrate the achievements of teachers and language learners. We also give recommendations from our Lesson Library that explore themes related to each value.
In this first entry, we reflect on Entrepreneurship.
Entrepreneurship and Off2Class
"It goes without saying that Entrepreneurship is a core value of a boot-strapped company. The co-founders used their own money, grit, and determination. We took risks that seem natural to us; but we know that different people have different levels of acceptable risk. However, when you risk something, you are more likely to be accountable for it, and deliver it on time. Small failures lead to constant interactions and towards an always-improving product."
James Heywood, Co-founder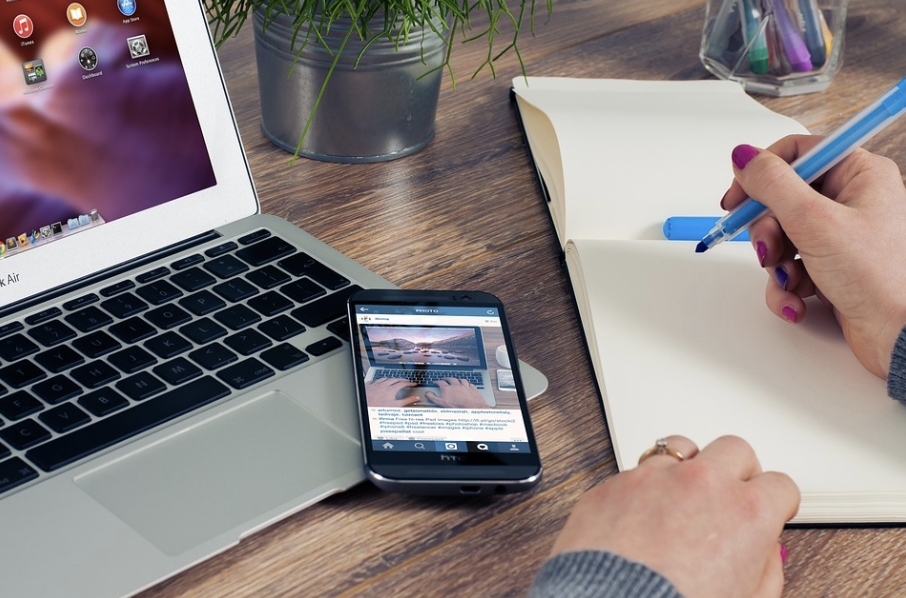 "Off2Class was founded by three first-time entrepreneurs. The spirit of the founding team and the spirit of Entrepreneurship are firmly woven into the DNA of the company. Entrepreneurs are often people that would rather work harder and for lower pay than they would in other available options, in return for being able to control their own futures. We hope that this spirit stays strong across the team and that as we grow, all of us would rather put in a bit more effort in return for a work environment where we aren't micromanaged and get to own our collective destiny.
I remember the day I withdrew the last $200 I had to my name from a bank machine — I was in Girona, Spain of all places! I had been living off the funds that I had saved from a previous career. By this time, Off2Class was earning enough where it provided just enough cash flow for the founders to live off. I remember thinking, 'well there's no going back now!'. In reality, there was nowhere to 'go back to'. I hadn't been working 'a real job' for years at this point and if I went back to my previous career, I would have been in the same position and level as when I had left. It's that moment standing in front of the ATM that I will always remember. I was not nervous or anxious in the slightest. In fact, all I could feel was freedom and joy.
To me, another key quality of a true entrepreneur is the willingness to commit. To go 'all-in'. It can be used as a way to separate the truly gritty 'succeed at all costs' type of entrepreneurs from those that are just popping in for a lifestyle change and that will head out as soon as the going gets tough. The going will certainly be tough, but to me, it's the only way I know how to live."
Kris Jagasia, Co-founder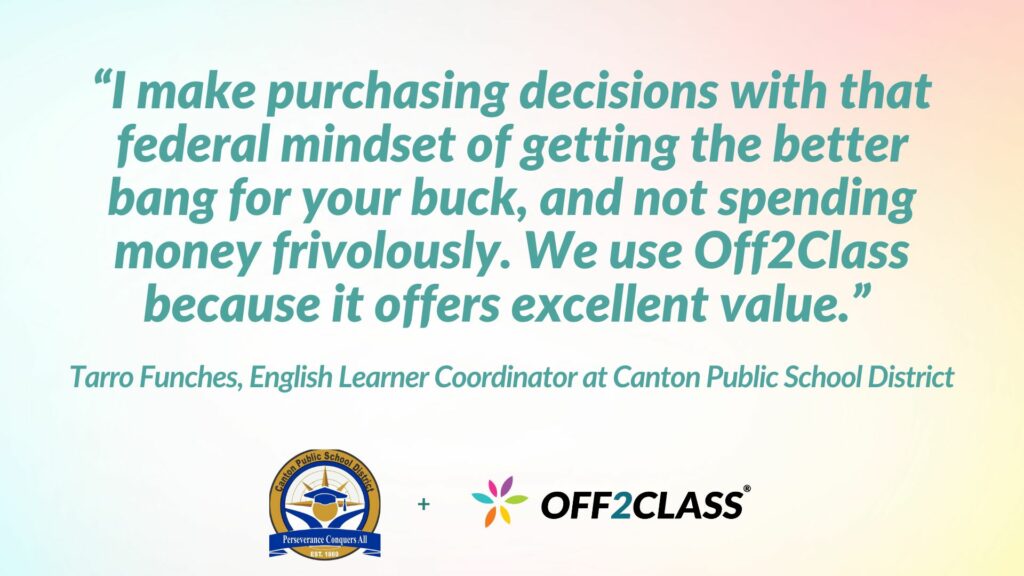 "First and foremost, Off2Class' primary focus is to save time for teachers. That might sound like a small thing, but when you're a teacher, time is one of the most valuable commodities that you possess. You want to spend as much time as possible interacting directly with your students. You don't want to have to spend time reorganizing lesson plans and dragging images over to powerpoint slides. Off2Class exists to help teachers be the best versions of themselves. That means giving teachers amazing content within a rigorous curriculum, but it also means presenting and delivering it in an easy-to-use manner that is nearly plug and play.
The company does other things. We address other issues, but at the heart, the north star of what we do is empower great teachers by supplying them with time-saving content and curriculum.
As someone that's worked in edtech for far too many years, being able to effectively answer that type of problem is highly valuable. Pedagogically-sound and easily implementable tools are hugely important. It's one of the reasons I joined Off2Class and helps me take pride in what we deliver each day.
I've founded my own startups and worked in big organizations. A sense of ownership and focus on the user remains essential to success. At Off2Class, I am constantly asking myself: what is the most effective use of my time to address that key problem that the user has? And in a company like ours, you have to just go do things. You don't have huge budgets. You find a way to solve problems and get things done. Just make it happen."
Nathan, Team Member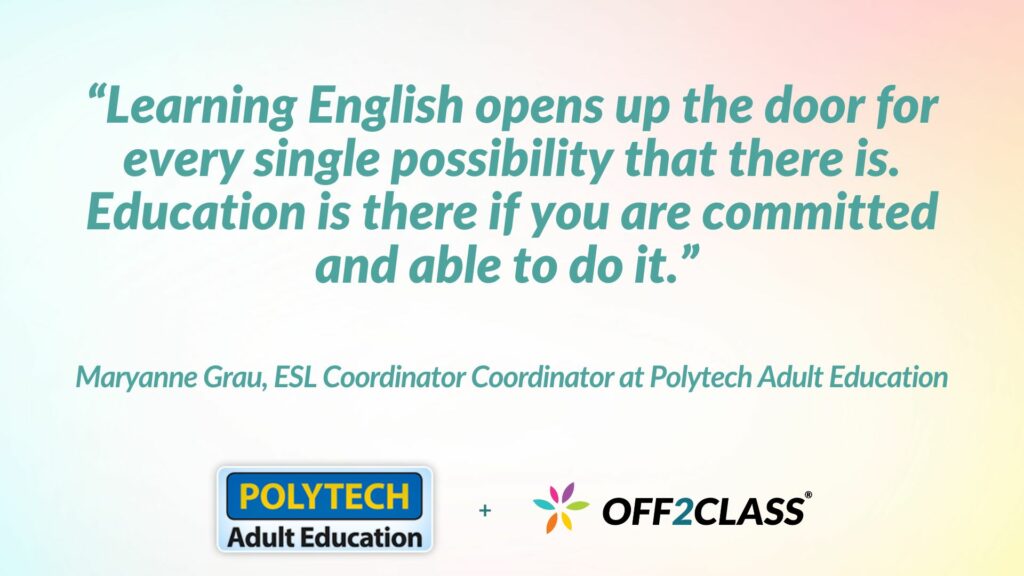 Entrepreneurship-focused lessons
Below are some recommendations of lessons that discuss ideas related to Entrepreneurship. We recommend them to anyone who wants to convey a deeper understanding of Entrepreneurship to their students.
BUS16 – Business Entrepreneurship (B2): What drives entrepreneurs to succeed? This lesson introduces the key language necessary to discuss the process of creating and developing a business. If you want to instill the spirit of Entrepreneurship in your students, this is an excellent place to start.
R202 – The Story of Google (B1): The rise of one of the most successful businesses ever and its humble beginnings is an inspiring story for anyone interested in Entrepreneurship. Will your students be the ones to found the next Google?
R410 – Business of Philanthropy (B2): What do successful entrepreneurs do with their wealth? While some choose to simply hoard it, others decide to help those less fortunate. This lesson explores the importance of community and giving, things we should all keep in mind.
Over to you
We hope that this overview of Entrepreneurship and some of the ways in which it influences and inspires us has been interesting. We would love to hear about the role that Entrepreneurship plays in your life. How have you utilized Entrepreneurship in your teaching career? What advantages can a strong sense of Entrepreneurship have for language learners? And how have you been able to foster this value in your students? Please share your stories with us in the comments section or our official Off2Class Facebook group!
---
No comments