Advanced Learner Speaking Lessons – ESL Content
Need a little controversy to spice up your advanced learner speaking lessons? 
Let's face it! Unless you live under a rock, you know that Trump is now President of the United States. And love him or loathe him, his controversial manner has got people talking! As an ESL teacher, it's exactly what you want to encourage during your advanced learner speaking lessons. Unguided speaking!
More than other learners, highly proficient speakers enjoy controversial topics that stimulate opinions and points of view. Additionally, students who plan to take the IELTS or TOEFL exams will certainly need to understand and comment on a wide range of topics… so we've released 5 new Advanced Speaking Lessons to get you and your students talking.
And remember, with our new Live Mode functionality, you can use the built-in dictionary, text-to-audio, and Google Image search to clarify or extend your student's understanding of the subject at hand.
So here are five advanced learner speaking lessons that we think both you and your students will enjoy!
Did the US government have something to do with the 9/11 attacks? Who shot US President John F. Kennedy? Have we really traveled to the moon? Are there UFOs? We are always ready to question the official version of a story, especially when the story comes from our government. Get ready to deal with some provocative statements and points of view!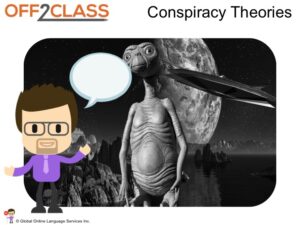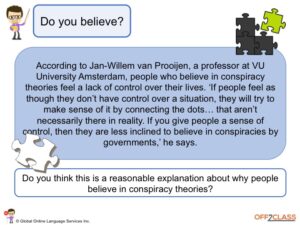 Is modern life based on the increased consumption of 'stuff"? Does the purchase of goods and services really make us happy? And with consumerism on the rise, how will the environment cope as more and more people adopt a consumerist lifestyle? And how much are you affected by marketing and advertising?
At the end of the 20th century, many people were certain that democracy would be the prevalent form of government within another few decades. However, just a little way into the 21st century that point of view now seems hopelessly naïve and obsolete. Is democracy under attack just about everywhere? Perhaps we will see different democratic systems emerge, rather than the liberal Western democracy that reigned last century?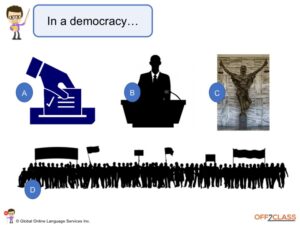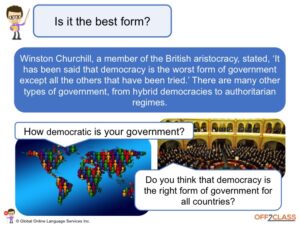 It's one of the most coveted freedoms. The right to say what you want. The rise of populist politicians all over the globe shows just how much importance people place on the freedom of speech. But… then why are more journalist than ever languishing in jail cells? And why all the laws against hate speech? There might be freedom of speech, but it the same freedom to speak for everyone?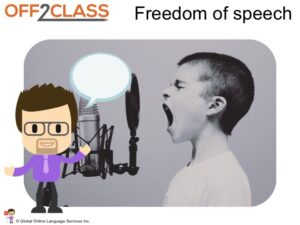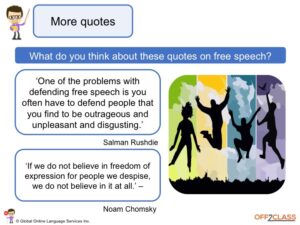 Like all young generations, the Millennials can do neither right nor wrong. Lazy, entitled, narcissistic, spoilt… the Millennials don't know how to work. Of course, that's what their parents would naturally say… Millennials are entrepreneurs, mobile, adaptive, less greedy and more concerned about happiness than their parents, those environment-destroying, self-serving Baby Boomers!
As with all of our Advanced Learner Speaking Lessons, we advise you to be culturally sensitive when using these lessons.
Feel free to leave feedback for us below!
---