How to address the global shortage of teachers
Off2Class is excited to share the results of two initiatives to address the global shortage of teachers: a virtual learning pilot working in three conflict zones with the Ismaili Community, and a newcomer program delivered alongside Tulsa Public Schools (OK)
English language learning for all
To be fully proficient in the English language has never been more relevant, nor more necessary to achieving success in an increasingly connected world. The number of English language learners (ELLs) continues to grow and is projected as high as 700 million by 2030. But the number of qualified English as a Second Language (ESL) teachers has not kept pace with the need. There is a global shortage of teachers. This gap threatens to solidify educational inequality.
Responding to this need, Off2Class partnered with the Ismaili Community in the Middle East and Central Asia, and Tulsa Public Schools in the US, to use technology to train teachers and support ELLs.
In particular, the pilot focused on training future language teachers in the Middle East and Central Asia returned astonishing results. Delivered by volunteer teachers and assistants from the Ismaili Community, the efficacy pilot studied the impact of 289 learners using the Off2Class platform across three conflict zones.
After 30 weeks, all learners showed significant English proficiency improvement. One conflict zone saw 98% of learners increase their CEFR level (Common European Framework Reference — the international standard measure for language proficiency) by at least one level. Many improved by multiple levels.
The second pilot covered in the report was a supplemental program, leveraging virtual tutors to teach newcomer students in Tulsa Public Schools (TPS), Oklahoma. While a shorter program, the intervention yielded improvements for students.
Drafted alongside the experts at Oriel Square, the report shows two cost-effective uses of virtual learning in tackling teacher capacity issues.
Read "English for All: Lessons from Syria to Oklahoma on addressing the global shortage of teachers" here:
The global shortage of teachers
Research consistently shows that proficiency in English improves personal and economic prospects. With this comes a major challenge: a rise in demand for its teachers (and, therefore, teacher shortages).
Off2Class saw a meaningful opportunity to promote the ESL profession while offering an immediate return on teachers' time. In partnership with the Ismaili Community, the English Language Connections Program (ELC) worked in conflict zones (Syria and two countries, anonymized due to political sensitivities) in central Asia and Middle Eastern countries.
And, back in the US, the Tulsa Public Schools initiative supported refugee newcomers in their schools. 
Amid teacher shortages and an influx of new learners to classrooms worldwide, the challenges marginalized ELLs face cannot be overstated. Yet, not only did program data point to inspiring learning gains, but the results went far beyond language proficiency. The US pilot facilitated cultural exchange, integration, and relationship-building. The ELC pilot in Syria developed pedagogical and softer social skills, enabling teacher participants to disseminate their knowledge to the wider community.
Support in face of adversity: ELC in Syria
The ongoing political situation in Syria has devastated its people and its economy. Syrians who cannot speak English now have a pressing need to learn. Without the opportunity to learn English, the prospect of improving their quality of life or fulfilling personal ambitions becomes almost out of reach.
Unfortunately, access to English training/ESL courses is inequitable, particularly in Central Asia and the Middle East (especially in conflict zones). There is a global shortage of teachers and a need to train ESL teachers.
This was a focus identified by the Ismaili Community. Led by His Highness the Aga Khan, the Ismaili Community is a Muslim community of 12–15 million people, living and working in 25 countries with a focus on volunteering and working for the "betterment of self and society." As part of that charitable work, education is a key area of focus.
In September 2020, the Ismaili Community launched the English Language Connections (ELC) Program, set up to deliver an ESL course for communities in Central Asia and the Middle East, including Syria.
Originally scheduled for in-person delivery, the partners had to pivot to a virtual system when COVID-19 hit.
The Ismaili Community and Off2Class set out with two aims:
increase the Syrian teachers' English language skills;
enable participants to apply pedagogical techniques in their own teaching environments.
Each pilot program ran for 30 weeks, within that program, there would be three 10-week terms. Learners took a pre-and post-course assessment using the Off2Class integrated tools to measure their CEFR levels. They learnt from a qualified international volunteer teacher, supported by a teaching assistant.
The extraordinary resolve of learners who are determined to create a future of opportunity and hope was inspiring. Changing lives that will change the world starts with education. After just 30 weeks, an amazing 98% of participants increased their CEFR level, some by as many as four levels.
The learners' academic success was also a testament to their tremendous level of dedication and commitment. One woman was diagnosed with cancer but refused to stop her course. She worked around chemotherapy sessions to complete her work. Another woman returned to class just two days after delivering a baby. Teachers and learners across continents used English to learn from each other and build lasting connections.
Benefits continued beyond the program too. Some learners who reached a high CEFR level now support or mentor other English language learners who are where they once were; others volunteer as teaching assistants for the program.
Supporting newcomer students in Tulsa
In a typical US K12 school class, 1 child in 10 will be an English language learner. This equates to over 5 million young people (Daniela Torre Gibney, Bellwether Education). Many of these learners find themselves without the support they need, and the problem is set to grow. ELLs make up the fastest-growing student demographic in the US.
We urgently need to address the problem by building future-proof solutions. That's where Off2Class stepped in; a second initiative collaborated with Tulsa Public Schools (TPS) and focused on personalized support for refugee newcomers.
In 2022, Tulsa Public Schools faced an influx of newcomer students from Afghanistan. Staffing shortages hampered the school's ability to create a program that would support these students. TPS turned to Off2Class. The pilot leveraged high-quality online tutors from the Off2Class community with the platform's 'toolkit.' Students received targeted support and instruction. At the end of the four-week trial, the district reported improved conversational English. Students and parents reported high satisfaction levels.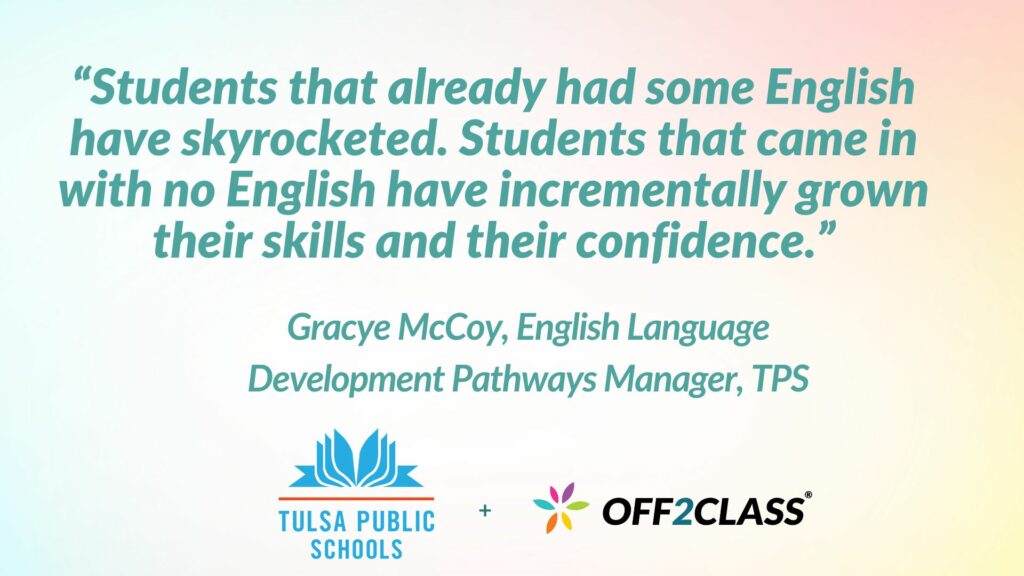 Success stories like this spur our team to research and develop more ways to cater to newcomers in the education system by supporting teachers with the Off2Class platform.
"To see our company making progress is heart-warming," said James Heywood, Off2Class co-founder. "I feel we're meeting our mission of saving teachers' time and improving people's lives."
Looking ahead
Delivering the program with the ELC and TPS has given Off2Class more ideas about the platform's future possibilities. We know teachers are the key to better serving English language learners. For that reason, we will never stop working to save them time and help them serve their students.
English is the language of opportunity. Spoken by over 1.35 billion people, it is the official language of more than a quarter of countries in the world. We believe this valuable currency should not be reserved only for students in a certain region or those who happen to access a wonderful teacher. These initiatives show how we can use technology as an enabler to enable greater access and opportunity.
---