Phrasal Verbs – An Introductory Lesson for Your ESL Class
"I love learning phrasal verbs!" said no student, ever. Phrasal verbs are debatably one of the most difficult topics for English learners. If you're looking for an ESL lesson on phrasal verbs, you've come to the right place. Your students are ready to tackle this challenging subject so continue reading to learn about the resources you can use to teach phrasal verbs.
What is a phrasal verb?
A phrasal verb is a combination of two or three words including a base verb. The whole phrase acts as a verb that is different from the base verb used. For example: to pick is different from to pick up or to pick out. As well, there are many phrasal verbs that use the same base verb with different adverbs and prepositions, creating phrasal verbs with entirely different meanings. To complicate things further, there are different categories of phrasal verbs transitive, intransitive, separable, and non-separable. Intimidated yet? Don't be! Even though phrasal verbs are often confusing for new English learners, they can still be fun to learn!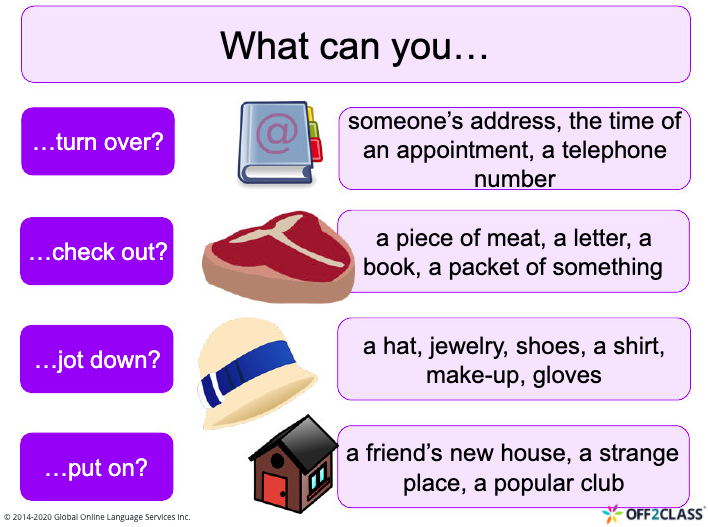 "Do I have to learn phrasal verbs?" You've probably been asked this by your ESL students. The answer is yes, they MUST learn phrasal verbs. The English language is full of phrasal verbs and English speakers use them constantly. Avoiding phrasal verbs would be doing your students a disservice. Therefore, Off2Class has created this handy introductory lesson plan that you can use with your intermediate-level ESL students.
Download the lesson plan here.
How to use this lesson plan on phrasal verbs
This lesson plan is an introduction to phrasal verbs, with a focus on transitive phrasal verbs. Even though it is an introductory lesson plan, it is designed for your intermediate-level students, as a strong understanding of advanced verb tenses is recommended. It begins by identifying multiword verbs and then moves on to introduce phrasal verbs like to call up, to jot down, and to pick out, among others. Students will then move on to other exercises such as gap-fill and sentence-matching activities to put these new phrasal verbs to use.

I love using this ESL lesson on phrasal verbs as a standalone lesson as well as a supplementary lesson for my advanced students! I'll often keep it handy and use parts in my warm-up activities, or as a quick review when I feel my students need some extra practice.

If you want to assign homework to your students, or if you need the super-handy teacher notes for this lesson, be sure to sign up for your FREE Off2Class teacher account. The teacher notes take all of the guesswork out of your lesson, and the homework allows your students to put their new knowledge into practice.

If you found this lesson plan helpful, you'll find the other lesson plans in the Off2Class ESL Lesson Library helpful too! Off2Class has been creating and offering lesson plans since 2015. Off2Class has done all of the hard work – now you can spend less time planning and more time teaching!

If you found this lesson plan helpful, be sure to comment below! Share it with your teacher friends – they will thank you for it!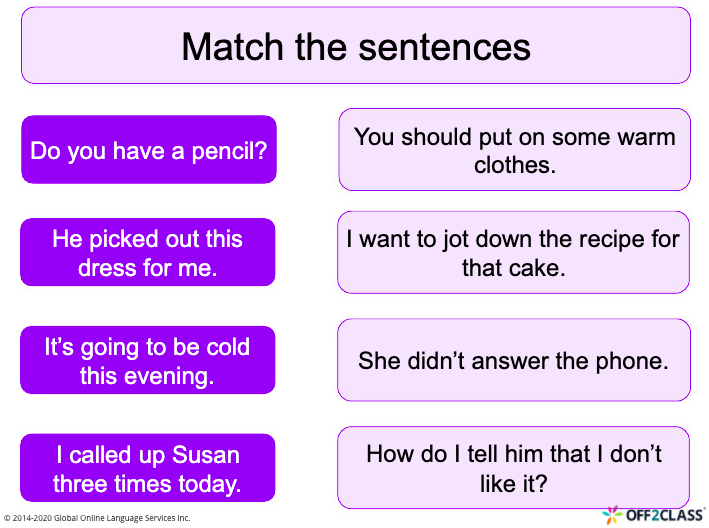 ---
No comments