TalkChile is a forward-thinking private language center with two branches located in Santiago, Chile. They offer individual, group and online ESL and ESP (English for Special Purposes) courses.
Originally, the team behind TalkChile was part of Tronwell. By way of background, Tronwell is one of the largest language institute brands in Chile with 12 locations across 8 cities. The TalkChile team has branched off under a new, reinvented language school concept. They are now established with 3,000 students studying at their centers in Mall Plaza Oeste and Mall Plaza Vespucio, both in Santiago.
It was critical for the new launch – that students be exposed to a digital approach to ESL learning content. As a result, the academic and management team wanted screen-based learning to be the focus of the in-classroom, study lab, homework, and distance (online) learning student offerings.
The Off2Class team has customized their tool to match TalkChile's teaching environment:
1) Off2Class has created an administrative panel to match TalkChile's seven-level curriculum. The panel allows staff members to move groups of students into pre-defined courses according to TalkChile's corresponding levels. Students automatically receive all the lessons that correspond to their level/course. This removes the administrative burden from teachers. An important task when you're managing a facility with over 1000 active students! Teachers are comfortable that students have received all relevant course materials at the start of any given course.
2) Students at each facility also use Off2Class as a self-study tool. This means teachers can assign their students lessons to complete from home, in addition to their pre-defined coursework. Language learners login to their student accounts and have access to a lesson summary and corresponding homework for each enrolment. This gives students more flexibility because they can use any device to continue learning English at home. This is especially helpful when work and personal commitments do not allow them to attend classes in person. This also provides flexibility to teachers. With a couple of clicks, they can assign additional coursework to students that require it.
3) In the classroom, TalkChile teachers use the communicative approach and are supported by lessons and activities from Off2Class, which are displayed on a TV screen. This means students practice reading, writing, listening and speaking skills in class. In addition, they have an option of looking at their lesson summaries after class for reinforcement.
We are also happy to support TalkChile's future goal of having a Canadian exchange program for their students.
It is exciting that our digital learning platform will help Chilean students prepare for language learning in a North American context. As a result, Off2Class is happy to facilitate a stronger education bond to the already existing partnerships between Canada and Chile.
---
"We use Off2Class as our main tool for teaching English in our classrooms. It works well because students have the opportunity to work from home and have access to online assignments from their classes."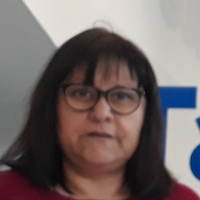 Pamela Berrios, Academic Supervisor, TalkChile
---